Rextroy's newest expansion, Battle for Azeroth has brought a new way to heal. Death Knights now have the ability to out heal other classes in PvP with their abilities. Can you win without using any health potions?
Rextroy Testing: Using a Legendary to Out Heal Healers on an Unholy Death Knight. Read more in detail here: death knight.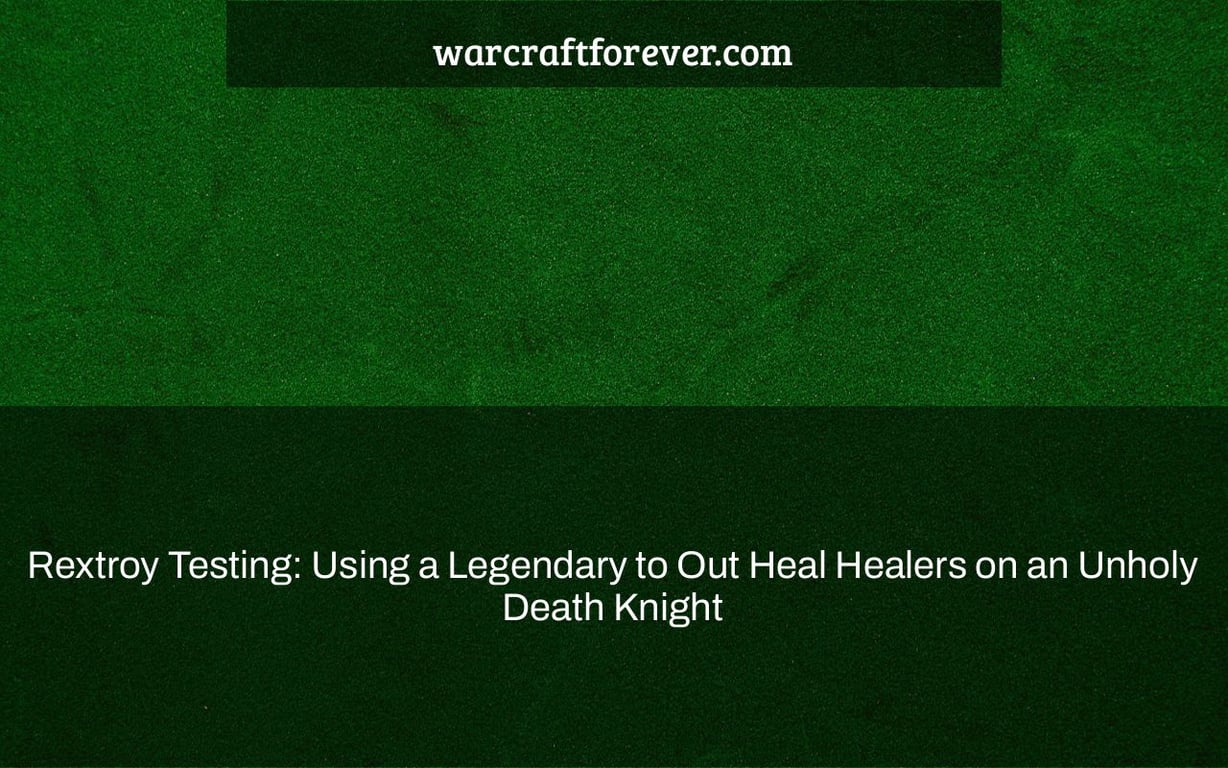 Today, we'll be testing a Blood Legendary for Unholy that lets our Death Strike return around 20% of Runic Power expended, making us almost invincible in 1v1 with additional Soulbinds and Covenant perks!
Bryndaor's Might is the name of the legendary.
It is intended for Blood DKs, but it may also be used by Unholy and Frost. They'll do much better in PvP since the returned Runic Power is ALWAYS 15% of 45 (the baseline cost of Death Strike), which is around 6.7-6.8.
The cost of Unholy and Frost's Death Strike is reduced to 35 runic power as a passive effect. However, 6.7 will be refunded. That's roughly a quarter of the price of a Death Strike.
This mad technique is combined with the Rune of Hysteria Runeforge. Because of my haste, the uptime on its boosted Runic Power gain is roughly 50%. This benefit boosts all Runic Power gains, including legendary Bryndaor's Might and my Covenant ability, Swarming Mist.
Once we reach our Runic Power threshold, the 20 passive Runic Power gain allows us to perform 4 Death Strikes in a row, allowing us to withstand all types of burst damage!
The Swarming Mist is a fantastic Covenant ability for gaining Runic Power, particularly when we have pets with us or are battling a large number of opponents. As long as Swarming Mist is active, we can pretty much spam Death Strike with 5 foes close.
General Draven's Service In Stone, a passive 10% damage reduction while under 40% health, is the second main Covenant perk. Because this damage reduction is really an absorption, it seems to be enhancing our Death Strike healing from damage sustained in the previous 5 seconds.
With Bryndaor's Might equipped, we always have Runic Power or Runes to spend every global thanks to Necromancer's Bargain and Pestilent Pustules, as well as Apocalypse passively refunding 2 Runes.
Other items, like as the Shard of Kyr, are on my want list for the survival build, but I haven't gotten around to raiding my Death Knight yet!
I intended to show off this build when it initially came out in 9.1, but I opted to max out my Conduits and equip my character first, which I didn't get around to until 9.1.5 with the new quality of life adjustments!
Watch This Video-