Rogue has a new legendary in the expansion, and it's bringing two legendaries to the table. There are many combinations that one can use with this rogue mythic and here are some of them.
The "deathly shadows pre pull macro" is a double rogue legendaries combination that includes Assassination, Outlaw and Subtlety. The Rogue class has two legendary cards: Death's Shadow and Kingsbane.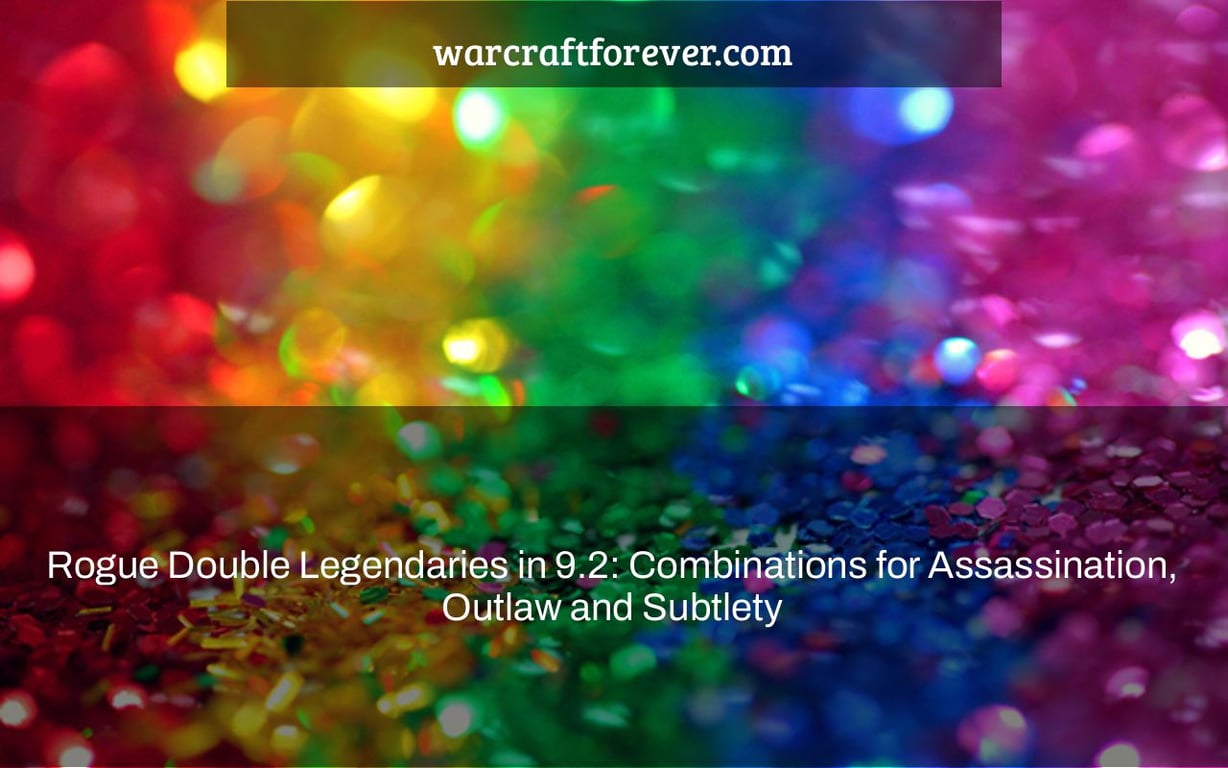 On the 9.2 Eternity's End PTR, the timeframe for acquiring Double Legendaries has altered. Learn how and when you'll be able to equip two legendaries in our article below.
In Patch 9.2, you may get two legendary items.
In Patch 9.2, our Guide Writers have shared their early impressions on the Double Legendary combos you'll most likely equip. Below you'll find a list of all of our recently published articles.
Double Legendary Theorycrafting in 9.2
Analysis of the Death Knight Double Legendary Analysis of the Hunter Double Legendary Analysis of the Double Legendary Monk Analysis of the Priest Double Legendary Analysis of the Shaman Double Legendary Analysis of the Warrior Double Legendary
Disclaimer: All theorycrafting is based on the PTR's current tuning, which includes all of the most recent class and system improvements, as well as a full 9.2 4-Set Tier bonus. Additional tuning and class adjustments may have a significant impact on the following suggestions. This is only a sneak peek at each spec's Double Legendaries; definitive recommendations will be released closer to the release of 9.2.
Whispyr, the author of our Assassination Rogue guide, has written a detailed analysis of the Double Legendary possibilities available to Assassination Rogues in Patch 9.2!
Whispyr
Preparation for Weaker Covenants Both Necrolord and Kyrian are substantially behind in raids, and neither possesses a speciality that enables them to excel. I believe it is important to identify their flaws and discuss why they are not advised.
Necrolord has a distinct niche in that it provides tremendous cleave, but it's unclear whether it's enough to make it popular. Prototype Pantheon may see some Necrolord action, but given its early location in the raid as one of the first monsters, I doubt it will see significant use or acceptance outside of that battle. Deathspike's lack of single target (the main advantage is 2 extra castings of Serrated Bone Spike throughout the duration of a single target battle) and inconsistent issues hold the covenant back. When one of the extra spikes strikes a victim already afflicted by Serrated Bone Spike, one of the most well-known Deathspike issues happens. This causes the target to no longer refund a Serrated Bone Spike charge, which is very inconvenient in any content with adds that you're attempting to snipe for resets since your refunded charges are wildly unreliable. I'm not sure how this hasn't been addressed yet, given that this is a necessary legendary to play for the covenant. Because the legendary offers such a powerful cleave and aoe niche, the absence of single target damage is acceptable, but please make it function in that situation. Necrolord is almost unplayable on its own because to the issues that surround Deathspike.
Kyrian, although capable in the other two professions, has never seen action as an assassin, and with good cause. Whereas the other covenants give something that works with the spec (Fae and Venthyr both have burst cooldowns via Sepsis and Flagellation, and Necrolord has a powerful cleave/aoe profile with Serrated Bone Spike), Kyrian falls short. Echoing Reprimand's 45-second cooldown is insufficient for single-target use, and the animacharged combo points that follow don't give any intrinsic bonuses as they do for Subtlety and Outlaw (in the form of the cooldown reduction passives they have connected to their combo point usage). At the end of the day, Kyrian's 7 combo point finishers do not have enough damage to make him shine. What you're left with is a covenant that offers mediocre single-target damage, no burst, no aoe, and Resounding Clarity, a frustrating minigame that may be difficult to master.
Sepulcher of the First Ones' Best Assassination Rogue Double Legendaries
With the set benefits, Night Fae is on the rise, particularly the two-piece Grudge Match. As we sync Sepsis and Shiv together, this boost immediately helps Sepsis, which functions as a massive buff. Due to the addition of spawns, Korayn's First Strike soulbind ability might be useful in a number of encounters. Grudge Match is a four-piece set that unlocks our second legendary, Duskwalker's Patch, which effectively doubles the number of Vendetta casts we receive throughout a battle by cutting the cooldown by a full minute. This Duskwalker's Patch and Grudge Match synergy will become a recurring motif, and with good cause. In 9.2, Duskwalker's Patch is by far and away our greatest legendary. Other legends have their own niches and places, which will be examined later.
Night Fae also has one advantage over Venthyr that isn't immediately evident. During PTR testing, it became clear that during combat, there would be a lot of mobility. Some of the abilities, such as Detonation during the Lihuvim battle, knock you back a long distance, while the Lihuvim interlude appeared uncomfortable and unpleasant for Venthyr, as did the Flagellation uptime requirement. Because Sepsis is a "set and forget" cooldown, Night Fae has an easier time with it. Simply press the button on your target, then Shiv, and it will take care of the rest for you. This "more forgiving" cooldown may prove to be a compelling argument to choose Night Fae over Venthyr, but as the encounters get more familiar, this problem may become less of a concern.
Venthyr, like Night Fae, benefits greatly from Duskwalker's Patch. Flagellation and Vendetta are generally aligned to be on the same 1 minute cooldown as the covenant legendary Obedience. This continuous one-minute burst window might be useful in encounters with key additions or with timings that favour this playstyle. Of course, the combination of Duskwalker's Patch and Grudge Match is a powerful one. Venthyr may also be a good choice for the first few weeks of the raid, before switching to Night Fae after you've obtained your tier set and second legendary.
Legendaries for all covenants: Honorable Mentions
The use of Dashing Scoundrel and Doomblade is extremely similar. They both increase Envenom damage while also delivering a bleed in the form of Mutilated Flesh or a bonus to Deadly Poison. These are both passive choices that have little to no drawbacks and have no effect on your rotation. When factoring the 4 piece bonus: Grudge Match, they are a smidgeon weaker than Duskwalker's Patch. Dashing Scoundrel is a strong early pick since most rogues from 9.1 have already made it.
Zoldyck Insignia is an unusual choice here. Zoldyck Insignia remains the execute legendary of choice, despite being a poor all-around pick. Zoldyck Insignia is a good option if we see a boss (maybe the jailer?) with an execute-based final phase. Whether the damage boost of a few percent during execute compensates for the legendary's inaction for the remainder of the battle is a more nuanced subject for which I don't have the answers right now.
Best Mythic+ Assassination Rogue Double Legendaries
Venthyr and Duskwalker's Patch are once again in the limelight for identical reasons. The mythic+ meta has shifted in the recent patch, with rogues dealing with bosses, mini-bosses, and priority targets in packs. While our AoE has increased with the tier set, we are still single target damage kings and queens. The combination of Flagellation's 1 minute duration and Vendetta's single target burst offers us a reliable supply of single target burst in every pull. It will also be possible to have two Vendettas per pack for higher level keys with longer pull times, providing another powerful single target burst. With Obedience's adaptability, you may want to consider picking up Venthyr for some more survivability.
As we saw with the raid options, Night Fae is now the most powerful single target option. Although the timings may not be ideal, Korayn's First Strike returns, delivering a huge critical strike boost at the start of pulls to aid early combo point creation. Duskwalker's Patch is an excellent pick for priority and boss damage for the same reasons as Venthyr.
Necrolord makes up for his lesser priority damage with brute firepower during low to medium target cleave and aoe. Deathspike has finally found its place in an otherwise pointless and unhappy life during single target and raids, offering a significant increase to the covenant's aoe capability. This legendary is still bugged, as it has been since its initial debut in 9.1, and will not offer a refund charge on a dying target if struck with the extra Serrated Bone Spike that it throws, even targets that have already been hit with an original Serrated Bone Spike. It's difficult to predict whether or not you'll receive your charges back for the following pack, which may be frustrating to play with. If this glitch is corrected, Necrolord will shine in dungeons like Plaguefall, where having numerous Fleshcrafts available to prolong the Various Ooze Buffs has proved to be quite useful. Unfortunately, the problems were looked at for remedies earlier in 9.1, but ended to being more bugged than before, forcing a reversion back to the 9.0 flaws. It would be fantastic to have this legendary functioning at least once this expansion, particularly given that it is a necessary selection for Necrolords, so I'm hoping that a set of adjustments and tweaking can be implemented before 9.2 opens.
Honorable Mentions are given to the following covenants:
We can see some fascinating ideas in action here. While Zoldyck Insignia is a great AoE choice, it falls short in single target. There's also some ephemeral execute value, which is usually brought up in heated discussions about damage profiles and their significance. It's OK in my perspective, nothing spectacular, but not unplayable. You lose a lot of the priority damage that Duskwalker's Patch provides, which will likely deter most players from trying anything else, but you do get an increase in AoE damage. Zoldyck Insignia, in my opinion, gives some intriguing targeted damage in raid encounters that, for example, have a damage race end phase that starts at 25-30% health. Due to the typical combat time, you will frequently get more use out of Duskwalker's Patch in these instances. In mythic+, monsters seldom have execute phases, and the time problem is especially noticeable on shorter engagements like dungeon bosses. All of this combined makes Zoldyck Insignia difficult to prescribe for long-term usage.
The inconveniently placed Invigorating Shadowdust is the spiciest legendary on our list. There are a lot of different perspectives on this among the rogue community. It may not seem spectacular at first look, but cutting Shiv's cooldown, along with the synergy from Grudge Match, allows for a lot more uptime on the debuff. It also enables for more Shiv casts, such as cleansing an enraged person. The gameplay is a little weird in my perspective, and there is no viable niche numerically, but the total performance is really rather excellent. While it lacks the single/priority damage of Duskwalker's Patch and the AoE potential of Zoldyck Insignia, it does offer a nice medium ground by allowing for a longer burst AoE window with double Shiv activation. I don't believe it'll get a lot of attention on the high end, but it's a nice change of pace from Duskwalker's Patch.
JustGuy, the author of our Outlaw Shaman guide, has written a detailed analysis of the Double Legendary combos for Outlaw Rogues in Patch 9.2!
JustGuy
Sepulcher of the First Ones' Best Outlaw Rogue Double Legendaries
Kyrian is the current leader covenant in terms of performance as of patch 9.2. Without a very particular specialty, combining the top and second greatest legendary options for Outlaw will be a difficult combination for other covenants to match. With an amazing soulbind from Mikanikos delivering Effusive Anima Accelerator, this covenant really takes it over the top, even for AoE, as you can get even more value from Resounding Clarity while still being a strong single target, which is exactly what Outlaw wants to see. The legendary is particularly fun to play since it grants you additional CDR, allowing you to spam cooldowns even more than normal! This also works well with Celerity, since Adrenaline Rush appearing more often implies greater damage.
If you want to compete with that covenant, you need to be doing something more strong than simply sheer overall DPS, like I said in the Kyrian part. Venthyr for Outlaw fills a unique niche in that it is the sole means for the spec to obtain burst damage. For example, if any of the raid's later encounters need you to deal a lot of damage in a short period of time, switching to Venthyr is the only way Outlaw can assist you with that damage profile. Dreadblades used to be a better choice than Alacrity due to a bad side effect of covenant legendaries for Outlaw, but because Obedience causes these cooldowns to get desynced, the skill is back to being completely worthless.
Best Mythic+ Outlaw Rogue Double Legendaries
Necrolord, like Venthyr, has its unique specialty that makes it worthwhile to notice. Deathspike is a legendary that can do massive damage to a large number of enemies. Not only is it three times as powerful as Serrated Bone Spike each cast, but it may also possibly save you a lot of money by applying it to many targets in range! This is an extremely powerful legendary in M+, for example, where you will be able to collect a lot of refunds on your charges owing to the significantly shorter time to kill in M+. There are just two major issues. The first issue is that this legendary does no single-target damage. Gaining two more casts on a monster is nearly worthless, as this legendary provides less than a 1% increase in single target damage, making it very difficult to justify. Another major issue with this tale is that it is almost useless owing to two major faults.
The first big flaw is that targets attacked by Deathspike's additional copies do not refund costs. This is a significant loss for M+, since one of the main reasons to use Serrated Bone Spike in the first place is to get refunds; losing out on almost half of your possible refunds is a significant loss. The second big flaw is that the number of combo points you get should be determined by the number of active Serrated Bone Spike debuffs on active targets, but this does not function with the ones caused by Deathspike. This makes it very difficult to predict how many combo points you'll receive, costs you a lot of damage, and makes it tough to correctly play out the rotation since the combo points awarded are essentially random while Deathspike is proccing on several targets. Given that every Necrolord player in 9.2 is obliged to utilize Deathspike, these problems should be a top priority, but given the present state of the game, it's difficult to recommend playing Necrolord. This covenant has a lot of promise in M+ if these flaws are hopefully resolved.
Fuu1, the author of our Subtlety Rogue guide, has written a detailed analysis of the Double Legendary combos for Subtlety Rogues in Patch 9.2!
fuu1
Overview A quick rundown of the most popular options for the second legendary slot.
Sepulcher of the First Ones' Best Subtlety Rogue Double Legendaries
For Subtlety Rogue, Kyrian has the greatest pure single target damage output. Kyrian's damage profile is quite steady, with just a slight damage increase after each use of Echoing Reprimand. This makes it the best option for confrontations with a lot of single targets, such as Dausegne or Skolex.
The reason Akaari's Soul Fragment is strong is that the combo point generation of Echoing Reprimand ends up in a higher amount of Shadow Dance casts. This ends up in more Shadowstrike casts and a higher amount of Akaari's Soul Fragment procs. Both tier set bonuses (Immortal Technique & Immortal Technique) increase this even further. A Akaari's Soul Fragment proc does also generate Perforated Veins with a recent update to the implementation on ptr what almost doubles the amount of stacks we generate and sometimes requires the use of Backstab during Shadow Dance. There is still a minor issue with this legendary power that is unresolved. When there are multiple shadow strike casts in a short time frame (what can happen with procs of Immortal Technique) its possible that you lose or partially lose akaari procs due to the refresh behavior.
Due to the bonuses described above, Akaari's Soul Fragment is around 2% ahead of the second best option in pure single target. It's also worth noting that, even with larger target counts, Akaari's Soul Fragment remains the greatest legendary pick for priority damage.
Venthyr shines because to its powerful burst and funnel damage. Venthyr's damage is bursty, and damage is centered around the usage of Flagellation. On encounters with two or more targets, additions, battles where Flagellation aligns well with encounter dynamics, and funnel fights, Venthyr will be the first pick. In battles like those with Artificer Xy'mox and Anduin Wrynn, this covenant may be the preferable option. Flagellation does force you to remain on the target for a longer amount of time, which is a disadvantage to this covenant. In battles where this is not feasible, it may be worthwhile to investigate alternate covenants.
Depending on the encounter, we'll choose between two Legendary options.
Akaari's Soul Fragment is a strong choice due to the high Shadow Dance uptime the specialization provides and the higher uptime due to the tier set bonuses (Immortal Technique & Immortal Technique), this is not as significant as on Kyrian, but still enough to give akaari a strong value. The interaction with Perforated Veins increases the value further. The main strengh in Akaari's Soul Fragment lies in the higher priority damage and overall output when focusing on priority damage. This makes this Legendary Power the perfect choice for pure single target or low target cleave fights.
Finality does benefit a lot from the higher amount of combo points generated by both tier set bonuses (Immortal Technique & Immortal Technique). The Legendary power becomes better with higher target counts and will mainly be used on fights with a long uptime of adds or higher target funnel.
On pure single target, Akaari's Soul Fragment is comparable to Kyrian, around 2% ahead of Finality, but begins to lag behind in output on four and greater target counts. Both Legendary abilities enable us to better adapt our damage profile in response to enemies.
For Mythic+, the Best Subtlety Rogue Double Legendaries
With the new seasonal attachment, we may be able to have larger pulls. Due to the fact that Flagellation is one of the few covenant abilities that translates well into cleave and aoe, Venthyr will be a popular pick in m+.
Due to the funnel and priority damage in mythic+, subtlety is already a highly dominating speciality, allowing players to equalize mob health in larger pulls and bring down high health targets for quicker pace and a better chance to beat the timer.
Most of the time, the legendary option will be Finality. The somewhat decreased pure single target output should be countered by the increased funnel and AoE output. As a result, it is the default option. In dungeons with a lot of pulls and low target counts, Akaari's Soul Fragment will be the best option.
Related Tag