The Zereth Mortis books are supposedly some of the most powerful texts in Warcraft lore. With a few minor changes, an entire civilization is wiped out and history as we know it has been rewritten. These new facts have sparked much debate about how things should be looked at now in terms of race relations, but many players still flock to hear more about these secrets that lie within this ancient text. The balance between keeping secrets and revealing them for personal gain can be tricky for game developers and Blizzard's plans might not make sense on paper.
The "the jailer wow" is a book that was released by Blizzard Entertainment in the Warcraft universe. The book reveals secrets of creation and the Jailer's plan.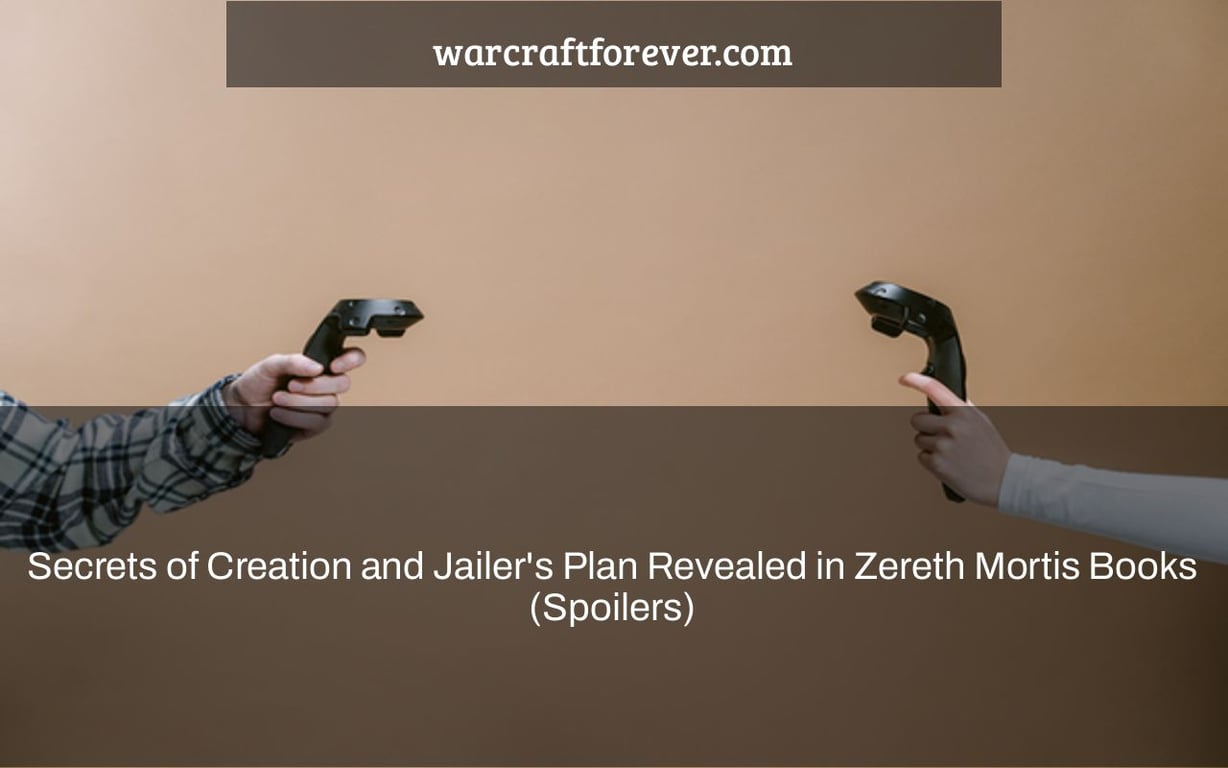 Collecting the parts of Firim's book is required for the achievement Tales of the Exile. This achievement is, in turn, part of the requirement for another achievement Unlocking the Secrets which unlocks flying in Zereth Mortis. If you are interested in the requirements for flying in Zereth Mortis, check out this post:
Firim's work, on the other hand, is a treasure mine of knowledge for those who like it.
Firim: My name is Firim, of course. I'm sure you've heard about my search for Zereth Mortis. Pelagos: No, I'm afraid not. However, the brokers in Bastion speak of a long-ago mission that went lost. Firim: Where have you gone? Hardly! I was able to locate this region of knowledge and awe. It was a peaceful area… until the Mawsworn invaded. Pelagos: I don't see any Mawsworn around here. What happened to them? Firim: The Jailer's armies are spreading throughout Zereth Mortis like a disease. He's probably looking for a way inside the Sepulcher. Firim: Within you are the mysteries of the universe. Be cautious! His operatives may be in any location… Pelagos: What kind of structures are they, exactly? Firim: They're known as automa. The First Ones left the caretakers of Zereth Mortis here. Firim: If you can assist me in harnessing their power, I may be able to utilize it against the Mawsworn.
Firim was expelled from Haven as a heretic because he wanted to learn more about their findings. Details may be found in the book!
We've included the complete text of their work, Firim in Exile, below. It is interesting to note that only the seven parts of the book are needed for the achievement, but we have also found an epilogue. It seems likely that we will not be able to access the epilogue until after we have defeated the Jailer. Unless Firim is prescient. Which is possible.
Part One of Firim in Exile: A Memoir I can't help but reflect on the events that led up to our arrival as my exile begins.
They questioned my credibility. I was mocked. They plotted to oust me. It occurred just as they were about to unsheathe their doubt swords and creep forward to strike me down.
The geometry was revealed! The fractals were perfectly aligned! I've finally made my way to Zereth Mortis!
No one else could have come up with the equations needed to succeed. Tuned and re-tuned portal after portal, reaching out and looping back on themselves. It's no surprise that so many others before me had failed!
Our expedition's idiots raced to pillage the land's wonders and paid the price for their foolishness. Didn't I say that the First Ones would keep their secrets to themselves?
The survivors had learnt their lesson and were paying attention to my warnings.
We were able to get a firm footing. Our job started in this safe refuge.
Our little peace, however, would not last.
Part 2 of Firim in Exile: A monument to a distinct mind My colleagues got increasingly influenced as we explored more into the secrets of Zereth Mortis.
Even Executor Al'kreth, the expedition's most egotistical member, started to view the information we gained as sacrosanct.
Al'ara and the others eventually realized the big truth: we couldn't tell the Overseer about our findings. The First Ones' secrets were not to be snatched! Outsiders would only serve to sabotage Zereth Mortis' vital goals.
We smashed our portals, and I erased my translocation equations from my head as well. Any desire to return to the outside regions was thrown out the window.
As we relinquished our cartel titles, our souls sang! From then on, I was known just as Firim. While I had no intention of profiting from the Progenitor's wisdom, I did want to comprehend it.
This is the point at when the schism started.
Part 3 of Firim in Exile: A Victim of Lesser Intellects Why had I been burdened by such a tiny group of people?
The dullards who worked beside me in Haven failed to grasp the purpose that drove my every thought and action, even in a country of endless wonder.
I needed to go to the Sepulcher.
They claimed it was blasphemy. There were too many precious secrets there. Truths that should not be explored or even contemplated.
They declared me to be a heretic. They damaged my study while I was distracted. Kreth would send some meddling pilgrim to interfer just as I was about to finish translating a fresh cipher.
Our larger quarrel dragged on and became unresolvable. Finally, they proclaimed me a renegade and expelled me from Haven, which I had provided them with!
Nonetheless, I endured the humiliation in a way befitting a man of my intelligence and willpower. I would outrun them all in exile.
That's exactly what I did.
Part 4 of Firim in Exile: Automa and Realizations Observing the automa taught me a lot, even if I couldn't go to the Sepulcher.
To be honest, I first misjudged them. They seemed to be simple servants, less capable of autonomous thinking than even Oribos' muddle-headed attendants!
They were, however, part of a larger pattern in Zereth Mortis. A geometry that varied with the task at hand, extending and compressing as needed.
After all, this isn't a museum or a cryptic library. It's a workshop, not a conference. Afterlives are forged at this forge.
I witnessed the vast architecture of the Progenitors put into effect when I removed my mind from the constraints of vision. The Arbiter's judgements dictated how the afterlives should be built.
These responsibilities fell to the automa, who constructed flora, fauna, and terrain before encasing them in orbs and sending them out into the In-Between like seeds dropping into rich soil.
Do you see what I mean? Do you have the same understanding as I do?
Everything in the Shadowlands—everything!—follows a pattern. Nothing is lost in a closed system. Even what seems to be destroyed is just transformed for a new function.
Purpose. Hmm. Despite their myopia, the attendants may have a glimmer of understanding of the riddle.
Part 5 of Firim in Exile: The Greater Mysteries and the Cyphers I saw a variety of automa in various sizes and forms. Guardians, builders, collectors—and a smaller group who appeared to enjoy maintenance and repair work.
Aside from their uncompromising commitment to their responsibilities, these automa shared another distinguishing feature: their language. They talked in tones and echoes, not words I could comprehend.
You should know that I, Firim, am well-known for my language abilities. Though human souls are imbued with the knowledge of the words of Death upon their arrival in the Shadowlands, many maintain recollections of the languages they employed on their previous planets.
And, I ask you, what is language if not a system of sounds and patterns?
So, indeed, throughout my talks with mortal souls, I had learned a plethora of languages. As a result, you'll understand why I'm certain that the automa's language will cause no difficulty.
Never before in my life have I been so mistaken.
The Automa's language was more than just words. No! It was an integral aspect of the cyphers! The phrases were crucial to comprehending the geometry. Fractals are a kind of fractal.
So much was waiting to be uncovered. My mind was completely awakened when I came upon one of the most unusual kinds of automa.
Part 6 of Firim in Exile: You could hear the melody, but you won't comprehend it. In Zereth Mortis, automa were prevalent. However, not all kinds. One was very uncommon, like polished pearls amid an endless number of sand grains.
The oracles, to be precise.
They performed songs to their relatives, so I assumed they were merely different in appearance. But something unexpected occurred when I got closer to one to better watch its tasks.
Its voice was heard by me.
Despite this, the name "voice" is inadequate. I had the feeling of hearing words said in the same way as one would while chatting with a colleague. But there was more.
As much as I heard the words, I felt them. My whole existence was affected by the concepts that entered my mind and imparted their significance.
What were the words it offered? It conveyed pictures. Riddles. Prophecies. I recall my chats with Irik-tu and the thousand truths they taught me as they echoed through my very core.
Then it occurred to me. Both one truth and a thousand truths were spoken by the oracles. Not as independent ideas, but as if they were all happening at the same time.
How much more complicated must the brains of their creators be if the oracles, creatures left behind to monitor a workshop, could conceive in such terms?
I've long scoffed at what I've learnt about the void lords, or Nether demons. I used to think Death's pantheon was more powerful, but now I see they're just as constrained. The truth is found at the crossroads, not in one way or the other.
The First Ones divided their gifts among the children, but none of them received all of them. It's no surprise that these children fought constantly since they were so envious of one other. They were by nature denialists.
I lost consciousness as a result of this insight, as I had once again transcended into a new realm of mind.
Part 7 of Firim in Exile: Consider the disclosures and you will be terrified. Every fresh revelation in Zereth Mortis brought me back to the First Ones' secrets. I tried to figure out what they were like, but every time I thought I was getting close, I found myself sliding more away.
I pondered their design once again. The Arrangement. Angles and arcs, lines and curves.
And there are twists and turns. So many twists and turns.
The six factors that pointed to a seventh but refused to acknowledge it. For a long time, I treated this seeming contradiction as if it were just another variable. There's an unsolved mystery here.
The oracle's song, though, continued to ring in my mind. And the geometry began to take form in my thoughts as I let my attention to ease and my hold on the tangible to weaken.
It was six and seven at the same time. The sixth was one, and the seventh was the opposite.
Did they want to unite? The music, on the other hand, appeared to suggest differently. Both of them were, yet only one of them could be.
The tone of the music changed. The form it took made me tremble.
There was no way to solve this variable. It was a solution waiting for its chance.
The song must not come to an end.
Is it still sung by the First Ones? I honestly have no idea. However, If they fail to do so…
If they fail to do so…
Who will?
Addendum to Firim in Exile: Ruminations on the Fragility of Everything Despite the fact that the Jailer has been vanquished and the Shadowlands have been restored, I am unable to rejoice in these successes.
Because I've examined the Sepulcher's inner workings. Witnessed the Jailer's attempts to rewrite reality using his abilities. And these insights fill me with apprehension that shakes my very core.
It's evident to me now that each power of the universe needs its own Zereth, as well as an inner sanctuary analogous to the Sepulcher.
And if that's the case, these sanctuaries must be linked at some level, a link that the Jailer attempted to exploit.
What he started in the Sepulcher was supposed to spread outward from one Zereth to the next, until everyone was under his control. The core of the Shadowlands serves as a portal to the hearts of each cosmic power, one by one, each chained to his will.
But, if his plan was foiled, why does my thinking feel so uneasy?
Because I've seen the pattern's fragility. The scales that hold the six forces in check are so delicate.
And if the Jailer's act of malice merely left the tiniest of fractures in that pattern, I'm afraid that what is little now will only develop until the equilibrium itself is prone to being destroyed by another force exerting unrelenting pressure.
I hope the First Ones were forewarned of such a possibility. That they would put in place safeguards to protect their big scheme.
Unless…
Unless, of course, their design was never intended to last.
And it's the potential that keeps me up at night.
For more Zereth Mortis lore, check out what we've found of the Cypher Lore Codex: