Our adventurers have found the Sepulcher of the First Ones and are on their way to defeat the Lord Sanguinius. Is this a boss worthy of all that lore? Or is it just another mob with loot drops randomly placed around them…?
The "sepulcher of the first ones bosses" is a boss encounter in World of Warcraft. It is one of the best and worst encounters in the game. The loot and difficulty are also discussed.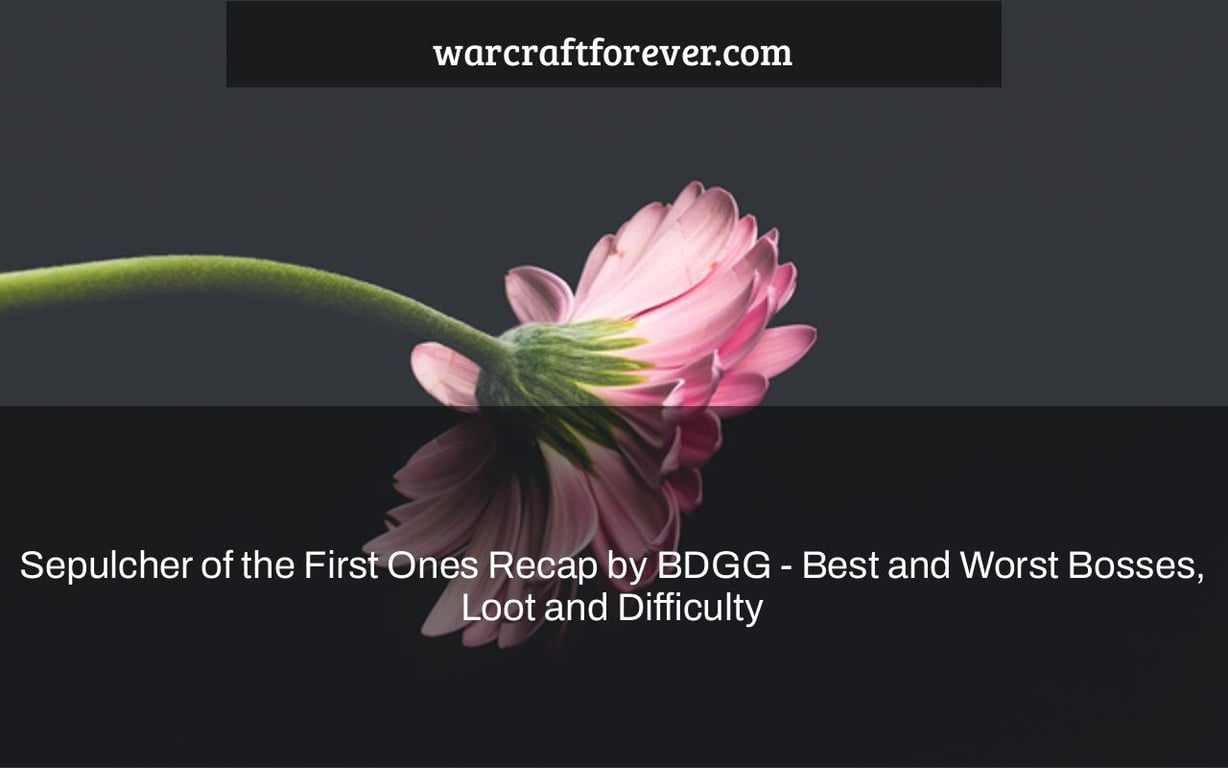 BDGG discusses the Sepulcher of the First Ones raid in Patch 9.2, including their favorite and least favorite enemies, treasure systems, and the raid's difficulty!
Introduction
Sepulcher of the First Ones is firmly entrenched in the top tiers of all time, but is this for all the right reasons? It's undoubtedly Shadowlands' flagship raid, and Blizzard has experimented with several substantial alterations in comparison to previous Shadowlands Raids.
I spoke with members of the BDGG leadership and raiders to get their thoughts on how the raid went.
Bosses
Which boss was your favorite?
The raiders seemed to concur that Halondrus and Rygelon were the favorites to emerge victorious from the attack. While Halondrus' evolution was nothing short of terrifying, casters projected that, like Painsmith Raznal in Sanctum of Domination, it would return as one of the raiders' favorites.
type="box" Priest Minatozaki
Halondrus. The ability to control mobility while taking as little damage as possible is, in my view, one of the most enjoyable aspects of the job, and one of the finest ways to distinguish excellent from great players. Also, the strategy of having the bomb pairings communicate through private disc call in addition to raid voice in teamspeak is quite clever, and it was enjoyable for me to communicate with my bomb buddy.
Monk – Lozy" type="box"
Rygelon. This battle featured nonstop action from start to finish, and it was also visually stunning.
Priest Machii" box="type"
Rygelon – It was a fast-paced, straightforward combat that required a great deal of healing and damage.
Mage Dorovon
My favorite experience was with Rygelon. Patchwerk bosses are usually fun to play, particularly when they appear late in the raid. This fight required Frost Mage advancement, which is a speciality that takes a lot of uptime to execute successfully. The monster's mechanics involve just enough mobility that maintaining perfect uptime was difficult but not impossible, resulting in a lot of enjoyable personal optimization as you proceed through the battle. I especially like the fight's conclusion, in which there was no way to dodge the last Massive Bang.
What Boss Is Missing?
Halondrus is the lucky winner! By a mile. Blizzard deserves credit for the encounter's design. Three separate monster locations, bomb juggling, and intriguing dynamics like mote knockbacks and sluggish fields are all included. This boss was just remarkable. However, it was maybe a bit too challenging for its position in the raid.
Priest Minatozaki
Crab is an all-time excellent boss that was just a little too difficult for its raid spot.
Monk – Lozy
Definitely Halondrus. In terms of complexity, it was out of place, but it was also well-designed and enjoyable to play.
Mage Dorovon
Halondrus stood out as something distinct, even if it wasn't my favorite or least favorite encounter. The distances players had to travel during the intermissions were substantial, particularly while carrying explosives, and the encounter felt considerably different as a consequence.
Warlock Yipz
Halondrus, for sure. It was wonderful to see that the boss was not buggy and had really fascinating dynamics after testing on PTR and witnessing the battle shift drastically on live servers. The boss was harsh, yet it was fascinating and kept you interested. Unrelated to unat. Fights like these are fun, but maybe not for the raid's sixth boss.
Priest Machii
Halondrus. The mechanics necessary to beat this monster made it quite rewarding after it killed, even though it took a little too long. People loved watching it, and for the most part, they enjoyed playing it, and the raid location was ideal.
The raiders were critical of two confrontations, but they loved the rest. Pantheon and Lords of Dread do not seem to have worked out. On heroic, both sounded promise, but the Mythic Mechanics didn't bring a significant difference to the encounter, and it ended up being more frantic or having small modifications trivialize the major mechanic. Dorovon provided some helpful insight on why Lords of Dread didn't work out for him, particularly as a ranged player.
Mage Dorovon
Lords of Dread was my least favorite encounter since the tight tuning of the battle combined with the positioning challenge for ranged players resulted in uninspiring tactics. The fight's tuning requires Slumber Clouds to be strategically placed around the room's boundaries, although Clouds of Carrion on ranged players may severely restrict mobility, particularly when combined with Aura of Shadows. While it would have been interesting to figure out how to effectively position all of the Slumber Clouds with a large number of ranged players, the easier plan was to simply utilize a small number of ranged players.
The Raid's and Bosses' Overall Design
Supulcher is, without a doubt, one of the most aesthetically stunning raids that Blizzard has ever produced. It seems like a natural continuation of Zerith Mortis and will go down as one of the coolest-looking raids ever published.
Priest Machii
I loved having more difficult bosses early in the raid, at the beginning. I appreciate how the first four or five bosses were rather simple. Except for Pantheon, each boss was entertaining and distinct. This adaptation of Artificer was fantastic. While not the finest end-of-xpac boss, the Jailer was fantastic.
Warlock Yipz
Almost every week during farm, raids will contain at least one boss that I dislike doing. This time, I don't believe I have any superiors that I despise.
System of Loot
So, what did work?
Monk – Lozy
Almost everything in terms of combat. Basically nothing in terms of loot.
There are high expectations and terrible realities. On the Race to World First level, there aren't many different points of view. Although loot deserves its own page, let us touch on it briefly. No other tier has ever had such a significant impact on how efficiently a guild may get their gear. Tier, in example, ended up being in a system that players could control, creating a huge difference between the best guilds and those attempting to compete.
Do You Think System of Loot Need to be Changed?
Monk – Lozy
Yes, but not always. I believe that any loot system will be pushed to its limits by high-end groups. I wish it were simpler for us to get our tier, but I realize this was not designed with us in mind. The two most obvious faults are the loot system: 1) Week one, a specific amount of toons were rendered unusable. You're a bench analyst if you can't make a four-set. This is a TERRIBLE sensation, and it happened to shards in Sanctum as well. 2) No epic bosses were drawn on the first day of mythic week. Perhaps this is a controversial opinion, but legendary week should be reserved for mythic raids.
Mage / Dorovon
Generally, there will always be optimization and abuse of System of Loot and I do not think there is any design short of not having loot be used at all that would prevent it. That said, some of the optimizations used in Sepulcher of the First Ones highlighted some issues that may need to be addressed, especially because they impact everyone who plays the game and not just the RWF guilds. Sepulcher of the First ones and also Sanctum of Domination before it had a style of loot where tier sets and shards of domination were by far the most important loot and optimizing those specific drops had too much impact. I think the biggest issue for Sepulcher in particular was that two of the five tier pieces were from Lords of Dread and Rygelon, which meant that characters that could not get 4 pieces the first week of Mythic were not determined until that week.
Warlock Yipz
Loot is usually an issue for top-tier guilds, but I believe the looting system was enough for casuals, particularly with the catalyst. The one problem I have for people who aren't in a top guild is the mythic raid tuning, which is about 4 pieces and double legendary when it may take weeks to get these things.
Priest Machii
Yes. If you have at least the item level, bring back master looter or make tier tradeable. Even during the PTR, when tier monsters dropped four pieces of tier in addition to the standard loot table, it would have been excellent.
Rogue / Aestis
100% – I believe the present loot system is much too exploitable and unhealthy for the RWF, but I also believe it has issues from a more casual standpoint.
It's notable that the raiders try to be aware that the System of Loot affect different parts of the raiding population differently. While this loot system was particularly unhealthy for the RWF, it's more complicated for everyone else. With the raid being tuned for gear that only the top guilds could optimally get, that does seem to be punishing specifically for lower guilds who can't manipulate 4 pieces on to their desired characters.
The Most Difficult Tier in History?
Another aspect of this game is loot. Before 2 piece and double legendary, was it too difficult? Too simple after that? It's evident that the raid was designed to take advantage of the power spikes that this gear provided; think how things would have gone if the top guilds hadn't forced four pieces in the first week.
Monk – Lozy
At this point, I believe it is more in line with what we anticipate from a raid. Rather than additional fluff, I like "fewer, tougher" bosses. In Castle, the first seven monsters were slain in a single day, which is unusual. Sanctum is the same as Sylv's Guardian. I believe this tier had a few too many of them since most of us wanted to finish in less than 14 days, but it was due to length more than difficulty. Anduin was maybe a touch too easy (due to the issue), Halondrus a tad too difficult, but Rygelon and Jailer are probably dead on. I would have like Lihuvim to be a more difficult battle.
Priest Machii
I liked the complexity, but I believe having 2-3 bosses that need 250+ pulls is a bit excessive. 1 300 pull boss, 1 200 pull boss, 2-3 100 pull bosses, and the rest 50 pulls or fewer would be ideal for an 11 boss raid.
Rogue Aestis
I believe the raid's difficulty was set too high by 2 or 3 notches. I believe that if any of the hard bosses (Halondrus, Anduin, Rygelon, or Jailer) were reduced to a more moderate level monster, the difficulty would have been on the verge of being too much, but the present condition was just too tough.
What Should Be Changed
Creation Catalyst and double legendary should be available week one, according to popular demand. This would have made the raid just marginally easier for the top guilds, but it would have improved consistency across the board for all guilds. Above all, it would have spared a great deal of sorrow and unpleasant tasks. We hear from a number of people that got to play the raid, but many who didn't earn their 2pc week 1 sat on the sideline for the most of the tier.
Another unique approach on breaking the raid into two pieces instead of one large raid comes from Dorovon and Lozy:
Monk – Lozy
Divide the raid into two parts. Even with the Halondrus incident, this tier finishing at Anduin would be a wonderful tier if it wasn't recognized as the GOAT. Instead, it will be remembered as a marathon grindfest in which the best 100 athletes in the world went insane.
Mage Dorovon
Personally, I think the idea of separating the raid into two halves could have been taken a step further. We would not have witnessed the same amount of fatigue if the final three bosses had launched many months after the first eight. Something similar occurred after Battle of Dazar'alor with Crucible of Storms, and although participation in that raid was minimal, I believe it might work well towards the conclusion of an expansion like this.
Priest Machii
Making the raid take less time. This is due to a combination of taking so many splits to get gear and having too many bosses with greater pull counts. This tier would've likely been one of the finest tiers if loot master or tier tokens were transferable if you only had the ilvl in combination with making some of the monsters significantly easier had been implemented. Having saying that, it was still a fantastic tier, and perhaps the finest of the expansion.
Rogue Aestis
I believe that if Halondrus was reduced to a 100-200 pull monster and splits and equipment were not as bad, the raid would have fared much better.
In conclusion
One of the most unusual levels ever constructed, Sepulcher of the First Ones, will always stand out in my memory. We've seen how people's perspectives shift and they come to appreciate things they once despised (see: Halondrus), so only time will tell how the world recalls Sepulcher and Shadowlands in the future.
Thank you again to some of the BDGG people who took the time to discuss this. We'll return with additional details on the raid's ideas and systems, which posed a new challenge this RWF.
The "sepulcher of the first ones guide" is a recap by BDGG of the best and worst bosses, loot and difficulty in World of Warcraft.
Related Tags
sepulcher of the first ones raid guide
sepulcher of the first ones boss order
sepulcher of the first ones boss guide
sepulcher of the first ones release
sepulcher of the first ones tank guide