The tier set bonus for Shadow Priests has been changed – we take a look at how the change impacted our gameplay and why you should still be playing this class. We also offer tips on what new sets to buy now that the meta has shifted.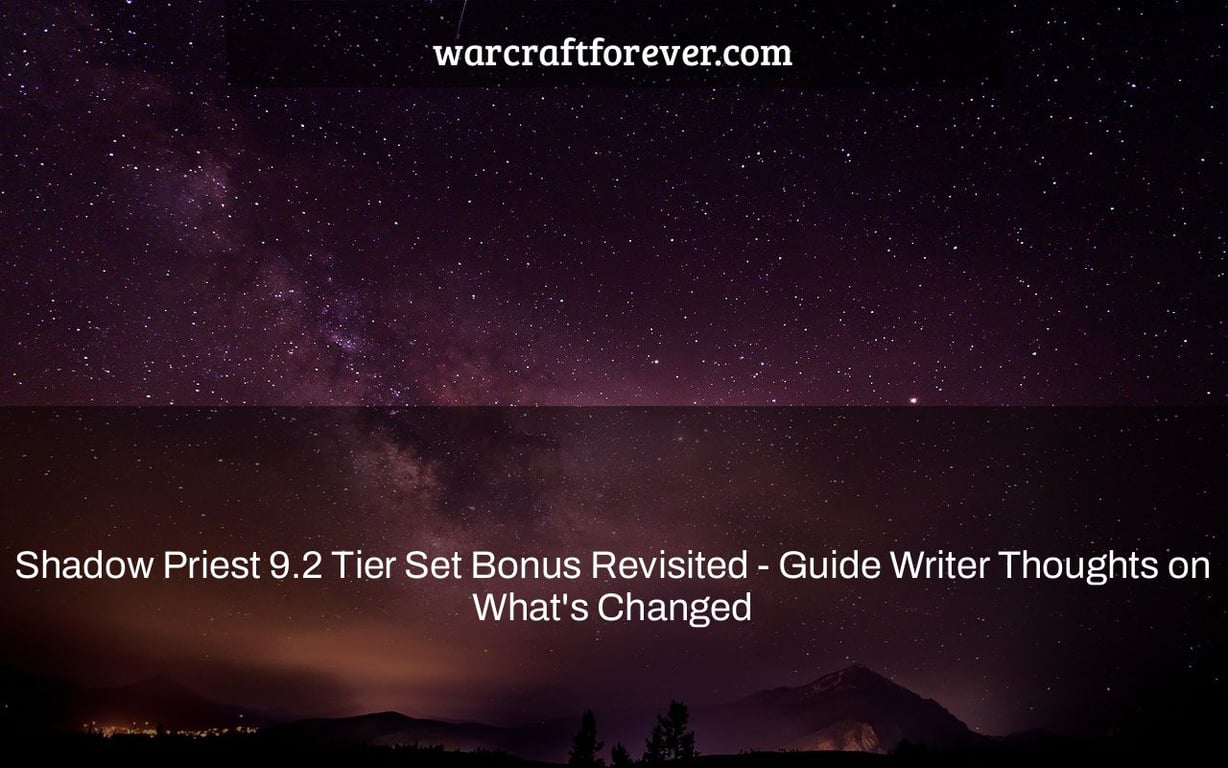 Our Shadow Priest guide writer, EllipsisPriest, has weighed in on the aforementioned modifications to the Shadow Priest Tier Set bonus!
Introduction
It was revealed quite early on in the 9.2 PTR that Shadow Priest's two-piece set bonus will be changed. These changes were made in response to negative criticism from players concerning the set's influence on the value of Mind Flay and the impact of a high-value filler spell on the spec's already-stretched rotation. Blizzard's early answer indicated a shift away from Mind Flay and toward spending Insanity.
Despite the fact that we have yet to get a post from Blizzard describing or explaining any changes, Shadow has gotten a significant modification to its 2 piece bonus, as well as a minor adjustment to its 4 piece bonus, both of which are live and testing on the PTR.
Darkened Mind – Devouring Plague has a 40% chance of granting Dark Thought when cast. When you cast Searing Nightmare, you have a 25% chance of getting Dark Thought.
Consuming a Dark Thought causes your shadow to animate, causing (208 percent Spell Power) Shadow damage to all foes within 10 yards of your target over the course of 8 seconds.
Shadow's new set bonus is still strongly based on the Dark Thoughts concept, but it now generates them with both of its Insanity spenders. The Shade generated by the 4 piece now delivers AoE damage as well, addressing a major flaw in the original set.
Gameplay
The most serious flaw in the original set's design was its detrimental effect on gameplay, particularly during cooldowns. Casting extra Mind Flays to create procs in a rotation with insufficient free GCDs was very inconvenient, and it often resulted in the player fishing for procs than than complete their normal rotation. With the new set, you may concentrate on the traditional rotational objectives of expending Insanity and firing spells on cooldown rather than trying to shove Mind Flay into places where it doesn't belong.
Aside from cooldowns, the gameplay has enhanced as well. Due to the increased worth of Dark Thoughts, Mind Flay has regained some importance, but not to the point where moving seems excessively harsh. Dark Thoughts' proc rate is also high enough that it seems constant both within and outside of cooldowns.
Overall, the new set bonus has a beneficial influence on Shadow's gameplay. There is, however, one significant annoyance.
Proc Overflow is a source of pain.
With Dark Thoughts now coming from two sources, consuming every proc without any going to waste is quite challenging. This is notably obvious in AoE scenarios, as Mind Sear and Searing Nightmare may both trigger Dark Thoughts at the same time, with one overwriting the other.
The sheer quantity of procs Shadow possesses owing to conduits and the new tier set is also worth noticing. There will be… in 9.2.
It's debatable if having that many procs is a problem or not, and it's outside the scope of a set bonus, but it's worth emphasizing how much is going on in Shadow's rotation. Shadow will always waste some procs when there are so many going off at once. If a free Devouring Plague from Mind Devourer causes Darkened Mind when you have a high Insanity level, you must choose between Mind Blast (possibly squandering Insanity) or Devouring Plague (potentially wasting a proc of Darkened Mind).
Dark Thoughts was allowed to stack during the Shadowlands Beta to prevent players from squandering procs. However, at the time, the proc was also deterministic, with a very little likelihood of ever stacking. The stacks on Dark Thoughts were removed before to release, but given that it is no longer deterministic and this set provides substantially more procs, it seems reasonable to reinstate them.
AoE
The initial incarnation of the set bonus had a severe flaw in that it had no value in AoE. By adding cleave to the Shade's channel, this update corrects the problem. This is fantastic since it allows Shadow to inflict indiscriminate cleave damage without having to skill into Searing Nightmare, and it also helps to shore up Shadow's typically poor AoE DPS after 9.1.5's uncapping.
While the AoE has improved, it still has an effect on a spell that isn't usually performed in Shadow's AoE cycle in Mythic+. You lose a spell that would have otherwise become Searing Nightmare for every Dark Thoughts expended (due to AoE's Shadow's Insanity overflow difficulties).
Bugs
There are still a few issues and strange interactions with the set bonus, most of which are related to the Shade's spawning and target selection.
When the Shade first spawns, it goes through a 1.5-2 second spawn animation before starting to channel.
When the Shade has completed its channel, it comes to a halt to recast. This has no effect on damage, although it does make the game appear a bit strange.
Instead of targeting your target or the target of your Mind Blast, the Shade targets the nearest fighting target in line of sight.
Every time the Shade completes a channel, it tries to retarget by picking the nearest target in line of sight.
The Shade will not target anything behind you, so if you have to turn your back while it recasts its channel, the Shade will cease casting.
The greatest range at which the Shade may begin channeling is likewise less than 40 yards. This implies that if you're near to max range and it hasn't started channeling yet, it will do nothing until it despawns or you go closer.
Legendary Covenants and Talents
Despite the fact that the new edition has increased Night Fae's set bonus by eliminating the requirement to trawl for procs with Mind Flay, Kyrian still loses out. This is due to the Kyrian cooldown rotation being significantly busier than any other covenant, resulting in more Dark Thoughts procs being wasted.
Shadowflame Prism and Talbadar's Stratagem are the two Legendaries most impacted by Mind Blast, with the tier set currently concentrating on increasing its frequency. Talbadar's Stratagem, unlike the previous version of the tier set, does not supersede Shadowflame Prism, hence Shadowflame Prism is used in Raids and Mythic+.
The increasing value of Dark Thoughts has taken a toll on Void Torrent, with 3 seconds out of every 30 where we aren't creating them. Damnation and Mindbender are now valued more than it. Personally, I think this is an intriguing quirk of the set bonus, since talents are typically something that set bonuses increase the value of, rather than decrease it.
Conclusion
Overall, this updated incarnation of the Shadow set bonus is a tremendous upgrade over the previous design and significantly improves the spec. The extra Dark Thoughts procs boost the rotation rather than tying it down by the requirement to cast Mind Flay both inside and outside cooldowns. The addition of stacks to Dark Thoughts, on the other hand, would go a long way toward decreasing wasted procs and providing for a bit more flexibility in the rotation, which Kyrian would appreciate. The Shade is still a little buggy as well.
Watch This Video-