This guide is meant to help new players learn the ins and outs of Shadow Priest in Patch 9.2 Legion, as well as provide a brief overview of what it takes to build one's own Heart of the Death Knight set!
This is a guide for the Shadow Priest in the Legion expansion. The guide is written by "Guide Writer" and has been updated to build 42174. This is a Tier Set build that focuses on burst damage and mobility. Read more in detail here: shadow priest pvp.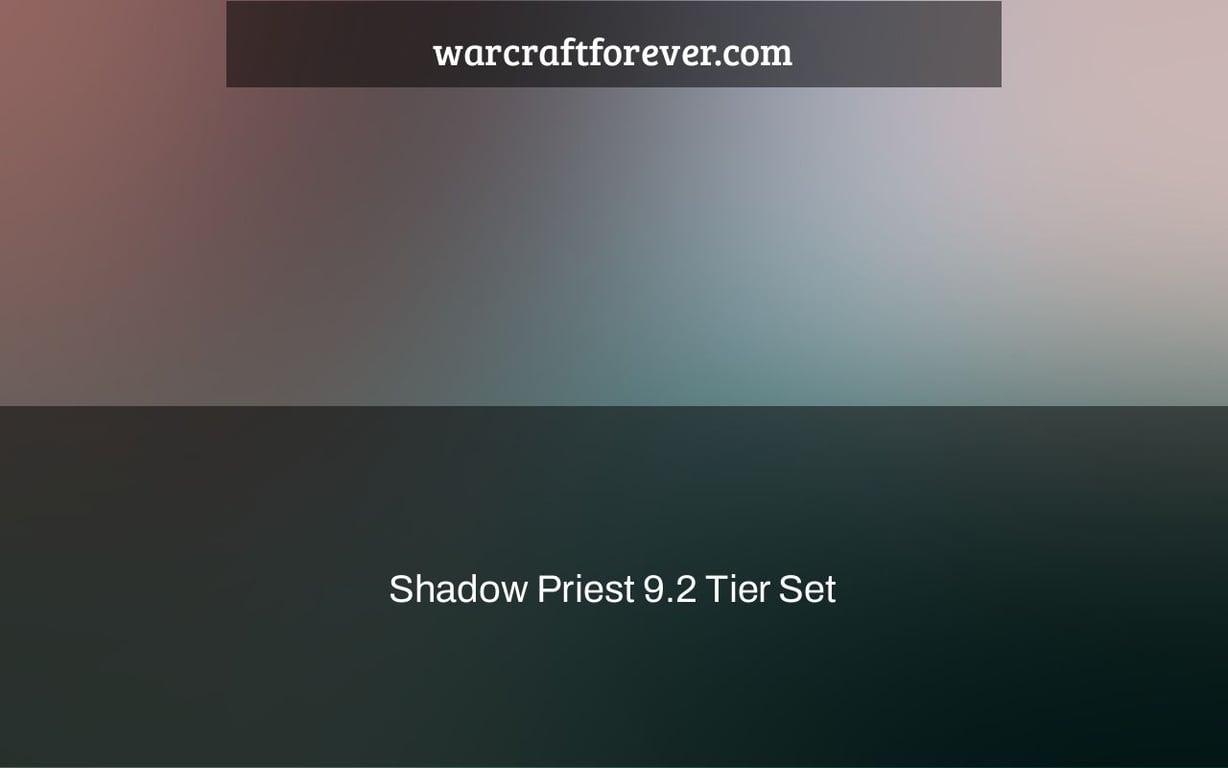 EllipsisPriest, the author of our Shadow Priest guide, has weighed in on the changes to the tier set bonus and the nerfs to the Necrolord legendary.
Shadow Priest received two major nerfs in a recent 9.2 PTR patch. One to the power of the Necrolord covenant legendary, Pallid Command, and one to the strength of the tier set in Single Target and AoE. This release also included various new and old problems that had been plaguing Shadow throughout the whole of the PTR cycle, making it impossible to test updates until lately.
The Nerfs
The Bugs
Mastery has no effect on Living Shadow once again. (This has been corrected, but if you performed any testing last week, you would have seen the effect.)
If your target isn't currently engaged in battle, Living Shadow may deliver harm to it.
The Figures
Based on simulations, the nerfs to Single Target seem to be 7-10% for both the legendary and set bonus nerfs, depending on second legendary choice and encounter length. The nerfs are expected to be bigger in Mythic+, although precise figures are difficult to predict due to problems that pushed things even farther than planned on the PTR last week. Given how useful the set bonus was in Mythc+, possibly propping up the spec in certain cases, it would make sense to give it a lot more weight.
The Effect
This modification has had a significant influence on talent, legendary, and covenant selection in the lead up to and throughout the following patch.
The possibility of running Ancient Madness or Misery in a raid has been greatly decreased, with Hungering Void and Twist of Fate now firmly in front in Single Target.
Any builds that use Talbadar's Stratagem and Damnation are far weaker than they were before.
Shadowflame Prism is now Shadow's primary legendary option when any covenant enters the next tier.
Prior to gaining a second legendary, Night Fae and Necrolord are almost neck and neck in M+ and Raids with ideal play.
Even once double legendaries are released, Night Fae has the potential to be a viable Mythic+ choice. Outside of some specialized cases, Necrolord remains the sole option in raids.
The value of Mind Blast, as well as any legendaries that directly boost its value during the rotation, is affected by lowering the set bonus's power. Pallid Command has been nerfed, and it is no longer Shadow's greatest Single Target legendary.
While Bwonsamdi's Pact has little to no usefulness in a raiding setting, the delay between trash pulls in Mythic+ allows enough time between the Fae Guardians and Void Eruption cooldowns that you may use Void Eruption once every trash pack.
My Opinions
Shadow taking a 7-10% hit on Single Target is a big deal for the following tier. The set was likely above average in comparison to other specifications, but the spec has struggled to maintain its head above water in SoD outside of early development. With the information now available, the next tier seems to be in the center of the pack (though tuning is far from finished).
Shadow got nerfs to all of its primary legendaries, as well as its Insanity spender Devouring Plague, before to the release of sanctum. Shadow was doing well on Single Target, which compensated for its absence of Multi Target, but I'm not sure… Perhaps it had the potential to scale too well when the item level in SoD increased? Clearly, the scaling never materialized, as other more adaptable specifications pulled ahead or caught up across the tier. With that in mind, considering these significant nerfs, it seems reasonable to counterbalance them by restoring some power to Devouring Plague.
The Effect on Mythic+ is much harder to measure, and ultimately can't really be counter balanced by number buffs or properly compensated. Given the state of the PTR it's hard to think nothing will change for Mythic+ balance, but Shadow was still in a precarious place prior to 9.2. It was good at high sustain damage across multiple large pulls, but it was much much worse in smaller pulls of 3-5 mobs. This has lead to a divide where Shadows playing in coordinated groups at the higher end were doing much better than those pugging medium to low keys, with standard routes and single pack pulls. This is exacerbated by the existence, and necessity, of Searing Nightmare, which is an awkward way of doing AoE damage off putting to many players. While the new set bonus wasn't a solution to this problem, it was a lot of the spec's damage on those smaller pulls, and offered a way to deal AoE without having to resort to Searing Nightmare.
While a technological solution to Shadow's AoE was never going to be on the table in 9.2, the set does provide a significant amount of AoE damage without requiring interaction with Searing Nightmare. While the set's strength was too high in big pulls previous to the patch (particularly with the recent nerf to frost mage), striking it with such a huge nerf means the folks who get impacted the worst are those who were already suffering with Shadow in Mythic+.
It's a bit different with the covenant legendary nerf; it was powerful, maybe too strong, and it's simpler to nerf one item than it is to enhance the other three. The problem is that it doesn't feel good when the other three alternatives have dps values that are near to nothing, are too unpredictable and unreliable to function in raids, and 40 percent is a lot. After double legendary unlocks, Shadow will still be Necrolord in raids (barring some really specific interactions), but it will be worse than before. Again, this is more about the awful situation of Priest's covenant legendaries than the nerf itself; things should not have gotten to this point.
I'll discuss PvP briefly. While I don't have much experience with PvP in this expansion, I expect a 40% nerf to the spec's most popular legendary would hurt.
Conclusion
In a vacuum, and especially after seeing the nerfs other specs are getting, the nerfs to the Shadow set and the Necrolord covenant legendary are unarguably warranted. The Effect of the nerfs, and My Opinions on them, centres instead on how they bring light to the state of Shadow's AoE rotation and covenant legendaries which are both quite dire. The spec will very likely need some form of tuning or compensation to offset something this impactful given its position on live, I think buffing the baseline damage of Devouring Plague and Searing Nightmare would be the simplest way to do it.
The "Shadow Priest PvP Guide" is a build for the PVP Shadow Priest. The guide was written by a player who has been playing since the release of Legion. The build is updated to patch 42174, with updates coming periodically. Reference: shadow priest pvp guide.
Related Tags
shadow priest trinkets
shadow priest mythic+ plus
shadow priest pvp talents
shadow priest classic
icy veins shadow priest