I've been raiding Dratnos and Tettles in Shadowlands 9.2 for months, so I thought it would be fun to make a tier list of the best gear for each boss at their respective level. It's my first time trying this on /r/wow!
The "Shadowlands 9.2 DPS Raid Tier List for Sepulcher of the First Ones – Dratnos and Tettles Predictions" is a tier list that includes information on the best dps builds for each boss in the raid. The list also includes some predictions on how long it will take to kill each boss. Read more in detail here: shadowlands dps charts.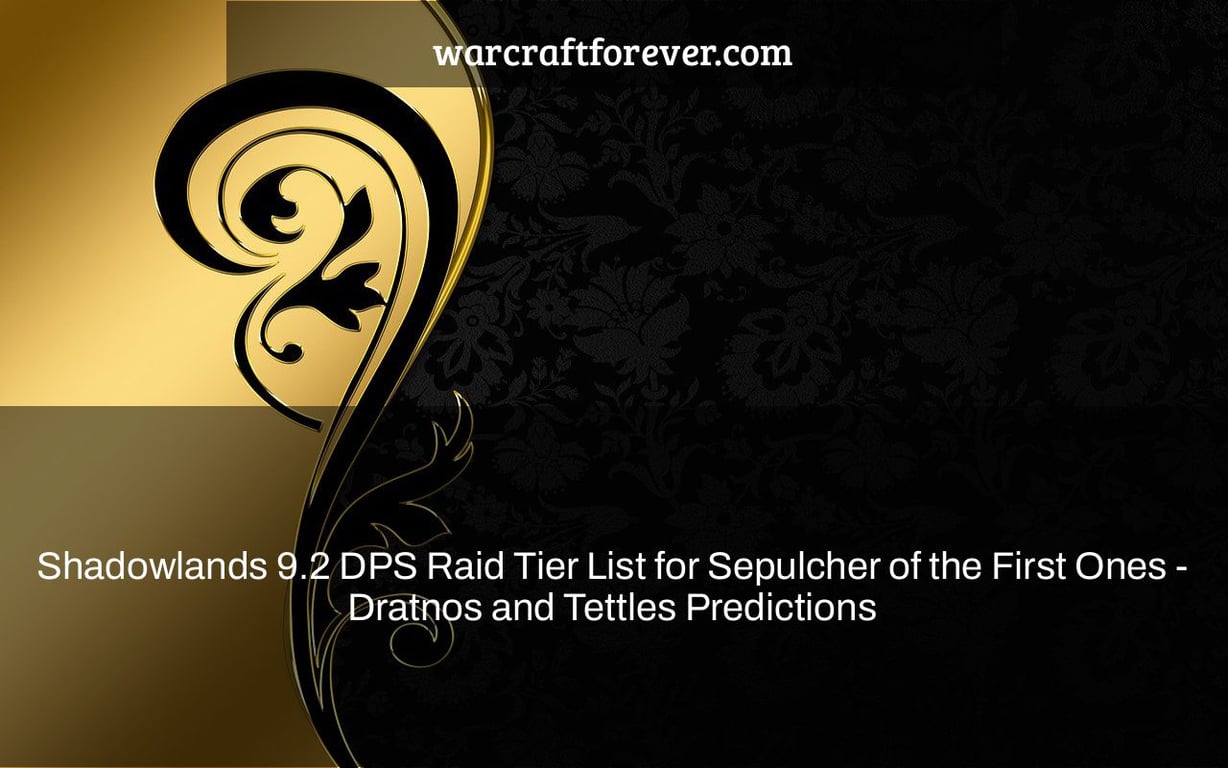 Welcome to Dratnos and Tettles' predictions for the Sepulcher of the First Ones raid in Patch 9.2 Shadowlands DPS Tier List. Based on PTR testing and current understanding of the raid encounters, they've made some predictions for raiding in Patch 9.2, including what each DPS spec's strengths and weaknesses will be, as well as how each spec will perform.
Notices Regarding This Tier List
We've altered a couple things regarding how the Tier List was constructed for this tier. We've engaged the help of Dratnos and Tettles, who've done considerable PTR testing and preparation to get a solid picture of where everything sits, rather than trying to combine the ideas of all of our Class Writers. Predicting the metagame ahead of a raid tier is tricky, so take this as a fun summary of what we anticipate the metagame will look like, but don't take it as gospel.
If you want to argue that your spec should be at a higher tier, you're essentially claiming that it doesn't need a boost!
DPS Tier List Predictions for Sepulcher of the First Ones in Patch 9.2 Shadowlands
Buttons for Filtering
S
A
B
C
D
F
Definitions for the DPS Tier List
For DPS, we've defined each tier as follows:
S: Specs that we anticipate to have a stronghold on raid setups and damage meters. The typical number of copies of specifications in this tier is three or more, since they provide massive quantities of damage with good damage profiles and often additional important utility or defensive choices. This tier contains no DPS.
A: Excellent specs that can be used in multiples; we'd be astonished if raid compositions didn't include at least one of them. These specifications are mostly typically known for their high single target damage output, but they also excel in a variety of other categories. These specifications are also rife with sought-after utility effects.
B: Good specs that will be in many, but not all, of the best performing raid compositions; we estimate them to be somewhat below the A tier specs in either damage or utility, but they will still be highly popular options.
C: Solid specs that we wouldn't be shocked to see duplicated in certain raid compositions, but we don't anticipate them to be stacked, and we wouldn't be surprised if they were absent from many. These are often specifications with situational damage profiles that are useful in particular sorts of battles, and may be quite helpful if the tier's most crucial clashes have such damage profiles.
D: Specs with significant difficulties that become obvious when used in a raid scenario; they may perform well in extremely specific conditions that are seldom seen in raids, but single target damage is often a significant struggle for specs in this category.
F: A spec with terrible flaws that urgently need development attention and that we wouldn't expect to see used in many raid configurations at all. This tier contains no DPS.
Video
DPS Rankings and Explanations for Patch 9.2 Shadowlands
Tier Specifications for the Sepulcher Raid
Warlock of Demonology
Warlock of Demonology has a superb niche at low movement single target, but whenever they are able to achieve it they are one of the best specs in the game. They do fall off a bit on encounters where spread AOE is the preferred damage profile, but that profile is not overly shown in raid. Overall it is hard to have an encounter where you do not want 1 Warlock of Demonology and 2 will be far more common than 1. Their 4-set (Malicious Imp-Pact & Ripped From the Portal) is also incredibly powerful giving them a pretty high damage gain on top of being generally pretty high DPS. With a lot of other ranged specs being lackluster, Demonology seems like it will be one of the premiere ranged. This means that you will likely bring a few of them
Warrior of Fury
Fury pumps a tremendous amount of damage, and Rallying Cry is a hugely powerful raid cooldown that has scaled with a Finesse Conduit Inspiring Presence to even greater heights as the expansion has gone on. Fury in particular will excel once the second legendary hits the field, where before that it may be Arms that sees play on a slight majority of bosses. Fury also does well in sustained cleave situations, and they have covenant flexibility to allow them to specialize in AoE burst on multiple different cooldown timings or to instead go with Necrolord and deal massive sustained Single Target damage once the 4pc (Frenzied Destruction & Frenzied Destruction) and the Memory of Unity is available.
Warrior of Arms
Arms is an excellent warrior pick with a strong execute phase and a good set bonus (Pile On / Pile On). Both Kyrian and Night Fae are excellent candidates for Arms since they let the Warrior to fine-tune their cooldown timings on a fight-by-fight basis, while they lack the thrilling unlock of a single-target covenant when they receive their set benefits and the Memory of Unity, unlike Fury. Even once they become available, Arms will remain a viable option, particularly in encounters where Kyrian or Night Fae's AoE cooldowns are beneficial to the raid.
Druid of Balance
Druid of Balance is a very solid choice for a large number of the bosses in the raid as a whole. With the projection of this tier being very melee centric, and a lot of the range specs being lackluster as a whole this opens up a large amount of opportunities for Druid of Balance. They currently have the strongest 2 + 4-Set in the game (Celestial Pillar & Umbral Infusion) and gain a lot of additional power from double legendaries. The ability to play Night Fae or Venthyr on fights depending on what is required whether it be 1 minute or 3 minute burst is very important.
Shaman of Enhancement
Shaman of Enhancement has gained the ability to do a lot of standalone DPS in patch 9.2. With the addition of their 4-set + double legendary, they are one of the highest patchwerk single target specs in the game. Of course this can be slightly misleading due to the fact that they really desire 100% boss uptime to achieve this high single target. However, when you factor in Windfury Totem and having pretty decent utility from things such as Wind Rush Totem they are a solidly A-Tier spec. Running a second Shaman of Enhancement is typically difficult due to the diminishing returns on Windfury Totem, but if there was ever a tier for it this would be it.
Demon Hunter Havoc
Demon Hunter Havoc is definitely the bottom of A-Tier, but still A-Tier nonetheless. They do not excel at one specific damage profile, but do a really nice balanced amount of damage for most DPS profiles. They do have some of the best target swapping capabilities and highest mobility in the game, which definitely plays into their favor on certain encounters. They also bring Chaos Brand, which the likelihood of you playing a Vengeance Demon Hunter isn't overly high. At the same time Demon Hunter Havoc does not seem super stackable, but one to two is pretty common.
Sepulcher Raid B Tier Specs
Frost Mage (Frost Mage)
Despite the recent ptr nerfs, Frost is still a good pick for mage players, especially in engagements that need sustained damage. Many other damage specs have shifted their focus to burst damage, which has traditionally been more valuable than sustained damage, but frost fills a unique niche in that their damage is almost always available and they can contribute significantly during critical damage moments when everyone else is cooling down. Frost has the advantage of Cold Snap, which allows them to use Ice Block more frequently, and while their damage is somewhat resilient if they're forced to move at any time, it will suffer if their uptime is severely reduced, as they rely on being able to hit the boss to maintain their Icy Veins through Icy Propulsion.
Fire Mage
After some PTR nerfs to their 4-set (Fiery Rush & Fiery Rush), Fire's damage numbers are less exciting than the other specs, but there are some strong points about Fire that often tend to increase its value on the most important raid fights of a tier. In particular, they do well in fights where the boss is most dangerous in its final phase and where damage is most important in the final phase, as they can freely move and cast Scorch with Searing Touch during this time, a slight damage boost and a huge boost to mobility and potentially to the amount of their potential damage that they can achieve. Cauterize remains a potent piece of defensive utility in a progression raiding environment, complemented by the Podtender soulbind that they often run, making it difficult to be an early death that impedes your guild's progress if you're playing Fire.
Mage of the Arcane
To be considered for a raid place, Arcane must do more damage than Fire and Frost, since it has certain structural limitations when compared to those two specs. Though it receives Greater Invisibility, it lacks the more potent Cold Snap of Frost or Cauterize of Fire, and its single target damage is heavily dependant on the ability to plant and throw. Fortunately for Arcane enthusiasts, their damage stats on Single Target and in cleave circumstances are looking good, with the Kyrian build benefitting considerably after the Covenant Legendary is introduced to their build in the fifth week of the patch.
Assassination Rogue is a fictional character.
Assassination is an excellent melee DPS spec, especially if the raid isn't very favorable to melee DPS, since it can typically cope with the types of features that irritate other melee specs without sacrificing nearly as much damage. This is due to a combination of features common to all Rogue specs, such as the ability to hit Cloak of Shadows and keep hitting the boss, as well as the fact that a large portion of their damage comes from the Vendetta window and damage over time effects, so as long as they can stay on the boss during Vendetta, they don't mind running away at other times. In the simulations, their single target damage statistics are a few percentage points lower than Subtlety's, but in fact, they may perform as good as or better than Subtlety in particular encounters.
Rogue of Subtlety
Subtlety appears to be the rogue spec with the most single target damage, as well as the ability to funnel damage into a priority target if there are some extra unimportant adds nearby, which could be the case on the PTR bosses Vigilant Guardian, Prototype Pantheon, Lihuvim, and Anduin, as well as any or all of the three untested bosses at the end of the raid.
Priest of the Shadows
After a dominant showing during raid testing, Shadow received two major nerfs at the conclusion of the PTR cycle. They're in our B Tier because we believe their damage is still adequate for many teams to include one or two of them, despite the fact that they don't provide anything to the raid's utility suite other from damage until the battle calls for Mass Dispel (which Sanctum of Domination did several times, but which was a bit of a historic outlier).
Sepulcher Raid C Tier Specs
Druid Feral
Feral is a spec that has one strength: single target DPS. They are at least pretty good at that, but they suffer from anemic AoE after a massive nerf to their 4pc (Sickle of the Lion) late into the PTR cycle, and their relative utility was actually nerfed this expansion with the addition of Stampeding Roar to Balance and Resto without any real compensation for Feral. We don't expect top raid teams to go out of their way for a Druid Feral, especially given the fact that there are other melee DPS like Warriors, Shaman of Enhancement, and Demon Hunters that are doing comparable amounts of single target damage with way more other upsides, but we do expect guilds that have a strong Druid Feral player on their roster to be able to field that player without it being a liability.
Warlock of Destruction
Destro is a situational warlock spec that we feel is unlikely to outperform Demo in this tier's most significant encounters. They flourish in situations where they can fully use Havoc, and if there are any encounters where they can go all out with an AoE-focused setup, their set bonuses may be quite useful. However, since this is not the kind of damage that a raid often needs to optimize for, we anticipate warlocks to use Destruction very seldom this tier.
Hunter with Beast Mastery
Hunter with Beast Mastery is a spec that only does single target damage in raid reliably and even then their single target damage is not particularly strong. Their 4-set (Killing Frenzy & Killing Frenzy) is not too bad and they do gain a bit from second legendary as Fragments of the Elder Antlers was already pretty good for BM coming into 9.1. At the same time I would not expect them to be super high on the list of specs seen frequently unless there is an immune heavy fight where you need to bust out the hunter. Even then they are the worst of the immunity options.
Hunter's Marksmanship
Marksmanship is a spec that was at the top of C-Tier for us, and a lot of it comes down to their very lackluster single target damage. Their 4-set Focused Trickery also does them very few favors in this department being a largely AOE focused 4-set. This puts their ST firmly in the bottom half (maybe even bottom quarter) of specs inside of the raid. Whenever you have ST that low you definitely start to run into some issues. They do an absolute insane amount of burst AOE for targets that are stacked up, so if there is a fight that requires burst AOE in a real way MM definitely can be your go-to there. It definitely will be difficult to see multiple Hunter's Marksmanships on boss fights though.
Hunter for Survival
Survival has an amazing amount of sustained AOE while being a single target damage choice in the midst of the pack. It obviously has difficulty competing against other melee alternatives in a melee-heavy tier, hence they're most likely in the C-Tier. Simultaneously, if you see a hunter being brought in for a raid, this is most likely the finest hunter specialty in general.
Their 4-set Mad Bombardier + Mad Bombardier is mostly responsible for this, as they acquire a significant amount of damage from their tier while also benefiting from a number of bug changes in 9.2. If they have uptime concerns, they may also use Aspect of the Eagle to deliver damage from a distance, which seems to be the case in certain engagements. This is a trait that not many melee characters have, and it might work in Surv Hunter's advantage. Ultimately, the main issue is competing against other melee choices while also lacking in the ST aspect.
Shaman of the Elementals
When employing Storm Elemental + Fireheart, Elemental is now benefitting from a favorable "interaction." By repressing storm ele and letting it to have 100% uptime, they are able to retain 20 stacks of Wind Gust from their elemental indefinitely. Ele will most likely be one of the greatest specs in the game if this remains the case. A or S-TIer, without a doubt. The following reasoning is based on the assumption that the interaction will be resolved?
Elemental Single Target seems to be rather good with one legendary, but as you reach the second legendary, things start to fall apart. Ele is ranged at a tier where many ranged slots are available, therefore assuming their ST DPS remains as excellent as their one legendary counterpart, Ele might be a viable choice for certain fights. They are deficient in raid usefulness as a whole, although they may skill into Wind Rush Totem if necessary.
Overall, they are pretty good at most AOE style encounters, but there is a pretty big lack of those styles of fights in Sepulcher which is very sad for the Shaman of the Elementals. A lot of the AOE style fights have unimportant mobs that can get killed passively with cleave from other specs that lose very little or even in some cases gain priority damage to kill them off.
Death Knight Frost
Frost DK has one of the stronger set bonuses in the game Arctic Assault & Arctic Assault, but a lot of their issues come down to their lacking Single Target strengths. This is definitely a high C-Tier spec, but some of the biggest problems with frost happen when you start to compare them versus other melee options such as Warrior, Rogue, or DH.
They're obviously a middle-of-the-pack Single Target spec, and although they do have strong 2 target cleave possibilities with a Breath of Sindragosa build, you can't afford to play a second copy. At the same time that it's difficult to play a second copy of the game, incorporating the first copy into a raid comp isn't easy on every battle.
Death Knight, the Unholy
Unholy only does single target damage, which is a useful damage profile for raids but even then they are not the highest. They also have decent execute with their 4-set Harvest Time & Harvest Time, but it is still miles worse than other execute options. Ultimately, the inability to do reliable cleave or AOE leaves them in an awkward position where they have no defined niche.
Unholy's major flaw is that they lack one skill that they excel at, and with melee slots fiercely claimed by things like Warrior, Rogue, and Demon Hunter, it will be difficult to field one in many encounters if you want to be optimum.
Paladin of Retribution
For the whole of 9.1, Ret Paladin was a spec that was unexpectedly powerful. They saw a good amount of play in Sanctum of Domination due to their ability to perform strong AOE while still having a competitive Single Target. Unfortunately for Ret, this is likely to be their permanent residence. While a second legendary gives them a decent boost, their 4-set is at best mediocre, leaving them in the dust. For this tier, their single goal forecast is woefully inadequate.
Under the correct conditions, ret might be extremely strong if it can leverage its usefulness from Blessing of Protection, immunity, or Blessing of Freedom. With Avenging Wrath, they can also provide a significant amount of burst AOE or Single Target damage, so if you need a big burst in a short window, a Ret Paladin might be a great choice for your guild. Unfortunately, they aren't the most powerful burst in a brief timeframe, and playing a second duplicate of them grows tiresome.
Monk Windwalker
Windwalker is another spec that may be quite effective in the appropriate conditions, such as when they can use their enormous AoE damage in a manner that is beneficial to the raid. There are certain situations when it's incredibly good to have the AoE taken care of, and a Windwalker can really allow everyone else concentrate on the single target damage – Soulrender Dormezain is an example of this from Sanctum. Windwalkers are also worth considering for lineups that don't include a monk in any of the other roles, since if the Windwalker adds Mystic Touch, they suddenly represent a lot of single target damage. Unfortunately, they are severely deficient in single target damage, which prevents us from ranking them higher. We believe it will be difficult for guilds to field more than two of these in many encounters, and even the first copy may struggle to keep up with other specifications.
Sepulcher Raid D Tier Specs
Warlock of Affliction
On raid-style engagements, Affliction Lock is possibly the lowest DPS in the game. This, along with the fact that the other two Warlock specs are respectable to powerful, pushes Affliction into D-Tier territory.
Affliction did see some play in Sanctum of Domination, but they gain very little from a second legendary option while having one of (maybe the worst) 4-set in the game Calamitous Crescendo & Deliberate Malice. Their 4-set gives them somewhere around a 2% damage gain, which is a laughably low amount of DPS that can be gained compared to a lot of specs. Whenever you consider that Affliction was already one of the worst ST specs, they are definitely just getting left in the dust. If you do see an Warlock of Affliction it is likely being used to pad on adds of some type and is not bringing anything of value to the raid. I would say that they are in dire need of a buff on their base damage + their 4-set for them to see play.
Rogue Outlaw
The most urgent problem that holds outlaw back in raid is single target damage. In isolation, their set benefits are good, but there are some kinks, such as the fact that they boost Pistol Shot but not by enough to switch to the legendaries that interact with those skills. Similarly, before the second legendary, Kyrian is their strongest covenant, but the addition of the double legendary gives Venthyr a lot of value, but not quite enough to make it the best overall selection. Because of these impacts, a lot of damage is being added to Outlaw's second best options, and there are a number of intriguing and equally competitive builds for the spec, but the overall ceiling hasn't been lifted significantly. They may have certain locations where they may be a good sustained cleave option, but even there, owing to the set benefits, they've lost ground to Subtlety in this patch, and they lose a lot of ground to Assassination in many real-world raid engagements where uptime is a concern.
Class Manuals
Want to know more about your spec for the new patch? Check out our detailed Class Manuals for every spec to learn everything about your spec in Patch 9.2.
DKFrost DKUnholy DKBlood DK

DHVengeance DHHavoc DH

Guardian DruidDruid FeralDruid of BalanceRestoration Druid

Hunter with Beast MasteryHunter's MarksmanshipHunter for Survival

Mage of the ArcaneFire MageFrost Mage (Frost Mage)

Brewmaster MonkMistweaver MonkMonk Windwalker

Holy PaladinProtection PaladinPaladin of Retribution

Discipline PriestHoly PriestPriest of the Shadows Assassination Rogue is a fictional character.Rogue OutlawRogue of Subtlety

Shaman of the ElementalsShaman of EnhancementRestoration Shaman

Warlock of AfflictionWarlock of DemonologyWarlock of Destruction

Warrior of ArmsWarrior of FuryProtection Warrior
Wowhead has released a tier list for the Sepulcher of the First Ones – Dratnos and Tettles. The tier list is based on the average dps, with each boss in order from easiest to hardest. It also includes predictions for how long it will take you to defeat each boss. Reference: wowhead dps tier list.
Related Tags
shadowlands dps tier list
shadowlands dps rankings mythic plus
shadowlands tier list pvp
m+ dps rankings
wow dps tier list