We update our Tier list from last week to include the changes in Patchwerk and the new procs for Dratnos, Tettles.
The "best dps mythic plus shadowlands" is a tier list for the new season of Mythic+ dungeons in World of Warcraft. The author has made predictions on who will be the best DPS for each class.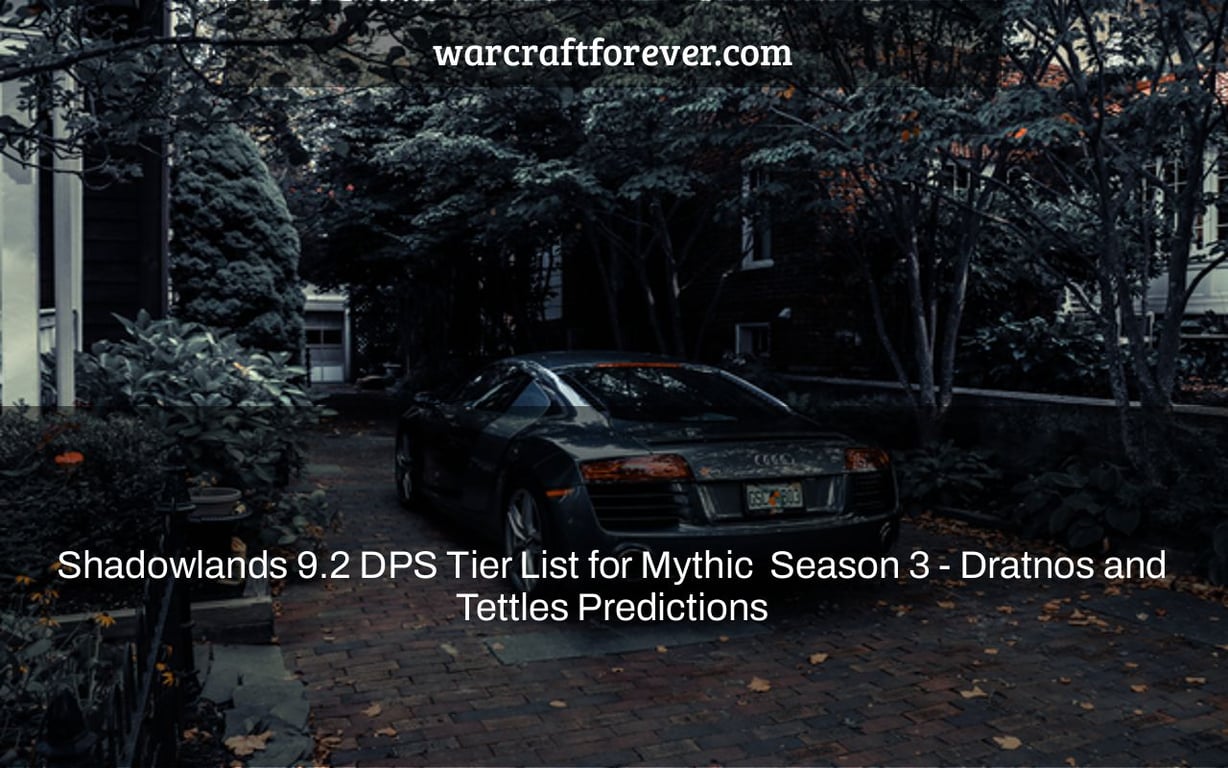 Welcome to Dratnos and Tettles' forecasts for Mythic+ Season 3 DPS Tier List based on Patch 9.2 Shadowlands. Based on PTR testing and current knowledge of the dungeons and Seasonal affix, they've produced some projections for Mythic+ in Patch 9.2, detailing the strengths and weaknesses of each DPS spec as well as how each spec will perform.
Notices Regarding This Tier List
We've altered a couple things regarding how the Tier List was constructed for this tier. We've engaged the help of Dratnos and Tettles, who've done considerable PTR testing and preparation to get a solid picture of where everything sits, rather than trying to combine the ideas of all of our Class Writers. Predicting the metagame ahead of a raid tier is tricky, so take this as a fun summary of what we anticipate the metagame will look like, but don't take it as gospel.
If you want to argue that your spec should be at a higher tier, you're essentially claiming that it doesn't need a boost!
DPS Tier List Predictions for Mythic+ Season 3 in Patch 9.2 Shadowlands
Buttons for Filtering
S
A
B
C
D
F
Definitions for the DPS Tier List
For DPS, we've defined each tier as follows:
S: We anticipate these specifications to dominate the metagame, with organizations employing them far outnumbering those who don't.
A: Excellent specs that provide amazing damage profiles for mythic plus while also balancing utility and durability.
B: Good specs that will be in many, but not all, of the best performing raid compositions; we estimate them to be somewhat below the A tier specs in either damage or utility, but they will still be highly popular options.
C: Solid specs that we wouldn't be shocked to see duplicated in certain raid compositions, but we don't anticipate them to be stacked, and we wouldn't be surprised if they were absent from many. These are often specifications with situational damage profiles that are useful in particular sorts of battles, and may be quite helpful if the tier's most crucial clashes have such damage profiles.
D: These specifications are the most difficult to play successfully in dungeons, since even when played correctly, they will struggle to match in terms of damage with the top specs. They either have underlying mechanical issues that prevent their damage from working properly in dungeons, or their skills in Mythic Plus are under-tuned.
F: A spec with terrible flaws that urgently need development attention and that we wouldn't expect to see used in many raid configurations at all. This tier has no DPS.
Video
DPS Rankings and Explanations for Patch 9.2 Shadowlands
Season 3 S Tier Specs for Mythic+
Rogue of Subtlety
Rogue of Subtlety is the premier damage dealer for high-end mythic plus teams. This spec does phenomenal damage, which is even better than it appears on damage meters since so much is dealt to the most important targets in each pull. On top of this, they provide huge amounts of utility in the form of Shroud of Concealment (which is somewhat more replaceable this season with the Encrypted Decrypted Urh Cypher but still offers so much flexibility). They can also control enemies with effects like Sap, Kidney Shot, and Blind, and this patch their AoE damage has been enhanced to the point that it's hard to pinpoint any real weaknesses of the spec. We expect almost every top run on the leaderboards to include a Rogue of Subtlety this season.
Hunter for Survival
Survival has had a phenomenal showing over this PTR cycle, and it remains unclear how many remaining bugfixes are coming that will effectively nerf the spec, as there are still a few interactions with their new set bonuses (Mad Bombardier & Mad Bombardier) that could potentially get changed or might be left as is. If the spec remains in its current state it will deal unmatched AOE damage in a mythic plus setting, to the point that we believe it warrants inclusion in the S Tier despite being lighter on utility and survivability than many other top specs.
Tier Specs for Season 3 of Mythic+
Warlock of Destruction
Warlock of Destruction lacks single target damage, but its AOE is phenomenal especially with the 4pc set bonus Ritual of Ruin + Avatar of Destruction and potentially the Venthyr Legendary Impending Catastrophe, which is a competitive covenant after double legendaries become available against the more traditional Night Fae covenant in Mythic Plus. Warlock of Destructions are a sturdy ranged class that lack an immunity but do have access to Dark Pact, which you can think of as basically an immunity if you've never played with it before. Healthstones provide a large amount of value to the whole group in higher level content, and Demonic Gateway has a few fantastic uses in dungeons.
Frost Mage (Frost Mage)
Frost Mage (Frost Mage) took a massive AOE nerf towards the end of the PTR cycle, and it remains an open question whether the nerfs may have taken it below the A Tier or whether they may in fact not have done enough to dislodge it from the S Tier. For now, we have it in A Tier due to their consistently high damage that, like Rogue of Subtlety, can be focused onto an important priority target. Frost for a lot of the PTR cycle gained a significant amount from Encrypteds Decrypted Urh Cypher which gave them an insane amount of CDR on abilities such as Frozen Orb & Shifting Power. Frost Mage (Frost Mage)s are also very durable, with Ice Block and Cold Snap to survive several boss mechanics with ease and Ice Barrier granting them large effective health pools against unavoidable damage. Frost is also gaining some interesting build options with Necrolord potentially becoming an unwieldy but powerful option once set bonuses and double legendaries unlock.
Warrior of Fury
Warrior of Fury is another spec that blasts a tremendous amount of damage in 9.2. Their set bonus is quite strong, and the additional crowd control from either Spear of Bastion or Ancient Aftershock is a nice bonus. Those cooldowns are further empowered after the addition of the double legendary, making their damage on pull astronomical, although depending on the tank and whether the group has access to threat redirection effects, ripping aggro and dying can be a real danger. Battle Shout adds a nice extra bit of damage to the group, and Rallying Cry can be a potent cooldown against dangerous AOE damage from nasty trash pulls or bosses like the third boss in Sanguine Depths or the last boss of Plaguefall.
Druid of Balance
Druid of Balance is the support DPS spec for M+. With things such as Force of Nature, Heart of the Wild healing, Ursol's Vortex, Typhoon, and even more, Druid of Balance was built for mob control in M+. Their damage is definitely on the average end for both bosses and trash pulls and needing to play Venthyr in M+ can definitely hold them back a bit as it is complicated to play at times. At the same time they speed up your group with invisible time saves due to being able to keep mobs grouped up a lot more and just make your runs a lot safer. On the upside of their damage, they do not lose a lot of Single Target to play for AOE and vice versa meaning that you are never getting gutter overall. You are definitely bringing them for their utility and they are probably a low A-Tier spec.
Monk Windwalker
Monk Windwalker was a dominant spec in previous patches this expansion and remains a fantastic choice despite having slightly less excitement surrounding it going into patch 9.2. Its burst and sustained AOE damage remain very strong, though it does struggle with single target damage. It has several powerful defensive tools but it needs to use them correctly in order to survive in higher keys, and it also brings tools like Ring of Peace that are very powerful but particularly difficult to use as a DPS player rather than the tank or healer. A good Monk Windwalker is one of the best things that can happen to a mythic plus group, but a Monk Windwalker that is less proficient will find the spec less of a cakewalk in 9.2 than before.
Mythic+ Season 3 B Tier Specs
Warrior of Arms
Arms is a powerful option that we anticipate to look to be a poorer option than it is since many elite Warriors will choose Fury, particularly once set bonuses and covenant legendaries are completely accessible. Its single target, burst, and cleave damage are all good, but we anticipate it to be surpassed by Fury unless in instances when Sweeping Strikes provides exceptionally good value against precisely two targets.
Fire Mage
Fire Mage has some decent dungeon damage potential, both against trash and monsters, and Combustion is still a top cooldown, but its set benefits are in the bottom half, and the covenant legendary isn't as useful as it is for some other specs. Though Fire's damage is excellent in single target and AOE, it loses the potential to perform substantial incidental cleave while focused on a vital single target, a feature of its damage that was formerly a benefit of the spec. Fire is a durable ranged spec with Cauterize and Ice Block, and it enables a highly entertaining high skill ceiling playstyle in dungeons!
Demon Hunter Havoc
Demon Hunter Havoc may have fallen off somewhat in the overall damage department when compared to previous patches, prompting us placing it in the B Tier despite a nice utility and survivability package. Though a Venthyr raid-style build will work in Mythic plus, a high-skill Night Fae build with First Strike, Blazing Slaughter, Collective Anguish, and potentially an on-use trinket can deal substantial burst damage. Unfortunately we suspect even played well that this damage will be behind our A and S tier specs in AOE, though Havoc's single target should be a strong point of the spec, especially if they sacrifice some of that AOE burst to play the Venthyr build instead.
Warlock of Demonology
Warlock of Demonology is less well suited to dungeons than to raid, where its single target damage truly shines. It may surprise you this patch with respectable AOE damage and a short cooldown on damage in Summon Demonic Tyrant that makes the spec flexible and powerful, especially when the Warlock is able to think about the texture of upcoming pulls and plan accordingly. Though we expect Destruction to occupy the highest spots on the Warlock leaderboard, Demonology's raw damage numbers earn it a respectable spot in the B Tier.
Mage of the Arcane
In Patch 9.2, Arcane gains some fantastic damage and quality of life, with the set bonuses and double legendary really enhancing the Kyrian playstyle and granting Arcane a priority damage profile that potentially makes the dungeon experience more varied than the Arcane Explosion spam of previous seasons (though a fair number of pulls will still look exactly like that!)
Though we anticipate Arcane to be the lowest-performing mage spec of the three, it's tough to say for sure at this stage, and mages that prefer to explore or play Arcane exclusively should have a wonderful time this patch in comparison to the usual patch.
Assassination Rogue is a fictional character.
Assassination suffers from not being Subtlety in a world we expect to be dominated by Rogue of Subtletys, but it does offer a fun mythic plus playstyle and likely a pleasantly surprising amount of damage when piloted well. Vendetta, especially when enhanced by Obedience (the Venthyr legendary)-buffed Flagellation, deals an obscene amount of damage to both bosses and dangerous lieutenants on a relatively short cooldown, which can be a very valuable addition to the group and would potentially advance Assassination to A Tier if the seasonal affix were Prideful again.
Rogue Outlaw
Due to the pure AOE nature of (now bug-free) Deathspike, the Necrolord legendary, Outlaw is in a bit of a predicament for M+, since the conventional dungeon covenant of Necrolord has fallen even more behind in single target. Outlaws can choose to be Kyrian instead of Subtlety to gain the powerful Echoing Reprimand, though it's difficult to see why Outlaw would be a better choice than Subtlety other than personal preference. The best potential answers would be the Necrolord AOE and, if you're really stretching, the extra stop from Gouge.
Hunter's Marksmanship
Marksmanship damage is not something to be scoffed at. They have some of the strongest AOE burst in the game and with their 4 set (Focused Trickery & Focused Trickery) being mostly multi-target focused they can pump out high overall. They do unfortunately run into issues where their sustained AOE damage is not that great, and the builds they need to play make their ST pretty lackluster. They also do not gain a ton from a second legendary for M+ which makes their damage good but not great. When you look comparatively to other trash specialists like Warlock of Destruction, MM is definitely just a B-Tier spec.
Death Knight Frost
Frost DK damage is excellent, but there isn't much copium. Unfortunately, they lack standout utility to go along with their respectable damage. A lot of their power is also driven into a Breath of Sindragosa-style build for m+, which is often tough to play and might be lacking on certain pulls when uptime is a concern. You acquire tunnel vision, Windwalker brain, and die for the BOS uptime at that moment. Frost DK was placed in B-Tier for a variety of reasons, including a lack of divisive dungeon usefulness while not providing top tier damage. It has a nice blend of Single Target and AOE DPS, but you'll need a little more to break into A-Tier.
Shaman of the Elementals
When employing Storm Elemental + Fireheart, Elemental is now benefitting from a favorable "interaction." By repressing storm ele and letting it to have 100% uptime, they are able to retain 20 stacks of Wind Gust from their elemental indefinitely. If this is maintained, Ele will be one of the finest specs in the game, allowing players to pull their storm elemental throughout the dungeon. A or S-TIer, without a doubt. The following reasoning is based on the assumption that the interaction will be resolved?
Elemental burst AOE and priority damage are still impressive, and their usefulness isn't bad either. Ele is ultimately deficient in the ST area for dungeons, as well as the fact that they receive less with their second legendary acquisition than other classes. They gain a lot from their four-set Fireheart since Storm Elemental provides them with a lot of value. The storm ele build is quite standard for M+, so anything that interacts well with Ele will be a welcome addition. Finally, they are in the b-tier because to the expectation that they will not be top-tier damage and will be outpaced by some of the other DPS choices.
Mythic+ Season 3 C Tier Specs
Shaman of Enhancement
Shaman of Enhancement, though a phenomenal inclusion in raid, has a very awkward time in Mythic Plus. Their damage numbers are great against bosses, but in AOE they don't gain all that much and they have a bit of an identity crisis between priority damage and cleave that ends up with them not doing much of anything well. They also suffer from being a melee dps without an immunity and without a depth of defensive options, with the fantastic short cooldown Astral Shift quickly giving way to… Reincarnation as their next defensive option? For shredding bosses, Shaman of Enhancement are not a bad addition to the group, but Mythic Plus is about much more than that, and there are many specs that can come close on bosses and shoot way ahead in the rest of the dungeon.
Priest of the Shadows
Shadow is a spec that took some pretty beefy nerfs towards the end of the PTR cycle. Before that, Shadow seemed to be a potential A-Tier candidate as their group support from abilities such as Mass Dispel & Vampiric Embrace was quite good. Their 4-set (Darkened Mind & Living Shadow) also allowed them to do an insane amount of stacked AOE with Searing Nightmare.
The unfortunate aspect is that, although the group support is superb, their 4-set and Necrolord legendary Pallid Command damage was totally smashed. This harmed them considerably in M+, reducing their dungeon content damage by a significant amount.
Hunter with Beast Mastery
Hunter with Beast Mastery overall struggles to be able to output any reliable AOE for M+. Their 2 typical covenant options of Night Fae and Kyrian are quite subpar once you gain access to a covenant legendary specifically for M+. Fragments of the Elder Antlers & Pact of the Soulstalkers while they are situationally decent for M+ just do not compete compared to other specs covenant legendaries. That coupled with Beast Mastery's relatively lacking AOE and BM is a solid C-Tier spec.
Death Knight, the Unholy
Unholy only does single target damage, which is a great damage profile for raids, but they fail to deal meaningful quantities of AOE in M+. Unholy has been an AOE specialist in previous expansions, but they are weak in that department this time around. It doesn't help that their tier bonus and second legendary choices don't help them deal M+ damage, and they didn't earn enough power from secondary sources to be a viable M+ alternative. They are also very much affected by the "worse than their counterpart" mentality. Frost DK is just a more appealing choice for M+ in this case, and there are a lot of other melee alternatives if you're looking for anything else.
Mythic+ Season 3 D Tier Specs
Druid Feral
Feral is a spec in tremendous pain. Before this patch, they suffered in Mythic Plus from being primarily a single target specialist with weak AOE that also had some ramp-up time. The early PTR developments offered a ray of hope to the beleaguered cats, who saw a 4-set bonus Sickle of the Lion that was potentially powerful but awkward to use get changed such that it wasn't awkward at all. It blasted damage in AOE and for the first time, players could queue up in the PTR group finder and the very first group would hit invite, without even checking to see if they were a moonkin or a Druid Feral. Blizzard then soft-capped their 4-set to 8 targets, which was met with some grumbling but was largely seen as fair, as it had been doing some insane things on large AOE. Then, just as players began to let themselves hope, a 65% nerf blew into town like a hurricane and left Druid Ferals attempting to claw their own eyes out, only to find that even to themselves they could not do any damage.
Warlock of Affliction
Affliction Lock is a solid trash specialist that saw a lot of play in 9.2. However, with the addition of double legendary (which they benefit very little) and having one of the worst tier sets in the game in Deliberate Malice & Calamitous Crescendo, you can probably see why they are in D-Tier. Ultimately their AOE damage is not that bad, but their single target is just so low that we felt like it was justified putting them in D-Tier. They also lack any real polarizing utility and while they do have an AOE stun, curses, and the occasional gate cheese, this is where the utility really stops. They definitely need a single target buff for them to be considered, and if they did receive one I could see this spec having decent upward mobility.
Paladin of Retribution
Ret Paladin is feeling similar to Druid Feral this patch. Tremendous pain from no borrowed power gain, terrible 4 set, and no real sustained AOE are some of the problems that plague Ret Paladin. A lot of what has landed them in D-Tier is the just lack of solid AOE as the Paladin utility suite is typically one of the most desirable ones. They are quite difficult to bring and make work effectively in most situations just due to this tremendously low tuning on their AOE DPS.
Class Manuals
Want to know more about your spec for the new patch? Check out our detailed Class Manuals for every spec to learn everything about your spec in Patch 9.2.
DKFrost DKUnholy DKBlood DK

DHVengeance DHHavoc DH

Guardian DruidDruid FeralDruid of BalanceRestoration Druid

Hunter with Beast MasteryHunter's MarksmanshipHunter for Survival

Mage of the ArcaneFire MageFrost Mage (Frost Mage)

Brewmaster MonkMistweaver MonkMonk Windwalker

Holy PaladinProtection PaladinPaladin of Retribution

Discipline PriestHoly PriestPriest of the Shadows Assassination Rogue is a fictional character.Rogue OutlawRogue of Subtlety

Shaman of the ElementalsShaman of EnhancementRestoration Shaman

Warlock of AfflictionWarlock of DemonologyWarlock of Destruction

Warrior of ArmsWarrior of FuryProtection Warrior
The "best mythic plus healer shadowlands" is a tier list for Dratnos and Tettles. The list includes DPS, Healer, and Tank Tier listings.
Related Tags
mythic plus dps tier list
wow shadowlands dps rankings
best tank shadowlands mythic plus
mythic plus healer tier list
vengeance demon hunter guide mythic+