Shadowlands' new Heroic Sepulcher Raid dungeon is finally launching in just a few days, and the first week's rankings have already been posted. These numbers should be considered estimates since they are subject to change with future patch updates.
The "Shadowlands dps rankings mythic plus" is a ranking for the best players of each class in the game's third season. The rankings are based on how well players perform in Mythic Plus difficulty, which is a high-difficulty setting that requires players to have completed the current raid tier before they can enter. Read more in detail here: shadowlands dps rankings mythic plus.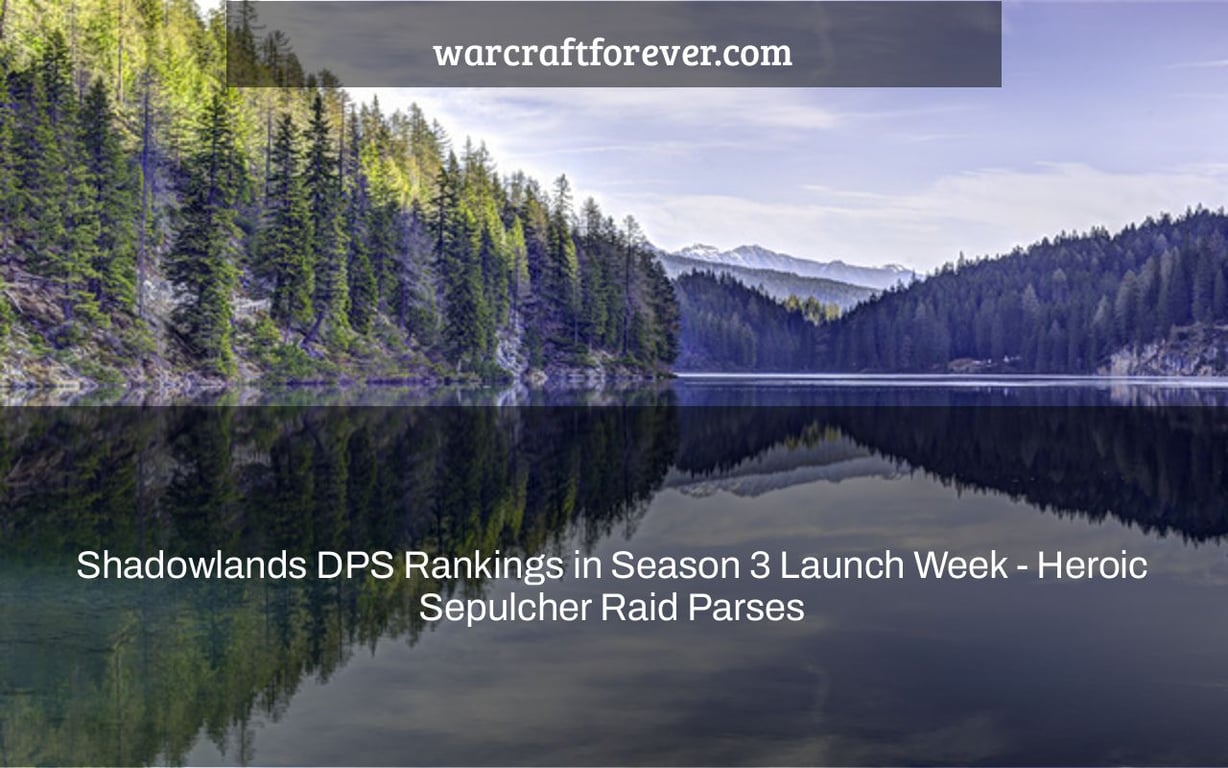 During the first week of Season 3, we'll take a look at the DPS balance in Sepulcher of the First Ones. We'll be using data from Warcraft Logs' Heroic Sepulcher of the First Ones statistics for this study. Note that this information is a sneak peek at Season 3 balance, since double legendaries and tier sets aren't yet generally accessible.
Sepulcher of the First Ones Statistics Page on Warcraft Logs
Source and disclaimers
The information for this post was gathered from the Sepulcher of the First Ones Statistics Page on Warcraft Logs during the week of March 1st on Heroic difficulty. We'll look at the Statistics for the 95th Percentile as well as the overall findings to get a clearer understanding.
The purpose of this article is to provide an overview of class balancing in Season 3 before double legendaries and tier sets become generally accessible. This is an inadequate depiction of season 3 balance since each of these elements will substantially modify these figures week to week.
We mention viewpoint because there are inherent biases in this approach of looking at data.
Specs that are deemed underpowered are played less often and look to be weaker than they are.
This occurs because many performance-oriented players will choose the strongest spec or class, widening the gap between top and bottom specifications even further.
Alternative techniques like parsing funneling may affect the position of specifications for the 95th percentile. To help create a clearer picture for all specifications, we've included a graphic that shows the results for all percentiles.
Season 3 DPS Rankings – Week of March 1st Heroic Sepulcher of the First Ones
Statistics for the 95th Percentile
Statistics in general
| | | | |
| --- | --- | --- | --- |
| Position | Specification and Classification | Size of the Population | In 9.2, the Mythic Sanctum was replaced. |
| 1 | Warrior of Fury | 20902 | 1 |
| 2 | Rogue of Subtlety | 20710 | 4 |
| 3 | Warrior of Arms | 20600 | 0 |
| 4 | Death Knight Frost | 6433 | 11 |
| 5 | Shaman of Enhancement | 16466 | 8 |
| 6 | Fire Mage | 24224 | -1 |
| 7 | Warlock of Demonology | 28418 | 10 |
| 8 | Monk Windwalker | 9107 | 1 |
| 9 | Hunter with Beast Mastery | 36455 | 10 |
| 10 | Rogue Outlaw | 2529 | -9 |
| 11 | Hunter's Marksmanship | 13933 | 5 |
| 12 | Assassination Rogue is a fictional character. | 5993 | -8 |
| 13 | Death Knight, the Unholy | 10513 | -3 |
| 14 | Paladin of Retribution | 9898 | -7 |
| 15 | Demon Hunter Havoc | 30352 | -7 |
| 16 | Shaman of the Elementals | 8821 | -5 |
| 17 | Mage of the Arcane | 5652 | -5 |
| 18 | Warlock of Affliction | 3956 | 2 |
| 19 | Frost Mage (Frost Mage) | 16332 | 4 |
| 20 | Druid Feral | 3883 | -6 |
| 21 | Hunter for Survival | 2760 | -3 |
| 22 | Druid of Balance | 36437 | -1 |
| 23 | Priest of the Shadows | 16956 | -1 |
| 24 | Warlock of Destruction | 7691 | 0 |
Commentary from the Class Writers
To help understand better what the statistics mean currently, we invited our Rogue of Subtlety and Shaman of Enhancement class writers to talk more about the state of their specs in Season 3 and what the future holds for their specs with the additions of double legendaries and tier sets later on.
Shaman of Enhancement
Enhancement is powerful from the start in Sepulcher, for both apparent and less obvious reasons. We had good gains with Domination Shards, but nothing unique like some of the better Frost Shard scaling options, and we received a variety of flat buffs to the way the spec operates in both single target and AoE so we were bound to go up relative to Sanctum. Less clearly, given the fact that it's still week one, guilds are simply more focused in killing the boss, making single target specialists more desired. Furthermore, when things are on low pull counts, optimizing cooldowns and who does what is much less prevalent – something that punishes continuous DPS less, after all, you can't screw up your cooldowns if you don't have any. Finally, there was a bugfix where Shocks were double dipping on Haste for their GCD reduction, which means we are somewhat inflated (in the 3% range on single target) because to the Frost Shock buff and the accompanying ascent of the Chilled to the Core Conduit lately.
The addition of new skill modifications such as Lashing Flames and Hailstorm, as well as some testing with Primal Lava Actuators to expand our capacity to engage with battle styles we previously couldn't, is definitely having an effect. Expect the set bonus to boost the sustained single target component to a considerable degree (say 10-15 percent on the high end) when people have access to it in the future, but not as much as the large ticket benefits. The largest benefits come from double legendaries, with Night Fae's Seeds of Rampant Growth providing much-needed burst, Necrolord's Splintered Elements providing incredibly strong funnel and AoE options, and maybe Venthyr's Elemental Conduit providing extremely powerful sustained AoE.
However, until we obtain two legendaries for burst windows, our damage profile remains pretty flat, and we are severely penalized when downtime occurs and if it overlaps with procs due to Hot Hand's continued dominance and the instability of Elemental Spirits without tier. Despite its flaws, I still anticipate Enhancement to function well in most confrontations; but, with the introduction of Mythic, it may become more volatile and demand more stringent mechanical requirements. Because we are one of the specs that depends on double legendaries to unlock, which is still weeks away, the only question mark is how tough the encounter tuning is.
Rogue of Subtlety
Rogue of Subtlety has a very good start into this raid tier. The baseline damage from the spec is strong and the carry over power from Edge of Night puts it in a top position on most fights. The raid design so far offers a lot of bosses that require a high amount of single target like Skolex and Halondrus, fights with adds that need to die fast like Dausegne or fights with options to funnel damage into one target like Artificer Xy'mox or Anduin Wrynn. All of these fights play excellently into the kit of the spec that can funnel damage very well due to the higher combo point generation of Shuriken Storm, offers cooldowns frequent enough to deal with add spawns as well as two charges of Shadowstep that can be uses to gain uptime or avoid mechanics.
In addition, Halondrus is a one-of-a-kind encounter in which auto assaults are now unavoidable. This means dual-wielding classes get a considerable increase in output, with subtlety benefiting from a larger number of Shadow Techniques and Stiletto Staccato procs in particular.
The only fight Rogue of Subtlety is bad at is Prototype of War. A big majority of the fight is two target cleave which is the weakness of the specialization. However, this gets easily set off by the strong performance on other bosses when looking at the overall raid performance graph on Warcraft Logs.
The two-set boost will improve the single-target output of the spec with high Shadow Blade uptimes, as well as aid with low target cleave for the same reason. The four-piece bonus is considerably more powerful, since it creates a positive feedback loop in which more combo points are generated, resulting in additional two-piece bonus triggers and, eventually, more four-piece procs. The tier set's primary flaw is that it significantly depends on proc chances. That is to say, although it is powerful, it will cause luck to play a role in your ultimate product.
Double legendaries are another fascinating item to consider. While Subtlety receives a significant increase in output from the tier set, the second legendary has a minimal influence when compared to other specs and classes. Akaari's Soul Fragment stands out owing to a functional update in the 9.2 patch that allowed it to proc Perforated Veins, however it is mostly useful in single target heavy encounters due to its design. Finality improves total damage but does not represent a major improvement in power.
With further advancement through the tier, the spec will remain one of the top melee dps options. It's unknown how well it works on the remaining three bosses at this time, but it's in a good position to stay competitive.
Sepulcher of the First Ones Class Guides
Check out our Sepulcher of the First Ones Class Guides for additional information on specifications in Season!
DKFrost DKUnholy DKBlood DK

DHVengeance DHHavoc DH

Druid of BalanceDruid FeralGuardian DruidRestoration Druid

Hunter with Beast MasteryHunter's MarksmanshipHunter for Survival

Mage of the ArcaneFire MageFrost Mage (Frost Mage)

Brewmaster MonkMistweaver MonkMonk Windwalker

Holy PaladinProtection PaladinPaladin of Retribution

Discipline PriestHoly PriestPriest of the Shadows

Assassination Rogue is a fictional character.Rogue OutlawRogue of Subtlety

Shaman of the ElementalsShaman of EnhancementRestoration Shaman

Warlock of AfflictionWarlock of DemonologyWarlock of Destruction

Warrior of ArmsWarrior of FuryProtection Warrior
Related Tags
shadowlands dps rankings pvp
raid shadow legends dps rankings
wow dps rankings shadowlands