The first week of the third season is over and it's time to check out what all the fuss was about. With a new set of battlegrounds, they're focusing on this one raid in particular as well as speculating if Warlocks are still overpowered or not after several nerfs since last year.
The "mythic plus dps rankings season 2" is a website that ranks the top DPS players in World of Warcraft. The site uses data from raids and dungeons to create rankings for each class.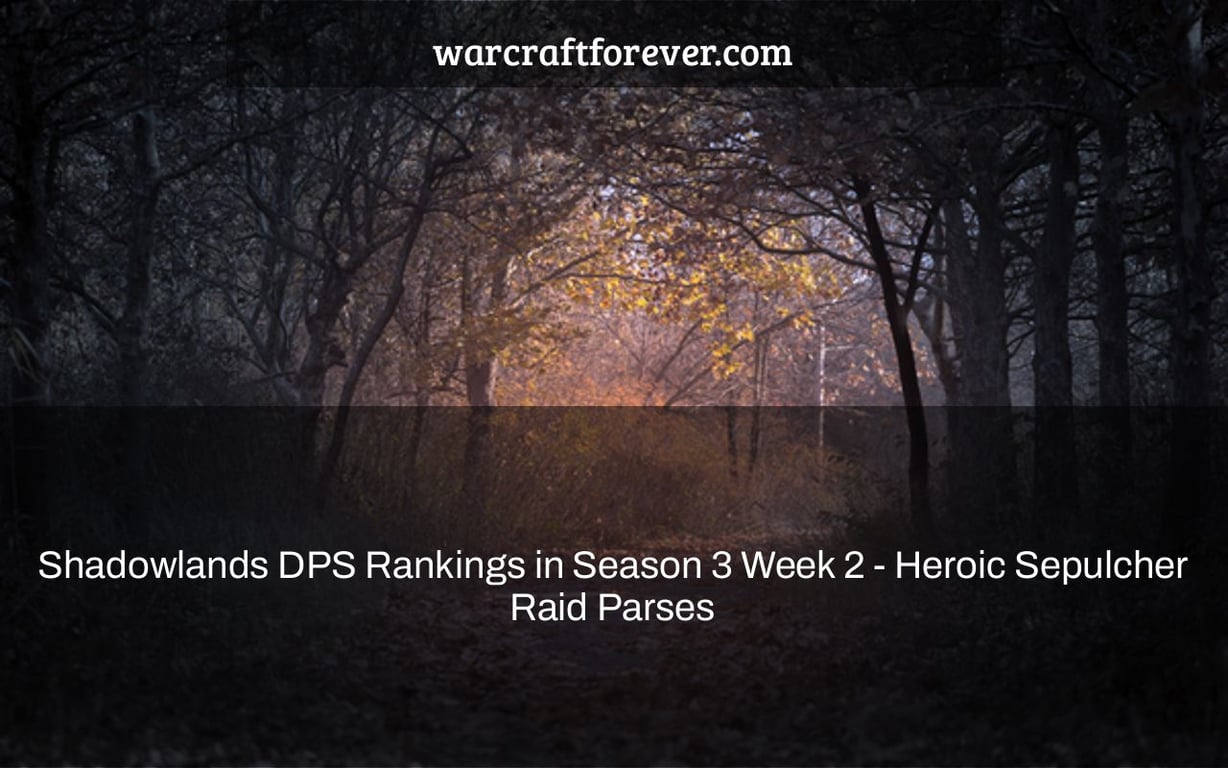 During the second week of Season 3, we'll look at the DPS balance in Sepulcher of the First Ones. We'll be using data from Warcraft Logs' Heroic Sepulcher of the First Ones statistics for this study. Note that this information is a sneak peek at Season 3 balance, since double legendaries and tier sets aren't yet generally accessible.
Sepulcher of the First Ones Statistics Page on Warcraft Logs
Source and disclaimers
The information for this post was gathered from the Sepulcher of the First Ones Statistics Page on Warcraft Logs for the week of March 8th for Heroic difficulty. We'll look at the Statistics for the 95th Percentile as well as the overall findings to get a clearer understanding.
The purpose of this article is to provide an overview of class balancing in Season 3 before double legendaries and tier sets become generally accessible. This is an inadequate depiction of season 3 balance since each of these elements will substantially modify these figures week to week.
We mention viewpoint because there are inherent biases in this approach of looking at data.
Specs that are deemed underpowered are played less often and look to be weaker than they are.
This occurs because many performance-oriented players will choose the strongest spec or class, widening the gap between top and bottom specifications even further.
Alternative techniques like parsing funneling may affect the position of specifications for the 95th percentile. To help create a clearer picture for all specifications, we've included a graphic that shows the results for all percentiles.
Week of March 8th, DPS Rankings in Season 3 – Heroic Sepulcher of the First Ones
Statistics for the 95th Percentile
Statistics in general
| | | | |
| --- | --- | --- | --- |
| Position | Specification and Classification | Size of the Population | In 9.2, the Mythic Sanctum was replaced. |
| 1 | Warlock of Demonology | 41959 | ↑6 |
| 2 | Warrior of Fury | 36148 | ↓1 |
| 3 | Warrior of Arms | 24799 | 0 |
| 4 | Shaman of Enhancement | 27186 | ↑1 |
| 5 | Monk Windwalker | 12507 | ↑3 |
| 6 | Hunter for Survival | 4545 | ↑15 |
| 7 | Death Knight Frost | 11812 | ↓3 |
| 8 | Rogue of Subtlety | 30991 | ↓6 |
| 9 | Hunter's Marksmanship | 22715 | ↑2 |
| 10 | Druid of Balance | 51314 | ↑12 |
| 11 | Fire Mage | 33022 | ↓5 |
| 12 | Demon Hunter Havoc | 43839 | ↑3 |
| 13 | Assassination Rogue is a fictional character. | 7452 | ↓1 |
| 14 | Frost Mage (Frost Mage) | 24612 | ↑5 |
| 15 | Warlock of Affliction | 5737 | ↑3 |
| 16 | Rogue Outlaw | 3411 | ↓6 |
| 17 | Paladin of Retribution | 14213 | ↓3 |
| 18 | Hunter with Beast Mastery | 52359 | ↓9 |
| 19 | Priest of the Shadows | 22483 | ↑4 |
| 20 | Mage of the Arcane | 7796 | ↓3 |
| 21 | Death Knight, the Unholy | 13484 | ↓8 |
| 22 | Druid Feral | 5477 | ↓2 |
| 23 | Shaman of the Elementals | 11145 | ↓7 |
| 24 | Warlock of Destruction | 10008 | 0 |
Commentary from the Class Writers
To help understand better what the statistics mean currently, we invited our Death Knight Frost, Monk Windwalker and Warlock of Demonology class writers to talk more about the state of their specs in Season 3 and what the future holds for their specs with the additions of double legendaries and tier sets later on.
Monk Windwalker
On WarcraftLogs, windwalker is towards the top of the charts as of the second week of Sepulcher. This should come as no surprise, considering Windwalker is one of the most powerful specs in circumstances when many targets must be struck. Windwalker can get through the brief ramp time it has before blasting the AOE damage thus early in the tier, with additional targets surviving longer than they would in a few weeks.
When looking at specific fights, you can easily get a sense of where Windwalker shines, and where it doesn't. On Vigilant Guardian, Windwalker is currently toward the middle of the pack. This is because while there are multiple targets, they are rarely stacked up and tend to trickle in to the group for AOE. Windwalker loses almost no damage when switching targets, allowing it to maintain where other specs have to start over. Dausegne is almost entirely a single target fight, which explains why Windwalker is currently 2nd to last, bolstered slightly by some frequent Touch of Death usage on the extra adds. Artificer Xy'mox has two sets of very predictable adds that need to be grouped up and blasted, which plays perfectly into Windwalker's strength, placing it currently 3rd among specs. Prototype Pantheon is another fight with at least two stacked targets, sometimes three, four during the last phase, and even more if raid members get speared. Windwalkers can almost constantly AOE during this fight, and the equally spread AOE is essential, which Windwalker is full of. Skolex is another fight that is pure single target, and as such, Windwalker is currently in last place. Of the tier bosses, Windwalker is not very strong on Halondrus due to it being a single target fight. Windwalker's exceptional mobility helps it stay on target where other specs cannot, which is why it isn't quite in last place like the other single target fights, although every other class has at least one spec that currently performs better on this fight. Lihuvim is primarily a single target fight, but with a predictable chunk of stacked AOE, pushing Windwalker into the current top 5. Anduin Wrynn has intermissions with an insane amount of adds, and the Kingsmourne which is ideally handled with stacked cleave. Windwalker is currently 2nd on Anduin Wrynn, behind the 4 Warlock of Afflictions that managed to kill it. Lords of Dread is another fight with two targets stacked up, and they take increased AOE damage during their Unto Darkness casts, something that Windwalker has plenty of. There's also sporadic other adds to squeeze in some more targets to hit and regularly use of Touch of Death. Rygelon is mostly single target, so it is a weak fight for Windwalker, even with the additional adds to hit with Touch of Death. Lastly The Jailer doesn't have much data, but being that is another fight that's primarily single target, expect Winwdalkers to be one of the weaker specs, which is already shown when looking at data from Normal.
Looking at the statistics, Windwalker is one of the top specifications for multi-target battles and one of the worst for single-target engagements. Expect Windwalker to lose some ground in AOE, but stay tremendously powerful, and fall even farther behind in single target when additional specs receive their 4pc boosts and we start to see double legendaries. As more data goes towards bouts like Rygelon and The Jailer, I anticipate Windwalker to decrease in the "Overall" statistics. You may get a general sense of how Windwalker performs in a full raid by looking at the Normal charts. Normal performance isn't usually a good predictor of Heroic performance, and Heroic performance isn't always a good predictor of Mythic performance, so don't expect a 1:1:1 match.
Even with incredibly bad single target, Windwalkers should have little trouble progressing in this tier. I'm not sure what to advise you if you're playing a Windwalker and anticipating a lot of single-target damage.
Death Knight Frost
The Death Knight Frost performs well in Sepulcher of the First Ones mainly due to its great ability to deal cleave damage. Breath of Sindragosa, Remorseless Winter, Rime and Frostwyrm's Fury are all abilities that are capable of dealing big bursty AoE damage as well as great prolonged cleave. Furthermore, they all do this without sacrificing any single target, enabling the Frost DK to have great priority throughput without padding!
The reason this becomes especially good in the current tier is due to the large amount of bosses which have cleave built into them. Lihuvim with the intermission burst cleave, Prototype Pantheon with the constant 2 or 4 target cleave, Anduin with the huge AoE in the intermission phases and Lord of Dread with the persistent 2-target cleave (with added phases where all of the Frost DKs cleave abilities deal 100% more damage!). This all stacks up to put the Death Knight Frost high on the Statistics in general.
Interestingly enough, the Death Knight Frost will become even more powerful in this niche as the tier progresses. Not a lot of players have the 4-set yet, which is a huge cleave Upgrade for the Frost DK! It will also enable new builds that will compete with Breath of Sindragosa in cleave scenarios, possibly surpassing it. Obliteration Night Fae does extremely well on 2-target cleave! It's too early to tell which build will end up dominating in the end but I'm excited for the future!
Warlock of Demonology
Demonology continues to do well in the second week of the raid, Sepulcher of the First Ones, owing to the general power of our single target damage. We should anticipate Demonology to remain around the top as more players get the four-piece set bonus and move to having double legendaries. Demonology should be a solid contender for pushing at least two tier pieces to if your guild is looking for someone to funnel tier pieces to. It allows for greater passive AoE, which is useful on a number of encounters. Nothing should change once we have access to two legendaries since the effect of combining Decaying Soul Satchel with Wilfred's Sigil of Superior Summoning isn't huge, although there are a few situations where you will notice some extra advantage.
Overall, our tier bonuses did not provide us with a massive boost like some other classes (we get a 20% boost from having four piece bonus), but this, combined with Demonology's high single target damage to begin with, makes it a very appealing class, especially if you are a target for one of your Priests Power Infusion. Gaining the four piece bonus and being able to transition away from Summon Vilefiend and over to From the Shadows will also help with Demonology's slower ramp time, as you eliminate one aspect of the setup for Summon Demonic Tyrant and just tack on a flat damage gain instead, which, when combined with 3 Dreadstalkers from Call Dreadstalkers (from the two piece bonus Ripped From the Portal) and Carnivorous Stalkers, results in a significant increase in up
Due to the nature of Demonology and where its strengths lie, you'll often see them focus entirely on the boss or high priority kill targets and very little on AoE, and this can be seen in almost every encounter in Sepulcher, with the exception of some of the more obvious AoE centric fights like Prototype Pantheon, Lihuvim, Anduin Wrynn (on Heroic, while killing Fiendish Soul is a priority, a lot of this will be considered (a lot of sustained two target cleave).
Sepulcher of the First Ones Class Guides
Check out our Sepulcher of the First Ones Class Guides for additional information on specifications in Season!
DKFrost DKUnholy DKBlood DK

DHVengeance DHHavoc DH

Druid of BalanceDruid FeralGuardian DruidRestoration Druid

Hunter with Beast MasteryHunter's MarksmanshipHunter for Survival

Mage of the ArcaneFire MageFrost Mage (Frost Mage)

Brewmaster MonkMistweaver MonkMonk Windwalker

Holy PaladinProtection PaladinPaladin of Retribution

Discipline PriestHoly PriestPriest of the Shadows

Assassination Rogue is a fictional character.Rogue OutlawRogue of Subtlety

Shaman of the ElementalsShaman of EnhancementRestoration Shaman

Warlock of AfflictionWarlock of DemonologyWarlock of Destruction

Warrior of ArmsWarrior of FuryProtection Warrior
The "shadowlands parses" is a website where players can find the best possible raid parse for each boss in the game. The website has been updated with Season 3 Week 2 Heroic Sepulcher Raid Parses.
Related Tags
wow progress
wow dps rankings
warcraft logs mythic plus dps rankings
raider io great push: season 2