This week's double Legendary parses feature the top two DPS players in Shadowlands Season 3 Week 4. This is a perfect time to see how well your favorite class or raider has been performing on this event and what may be working best for them!
The "shadowlands dps rankings mythic+" is a website that provides the latest data for the top World of Warcraft raiders. The site offers information on player performance, including DPS rankings and parses.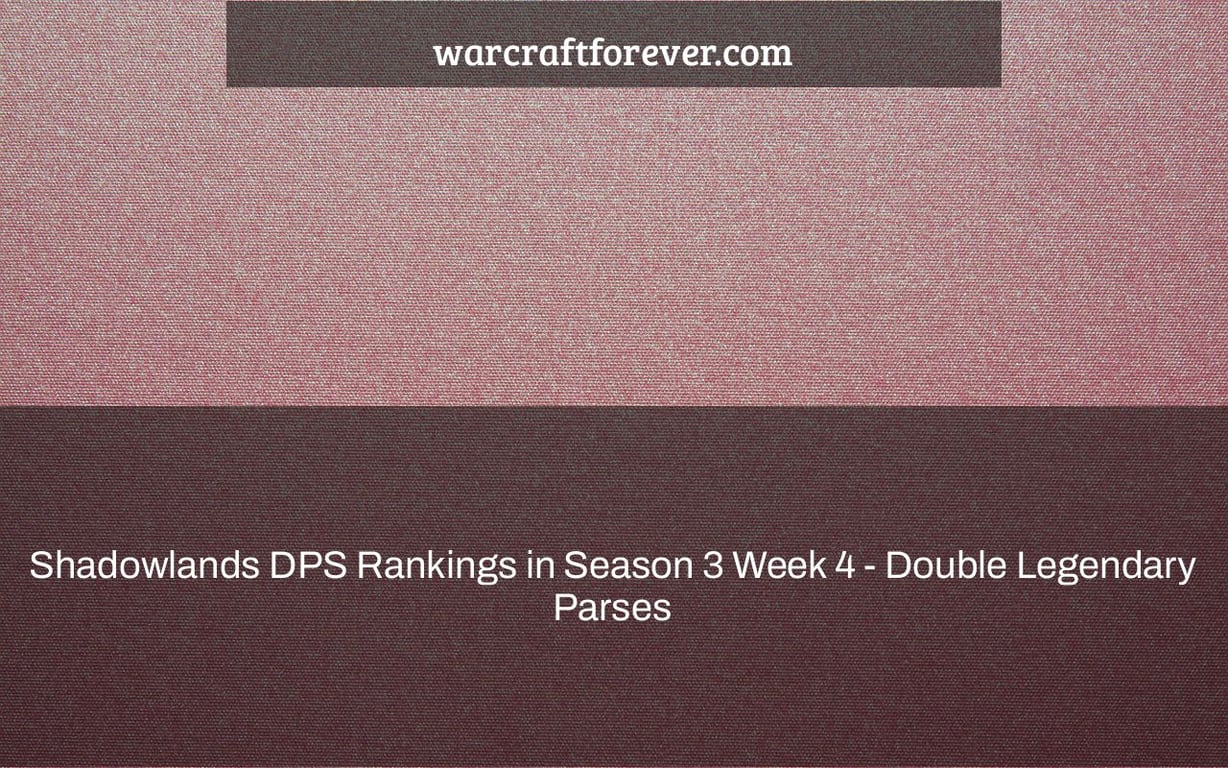 During the fourth week of Season 3, we'll look at the DPS balance in Sepulcher of the First Ones. We'll be using data from Warcraft Logs' Heroic Sepulcher of the First Ones statistics for this study. Because tier sets are still not widely accessible to users, this data offers a preview of Season 3 balancing.
Sepulcher of the First Ones Statistics Page on Warcraft Logs
Source and disclaimers
The information for this post was gathered from the Sepulcher of the First Ones Statistics Page on Warcraft Logs for the week of March 22nd for Heroic difficulty. We'll look at the Statistics for the 95th Percentile as well as the overall findings to get a clearer understanding.
The purpose of this article is to provide an overview of class balancing in Season 3 before double legendaries and tier sets become generally accessible. This is an inadequate depiction of season 3 balance since each of these elements will substantially modify these figures week to week.
We mention viewpoint because there are inherent biases in this approach of looking at data.
Specs that are deemed underpowered are played less often and look to be weaker than they are.
This occurs because many performance-oriented players will choose the strongest spec or class, widening the gap between top and bottom specifications even further.
Alternative techniques like parsing funneling may affect the position of specifications for the 95th percentile. To help create a clearer picture for all specifications, we've included a graphic that shows the results for all percentiles.
Week of March 22nd, DPS Rankings in Season 3 – Heroic Sepulcher of the First Ones
Statistics for the 95th Percentile
Statistics in general
| | | | |
| --- | --- | --- | --- |
| Position | Specification and Classification | Size of the Population | Change from Single Legendary to Double Legendary |
| 1 | Warlock of Demonology | 82813 | 0 |
| 2 | Death Knight Frost | 28417 | ↑2 |
| 3 | Shaman of Enhancement | 52048 | 0 |
| 4 | Druid of Balance | 83357 | ↓2 |
| 5 | Hunter for Survival | 17880 | ↓3 |
| 6 | Demon Hunter Havoc | 77550 | ↑9 |
| 7 | Rogue of Subtlety | 53163 | ↓2 |
| 8 | Hunter's Marksmanship | 53574 | ↑1 |
| 9 | Frost Mage (Frost Mage) | 63543 | ↑3 |
| 10 | Priest of the Shadows | 35394 | ↑1 |
| 11 | Warrior of Fury | 78506 | ↓3 |
| 12 | Paladin of Retribution | 25590 | ↓2 |
| 13 | Shaman of the Elementals | 17966 | ↑6 |
| 14 | Monk Windwalker | 20849 | 0 |
| 15 | Warrior of Arms | 27933 | ↓8 |
| 16 | Assassination Rogue is a fictional character. | 10865 | ↓3 |
| 17 | Mage of the Arcane | 10431 | ↑1 |
| 18 | Death Knight, the Unholy | 17522 | ↑2 |
| 19 | Druid Feral | 9219 | ↑4 |
| 20 | Warlock of Affliction | 4604 | ↓4 |
| 21 | Rogue Outlaw | 4015 | ↑1 |
| 22 | Hunter with Beast Mastery | 75883 | ↓1 |
| 23 | Fire Mage | 34787 | ↓6 |
| 24 | Warlock of Destruction | 12810 | 0 |
Commentary from the Class Writers
To help understand better what the statistics mean currently, we invited our Paladin of Retribution, Priest of the Shadows and Shaman of the Elementals class writers to talk more about the state of their specs in Season 3 and what the future holds for their specs with the additions of double legendaries and tier sets later on.
Paladin of Retribution
Retribution has gotten off to a slow start in this tier. Divine Purpose was broken for the first couple of weeks, granting two enhanced Holy power spenders each proc instead of one if you possessed the tier set bonus, somewhat inflating Ret's damage stats higher than they should have been. Now that we've seen a week's worth of parses sans the problem, Ret seems to be average – competent at everything but not especially strong at any of the bosses.
Ret's specialty is burst damage, and there are a few instances when it shines – for example, it deals a lot of burst damage on Lihuvim during the Synthesize phase, and it's also a nice spec to send over to Artificer Xy'mox to add platforms. However, several other melee specs, like as Fury, Frost DK, or Survival, perform much the same thing while additionally having superior sustained damage, passive cleave, or other raid usefulness. Ret's tier set doesn't aid much with burst damage, but it does help with sustained damage quite a little, and although the Wake of Ashes resets are great on AoE, their unpredictability means you can't always count on getting an AoE boost during add spawns. With the exception of the high end outliers, there isn't much Ret performs badly in this tier – it does great on both single target and AoE damage profiles, and will be competitive with most other specifications. Final Verdict and Tempest of the Lightbringer are both excellent, but not significantly better than what the typical spec acquired with Ret's second legendary.
Although it would have been wonderful to have Ret receive a boost along with other specs earlier last week, particularly since no guild utilized a Ret on any battle in the Race to World First, it's still good enough that you can bring a Ret to almost any encounter and have it perform well.
Priest of the Shadows
Priest of the Shadows has plateaued out to a rather middling position in Heroic Sepulcher of the First Ones. The main reason for this is that, like in previous tiers, Shadow's major strength is its Single Target damage. We can see this on fights like Skolex, as well as just in the raid as a whole when we filter for boss damage specifically. However when we look at encounters like Anduin Wrynn with its large number of add waves, and even Prototype Pantheon with its 4 Target Cleave burn phase we see Shadow's performance drops off significantly. Shadow's lack of AoE cleave has been a problem in every tier this expansion, as a spec which had previously relied on Damage over Time effects to deal meaningful multi target damage the spec feels in limbo, without the necessarily baseline tools to compete once a fight contains adds or additional bosses. Shadow's Dots just don't cut it.
Early on in testing, there was anticipation that the new set bonus introduced in 9.2 would fix the AoE problem, but after a 40% nerf, which was harsh when compared to the power of other tier sets in both Single Target and AoE on live, it was unable to address the spec's primary flaw.
Except for Mythic Dausegne, the advent of Unity limits Shadow's covenant option in raids to Necrolord. Prior to the introduction of the tier, the Pallid Command legendary effect offered by unity for Necrolord was also drastically nerfed, resulting in a rather minimal benefit for the spec. This legendary also only does Single Target damage, therefore it can't help with any of the spec's issues.
Cleave damage seems to be the name of the game in the later part of the tier, especially against more challenging opponents like Lihuvim, Anduin Wrynn, and Lords of Dread. Many of these battles also need a high level of mobility as well as a strong personal survival cooldown to get the most out of Symbol of Hope (Shadow has Desperate Prayer for this, not Dispersion). Shadow's unique usefulness is typically a significant reason for carrying it, thus the absence of opportunities for Mass Dispel and Leap of Faith doesn't help.
The forthcoming final boss of Sepulcher, The Jailer, is Shadow's last hope. The spec seems to perform well in this battle since it is mostly a single target fight with a lengthy execution phase to exploit both Twist of Fate and Soulwarped Seal of Wrynn. Despite the fact that Mythic does not feature in the world's first kill composition, this might be the case.
Shaman of the Elementals
With more people getting access to the 4 piece bonus of the tier set Fireheart, Shaman of the Elementals is rising from the very bottom to the middle of the dps rankings in the 95th percentile for Heroic. In the lower percentiles where more players do not have their tier sets yet, Elemental is still eclipsed by pretty much all other classes.
When we examine individual conflicts, our strengths and shortcomings become clear. While we won't be able to shine in any battles, we can be competitive (i.e. in the top third of specifications) in pure single target encounters like as the Jailer and Skolex in the 95th percentile. This is aided by the class's great mobility, which works well with employers who demand a lot of movement. On the Lords of Dread and Prototype Pantheon rankings, our vulnerabilities, notably two target cleave and a lack of prolonged burst damage, become quite evident.
In what little data is available for Mythic right now, Elemental is still showing up in the upper third of the DPS ranking. This is likely caused by the low amount of Shaman of the Elementalss running Mythic and a high concentration of tier pieces in that player pool. Our high mobility and low complexity is also working well with poorly optimized strats in the first few weeks. The data is furthermore skewed positively for us, because the first two bosses, Guardian and Skolex, work well for our damage profile and Stormkeeper timer.
Our place in the DPS rankings was unaffected by the acquisition of double legendary. The night fae and necrolord unity effects aren't especially spec-defining, and they didn't change our output in comparison to other specifications. Neither of the legendaries function really well with our kit, especially when running the 4 piece bonus, and are more of a nice-to-have.
With more individuals gaining tier and the extra 5% bonus, my prediction for the next week is that our heroic status will rise from the lower middle to the higher middle. This does not take into consideration the many bonuses to other specifications that are presently centered around that spot.
Sepulcher of the First Ones Class Guides
Check out our Sepulcher of the First Ones Class Guides for additional information on specifications in Season!
DKFrost DKUnholy DKBlood DK

DHVengeance DHHavoc DH

Druid of BalanceDruid FeralGuardian DruidRestoration Druid

Hunter with Beast MasteryHunter's MarksmanshipHunter for Survival

Mage of the ArcaneFire MageFrost Mage (Frost Mage)

Brewmaster MonkMistweaver MonkMonk Windwalker

Holy PaladinProtection PaladinPaladin of Retribution

Discipline PriestHoly PriestPriest of the Shadows

Assassination Rogue is a fictional character.Rogue OutlawRogue of Subtlety

Shaman of the ElementalsShaman of EnhancementRestoration Shaman

Warlock of AfflictionWarlock of DemonologyWarlock of Destruction

Warrior of ArmsWarrior of FuryProtection Warrior
Related Tag
wow dps rankings shadowlands