World of Warcraft is one of the most popular games in the world, with millions of players. With new content on the horizon for Legion, it is a good time to be playing World Of Warcraft. Let's check out some major recent trends and how they will impact your WoW gold coin value!
The "mage tower gold making" is a weekly wrap-up of the Wowhead Economy. It includes information about the best items to buy, what's trending and how much gold you can make.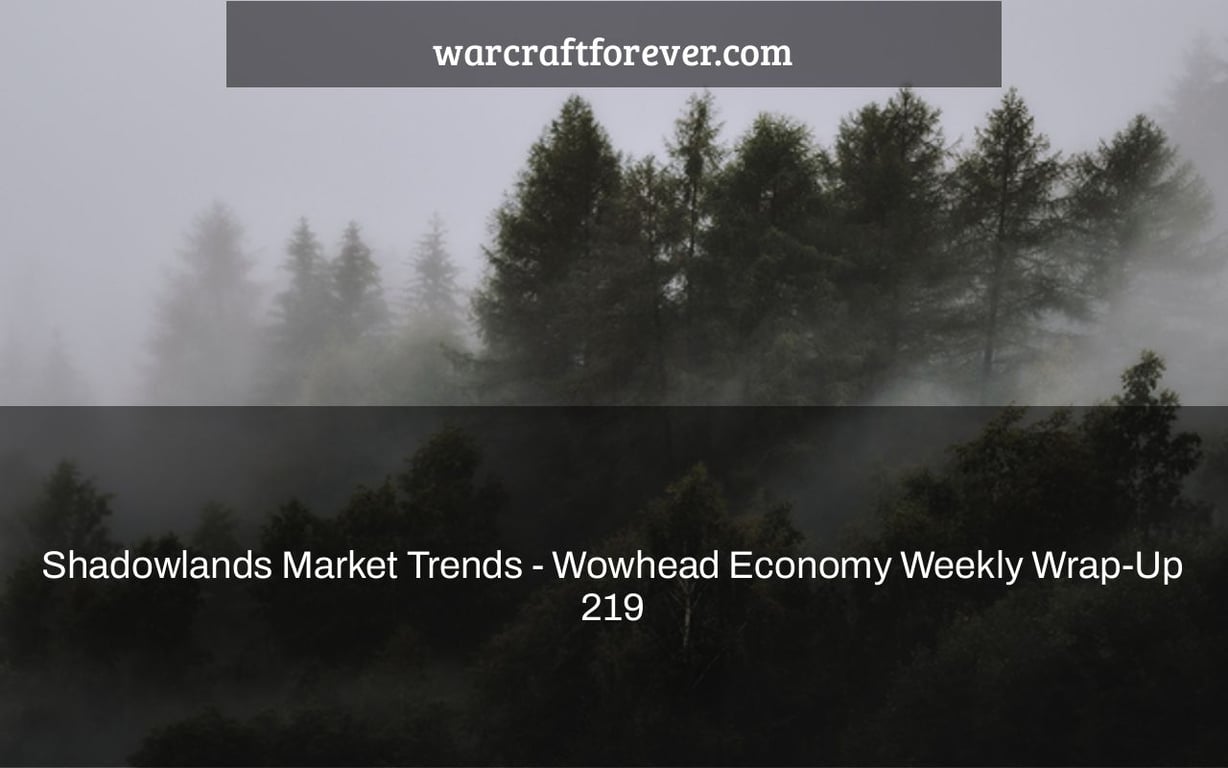 Weekly Economic Update in World of Warcraft Hello! The WoW Economy Weekly Wrap-up is back for the 219th time!
As 9.2 sets in and the last parts of the campaign and double legendaries become available, we take a look back at how this expansion has gone and look forward to the gold-making possibilities that lie ahead. We also look at the pricing of Progenitor Essentia, as well as the imminent market that will emerge once double legendaries become available.
My name is Samadan, and I'll be your tour guide around the Gold Making World!
Progenitor Essentia & Flying
Flying was unlocked this week, which is a huge boost for farmers and ordinary gamers alike. Progenitor Essentia is one of the crucial ingredients that is still difficult to come by in big amounts. On several worlds, the price has been constantly declining and has recently reached below…
TheUndermineJournal.com provided the graph. The supply has been consistent throughout time, and demand for its usage in making legendaries and 262 gear remains strong. With the availability of twin legendaries, demand may rise once again.
Zanzarful has a wonderful video where he talks about his experiences with the drop rate now that flying is available…
The best part of collecting Progenitor Essentia and dual gathering is that ALL resources are now selling really well.
Last week, there was a man on my server who was only farming progenitor and was getting up to 6 every hour with the development in cypher research. He was earning between 200 and 400 thousand dollars each hour. He didn't have much of a life, maybe 6 hours a day.
Last week, I'm very sure he made over ten million dollars. Only in progenitor essentia. I spent roughly half of that time humping the AH and crafting (since crafting is sluggish af). The gold per hour was approximately the same, albeit it was much simpler to simply sit there and afk it for the win in terms of crafting.
Gathering, on the other hand, was and continues to be incredibly lucrative, much more profitable than crafting at this moment.
Of course, if prices decrease, these figures will continue to decline, but it is still a viable gold-making and manufacturing approach.
Market Trends in the Shadowlands
u/Clover North has a great post up on how the Shadowlands expansion has progressed and what the market trends were at the time…
Hello there, goblins!
We're getting close to the release of double legendaries, which will most likely be the final large event to have a significant impact on markets. I've been contemplating a lot lately on all of the expansion's tendencies, from the beginning until today.
It seemed to me that collecting all of the important market events of the last expansion may be useful – we don't know what to expect in 10.0 yet, but the lessons gathered over the past year and a half might be useful.
What are some of the "major moments" in goldmaking that you recall from Shadowlands?
Did you make the most of those opportunities, or do you wish you could go back and change things?
I'll give you an example from 9.0's first week:
Bottleneck between the Eternal Crystal and the main plot.
There was a huge scarcity of fundamental crafting resources just after debut, as players rushed to level 60. Eternal Crystals were especially uncommon, since the tortoise rare in Bastion was the only crystal available to most players. Because the last stretch of enchanting levels needed crystals, individuals willing to pay for them on the AH had a stranglehold on enchanting on my low-pop server.
Furthermore, Revendreth ore, herbs, and fish were in short supply, making farming highly profitable and any equipment that needed them more costly than they would be later, after the majority of players had reached cap.
I had the money to max out enchanting, but I didn't take advantage of it. I could have sold enchants at a premium in the first few weeks of the expansion if I had invested the cash.
I'll put them all in a file and start building up some institutional memory for the community if we can get a lot of tales from Shadowlands cataloged. Thank you all very much!
Following high-end raiding news has been really beneficial to me in terms of legendaries.
The debate about where to add legendaries in 9.1 and 9.2 is a nice example, though I'd say it's a little more difficult today.
Many players follow the theorycrafters' lead when they provide the best places for legendaries in class and spec guides. So, in preparation for 9.1, I attempted to level the legendary slots that gamers are most likely to want. From the viewpoint of a medium range goblin who can't level every lego slot, it's well worth it.
Changes in drop rates and their impact on pricing for Korthia crystals and, to a lesser degree, Progenitor Essentia. When Korthia was first released, crystals were trading for a fraction of their current value, since it would take weeks for players to even be able to create their gleaming new legendary. I didn't invest because I believed the price was already high and would remain constant, particularly when they announced that drop rates would be increased. Turns out, crystals skyrocketed in price in the first few weeks, pricing me out of the legendary market for the most of the patch.
Needless to say, any essence under ten thousand dollars landed up in my bag by 9.2. I'm not one of those people that gets caught twice.
My own opinion is that Blizzard sets the pricing, not the Goblins or players. The drop rates and costs of basic mats are determined by the Blizzard, which in turn impacts item pricing.
Several adjustments in the SL timeline demonstrate how this is accomplished.
Blizzard swiftly increased the price of the basic mats from 5g to 9g, thereby affecting the pricing of all made items.
Lightless silk was essentially worthless in 9.0, when the price fell to 3-4g, then Blizzard upped the price to 30-40g with a single recipe. With 9.2, the lightless silk needs have been reduced yet further, resulting in lower costs.
Korthia crystal drops/rewards were dismal at launch, resulting in insufficient supply to meet demand. Blizzard boosted the drops/rewards that dictated item pricing once again.
I also despise the fact that Blizzard made rare unfarmable mats the primary criterion for a patch. Korthia crystals/POGs, unlike other mats (ores, herbs), cannot be cultivated (RNG), resulting in price spikes. POG prices will rise in a few months when most people have become tired of the location and are no longer interested, similar to Korthia.
The most important lesson for me is to enter markets early. And I was late to every significant market in SL that I entered and still made a fortune. However, others who arrived before me made much more. I regret not investing in cotton leggings when I had the financial means to do so. Then the price of silk went up, which was problematic. I've chosen to do it now, and catching up on everything is a hassle. But I always do this: I resolve not to enter the market, then change my mind a few months later. If I had gone for cloth leg sooner, I could have easily earned a few more million dollars.
I can just add that before to 9.2, leather prices were quite expensive, but since they modified how leather drops in the new zone, it is now simpler to skin, and a large number of people are playing, pricing have returned to normal.
Also, getting flight has an impact on ore/herb pricing, since it is obviously simpler to cultivate with flying.
Following all of these patterns as they emerged has been fascinating as a gold manufacturer. Personally, I've never been one to get ahead in any one market, but I've had fairly constant sales with enchanting and tailoring, both new and old material, throughout the expansion.
Looking Forward
With all of these look backs, it's time to look forward, and the Mage Tower Event, which is part of Legion Timewalking, is set to return on April 12th/13th. Penguin has a video that walks you through the specifics and what you can do right now to be ready…
Of course, the next expansion announcement on April 19th may overshadow this, but there are plenty of possibilities to earn gold here if you plan ahead.
Successes in Gold Mining
Here are a few great tidbits highlighting the triumphs of gold making and how it was done if you're seeking for gold making inspiration…
Since launch, I've spent almost every day farming every rare in Zereth Mortis, and I finally reached revered yesterday.
I've sold contracts and glyphs since then, and I've just topped 1 million gold with absolutely no competition.
Another player was respected and placed several contracts, but I was camping the AH all day, so he had no chance.
I'd been stuck in a gold-making rut for a long, never quite finding my niche in Shadowlands, but the last 24 hours have helped me reawaken my goblin side. Just thought I'd share:D "Don't forget to grab Francios, your friend."
"My recommendation is to retain it for now and save it for the next xpac, I had 1 mil at the start of sl (after bruto) and earned around 30 mil out of it in the first 3 months by investing in legos, enchant in the early days, and so on!"
"Doing more of what you've been doing"
"The first million is usually the most difficult and time-consuming."
Congratulations to everyone who has made gold, and I hope there will be more as the expansion progresses and gamers continue to enjoy the game and earn gold.
Additional Reading
The majority of this material was initially debated and shared on the /r/woweconomy subreddit or the associated Discord server.
I hope you found this helpful, and do let me know if you have any recommendations or criticism in the comments section below.
Until next time, best of luck with your gold-mining endeavors!
Samadan