The new tier gear, legendary items and class changes are coming to World of Warcraft with the release of Patch 9.2, but there's still plenty we don't know about how things will shake out for players in this upcoming expansion.
This is our comprehensive roundup of everything we do know so far that's been revealed by Blizzard developers through blog posts and various interviews since Shadowlands went live on November 27th. If you're trying to catch up on all the details before patch day arrives, read on!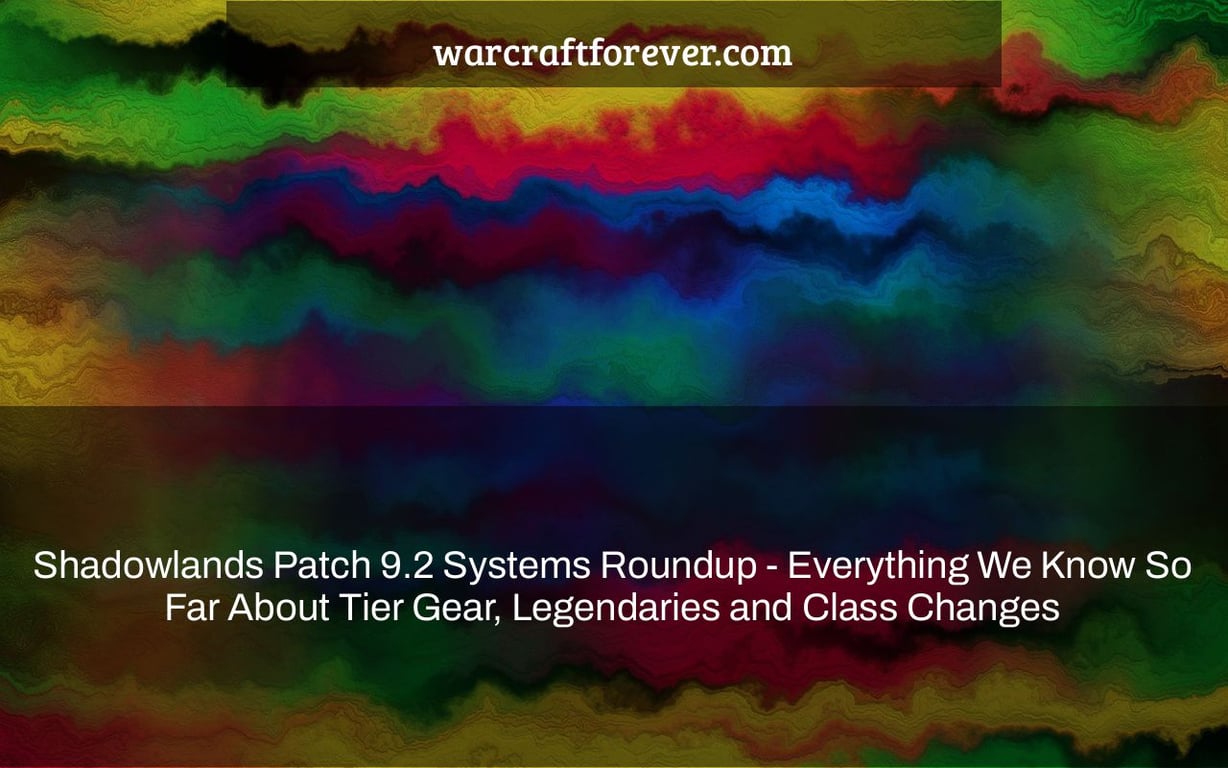 Last week, Patch 9.2 Eternity's End was released, giving us our first glimpse at some of the new features and system improvements coming in Patch 9.2. We're putting everything systems-related in one place since a lot of the material was split across several interviewees and languages.
Interviews for Patch 9.2
The following Patch 9.2 Eternity's End interviews provided the basis for the content in this page. Please keep in mind that some of these interviews are conducted in languages other than English.
Tier Sets in Patch 9.2: Everything You Need to Know
Tier Sets are making a comeback in Shadowlands Patch 9.2! Here's all we know thus far about these Tier Sets:
There are two sets of bonuses and four sets of bonuses. These set bonuses will provide "fun and distinctive rewards for a certain playstyle," with the goal of making rotations more fresh and unique.
Raiders will get their sets faster than the rest of the raid from the bosses.
You may still engage with the system via the Cypher system on Mortis Zereth, which will ultimately open the Forge of Creation system, even if you don't raid. This system enables you to acquire a new money, which you may use to upgrade any item of proper item level and upgradability into a Tier set piece by spending it.
As a result, all gamers may participate in the Tier system.
It's possible to find it in the Great Vault.
Appearances of the Progenitor Tier
So far, these are the Tier Sets' known in-game appearances.
Shaman, Rogue, Monk, DK, Priest, and Druid, from left to right
Hunter, Warrior, DH, Mage, Warlock, Paladin (from left to right)
Might these be the Mythic variants? Some concept art of the Tier sets was also displayed, with some different colors and additional light effects, so could these be the Mythic variants?
Patch 9.2: Everything You Need to Know About Legendaries
Patch 9.2 will bring two major updates to Legendaries!
Legendary in two ways
At some point in the future, players will be able to equip two Legendaries at the same time.
This will be unlocked through the The First Ones' Cypher system on Zereth Mortis and will not be accessible at the start of the Patch.
When donning two Legendaries, the Covenant Legendary must be one of them, whereas the other Legendary may be anything.
This unlock applies to the whole account.
Torghast Isn't Necessary Anymore
Since the beginning of the expansion, Torghast has been linked to player power, since it is one of the currencies required to improve your Legendary. However, with Patch 9.2, Torghast will be fully optional, with occasional one-of-a-kind cosmetic-only drops.
Legendaries may once again be upgraded to a higher item level.
Zereth Mortis will also provide the cash required to upgrade Legendaries, making Torghast absolutely unnecessary.
Torghast will get new mounts and aesthetic rewards, as well as increased difficulty from new mechanics and monster kinds.
Raid on the Sepulcher of the First Ones
The Sepulcher of the First Ones raid is a brand-new raid that will be available in Patch 9.2. So far, here's what we know.
The raid has 11 bosses, including Anduin (8th boss) and the jailer Zovaal (11th boss).
Other bosses include the Jailer's armies, Dreadlords, and the Consular, an Algalon-like creature.
During the first week, the raid will be limited to 8 bosses (up to and including Anduin).
All 11 bosses will be accessible on Normal, Heroic, and Mythic the following week.
Changes in Class
Unfortunately, there isn't much information on class changes in Patch right now. This is what we know in addition to the systems mentioned above:
In Patch 9.2, there are no plans to modify soulbinds. They will continue to work.
Conduits will be updated in the near future.
It's expected that Covenant abilities, Covenant Legendary tuning (due to Double Legendary), and basic class adjustments will be implemented, although this has yet to be verified. When the 9.2 PTR goes live, we'll know a lot more.
PvP Brawl in Solo Queue: Solo Shuffle
In Patch 9.2, Blizzard is experimenting with a new PvP Brawl dubbed Solo Shuffle, which is their version on solo queue, a much requested feature by gamers.
It's a 3v3 arena where gamers will battle in whatever combination they can think of (assuming one healer on each side).
They want to see whether it's a feature that can be added indefinitely.
In a subsequent Holinka tweet, further details were revealed.
Zereth Mortis
Progression Through Zones
Zereth Mortis is a new zone in Patch 9.2 where players will learn a new language and unlock numerous new systems.
We don't know anything about what we'll be doing in Zereth Mortis yet.
There are seven phases to unlocking material.
World Quests and Daily Quests are included in the content.
Cypher of the First Ones
The Cypher of the First Ones mechanism, which is how players will learn to translate a completely new language, is used to measure progress. In Patch 9.2, this system takes the place of the new Renown levels.
We don't know a much about the First Ones' Cypher, but here's what we do know:
You'll soon be able to interpret part of the unfamiliar language that appears everywhere, even on text boxes, when you enhance the Cypher of First Ones.
The ability to equip two Legendaries is one of the progression unlocks.
In Zereth Mortis, the capacity to fly.
Unlock the Forge of Creation mechanism, which lets you make Tier Set items.
Watch This Video-