Blizzard released a new patch for World of Warcraft, and with it came the introduction of Solo Shuffle. A 3v3 queue system that lets players battle against other random teams without having to be matched up with a full party (yet). Players can queue solo or in groups of three, but will still have to wait for their opponent's team members before playing. In this article I'll explore whether it's worth waiting at all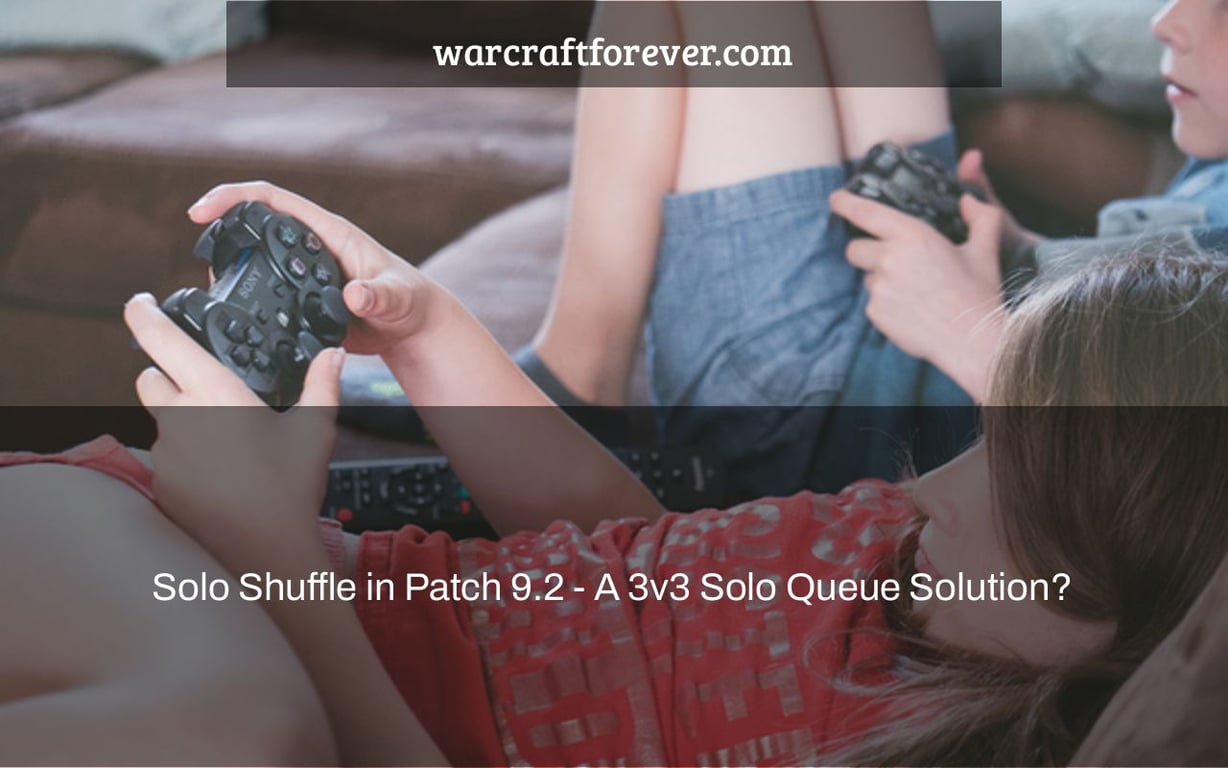 You may be wondering what Solo Shuffle is all about now that Shadowlands Patch 9.2 has included a much-requested solo queue option for 3v3 arena PvP. With LFG for arenas in such a horrible condition owing to spam and fussy groups, finding a team to queue with may take hours. PvPers have been requesting a solo queue option for years, but will Solo Shuffle really address the issue it claims to tackle? Xot, our Shadow Priest PvP writer, examines the advantages and disadvantages of this new game style below.
What's All the Fuss About Solo Queuing?
Even after you've geared up, obtained all your conduits, gems, and all the fun things, the main challenge is still finding partners to play with, thus it's safe to say that rated PvP has one of the highest hurdles to entry. This is due in part to issues with the present LFG system. If you take a brief glance at the LFG tool, you'll see that it's full with boosters, advertisements, individuals who only want to play particular compositions with certain classes, and people who don't believe that others deserve a shot until they have every PvP accomplishment possible. If you're fortunate enough to have some playing partners, losing your first game will likely drive everyone to leave, and the process will begin all over again. Overall, using the LFG tool for rated PvP is a bad idea. Compare this to popular games like League of Legends or Counter-Strike: Global Offensive. Imagine starting the game and then having to sit there for an hour or more attempting to locate four other individuals who met their stringent requirements to play with before you could even begin a match.
We do offer skirmishes, but they've always been marketed as a recreational game mode, with no stakes, no rating gain, no awards, no gear upgrades, and a queueing system that's broken due to huge lines and no penalties for players who don't show up, resulting in many games with an unbalanced number of participants.
This is when the solo queue system comes into play. Solo queue is a system we've seen work well on many dedicated PvP private servers, allowing aspiring PvPers to simply queue up at any time, be placed with two other players, and thrown straight into a decently balanced 3v3 rated arena match – skipping the arduous process of spending all of your free time looking for partners before you can even attempt to play while also having some rewards attached. This gives you the impression that you're achieving something rather than wasting your time, which is how queueing the current iteration of skirmishes feels.
Solo Shuffle (Patch 9.2)
Blizzard's response to innumerable forum posts, YouTube videos, and blogs requesting solo PvP content will be incorporated in 9.2: the introduction of a new brawl system named 'Solo Shuffle.'
On the surface, it works just like an arena skirmish and is queued up in the same way, but it's presently classified as a brawl on the PTR, so we're not sure whether it's a rotating game mode or just an option to the existing skirmish system.
Solo Shuffle, unlike skirmishes, is a 3v3 game. The matching algorithm will choose four random DPS and two random healers (or tanks) from the available arena map pool and put them on a random map. The six players compete in a six-round arena combat, with two DPS and one healer (or tank). After the first match, the sides will be changed up such that every possible combination of two DPS and one healer (or tank) will be used. It's crucial to remember that tanks are treated the same as healers in this style, thus if you queue up as a tank, you'll have two DPS on your team. Because Protection Paladins are seen to offer distinct benefits, teams with one will only battle other teams with a Protection Paladin. Unlike skirmishes, if a player departs or does not participate, they are considered to have lost every round and will be penalized.
To prevent games from becoming too lengthy, dampening starts at 2 minutes and swiftly ramps up to 100 percent healing decrease at the 5 minute mark, with the round ending as soon as a team kills an opponent. This would make games infinitely shorter than they would be in rated arena or skirmishes. After each round, you'll be ushered into the arena preparation room with your new squad and given an absurdly little amount of time to change and alter your skills for the new matchup.
After the six rounds are completed, a scoreboard will appear indicating the number of rounds won by each participant.
The Good, The Bad, & The Ugly
I'm sure there's only one question on your thoughts at this point: is solo shuffle the solution we require?
Everyone seems to appreciate the idea, even if things seem a little fast-paced and hectic, based on what I've seen on PTR and what other people have said. The key issue that Solo Shuffle solves is that PvPers may now just get into a 3v3 game, which was previously a major concern for many. It's similar to queueing for LFG in many respects, but without the hours of trying to locate teammates. This is a terrific option for those who are short on time, bored, or just want some no-strings-attached arena games.
The way it's put up is excellent. Having 6 people and continually shuffle the teams is an excellent approach to balance and cope with the solo queue experience, ensuring that everyone is on an equal footing. Private servers often implement solo queue by requiring melee/caster/healer configurations, which may result in some incredibly imbalanced team compositions and pales in contrast to the shuffle system.
One issue with the present structure is how tanks are handled. Tanks, as previously said, take the place of the healer. Imagine queuing up and instead of a healer, you're faced against a Blood Death Knight tank that provides no healing to your team – even if the opponent has a tank as well, this may not be the experience you're hoping for, particularly since 3v3 with a healer on either side is the standard.
Aside from that, there are a slew of additional concerns, most of which are related to incentives. A rating system with rewards was one of the community's requests for the solo queue; this could be different types of Gladiator mounts, different tabards, or even just the ability to upgrade your gear and meet these rating brackets; essentially the same as the current arena system in terms of rewards, but adapted for solo players. Solo Shuffle presently lacks any of these features, and the payouts are pitiful, like what you'd expect from queueing a conventional skirmish – a pitiful amount of Honor and a ludicrous 3 Conquest for repeat victories. If you wish to complete your Conquest and level up, you'll need to locate friends and queue in a rated arena.
Another major flaw in Solo Shuffle is that it lacks any kind of gear scaling. The brawl may be a good way for lone players to prepare for PvP without having to locate companions and play a lot of games. However, without gear scaling, you will need to gain experience via other ways (such as rated PvP) in order to compete in Solo Shuffle.
Furthermore, similar to a skirmish, there is an MMR system in place, but it is all disguised; you can't see your rating and there is no ladder. Apart from queuing for the purpose of having fun, Solo Shuffle offers no actual incentives. This is acceptable for many individuals, but others who prefer a more competitive experience have no incentive to line, which will significantly reduce participation.
However, the fact that Blizzard is heading in this route is a significant step forward for the PvP community, and because Solo Shuffle is still on the PTR, we could see some kind of grading system and substantially increased incentives as we move closer to the 9.2 release date.
To conclusion, Solo Shuffle is a fantastic addition to the PvP community. It's amazing that Blizzard is listening to the community and creating a new game mode, but no matter how excellent the game mode is, it won't totally cure the main issue if the flaws aren't addressed.
Author Information Xot is an eight-time Rank 1, 3450 Shadow Priest who competes in tournaments. For the whole of Legion, he has been playing at the top level in all facets of Player against Player content, including being the best rated Shadow Priest in the world in 2v2 and Rated Battlegrounds. If you have any questions or concerns, you may contact him through his Stream or Discord.
Twitch Xot#8585 – Twitter Discord