The World of Warcraft community is a true melting pot, an egg that has been beaten to such a degree as it can now be scrambled up into countless different variations. We are filling out the dish with our own flavors and you might find your favorite soup here!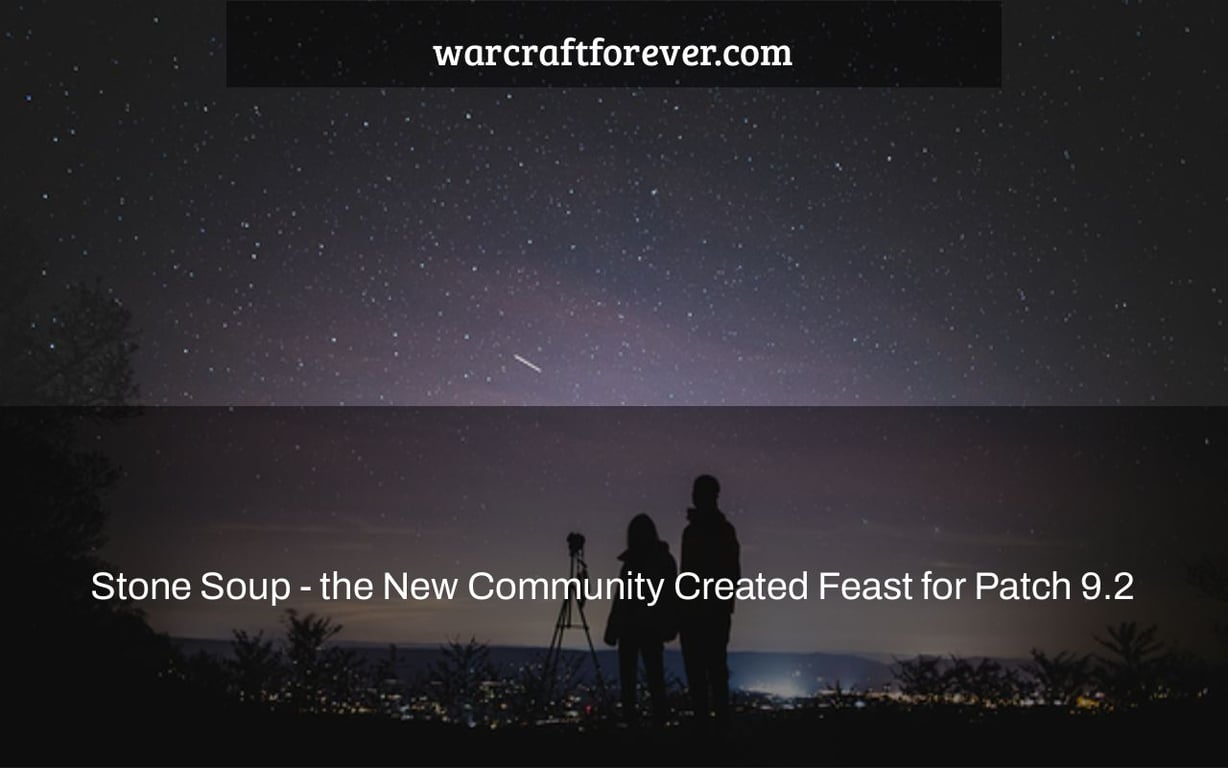 An interface enables players to add ingredients to the feast as they interact with it. Each gift makes a 10% contribution to the feast's completion. The contribution items do not need to be in the players' bags; instead, they may be kept in the bank. Players may choose from one of four options:
The Empty Kettle of Stone Soup becomes a Stone Soup feast that everyone may indulge in for a Well Fed boost after the percent bar is filled.
Over the course of 20 seconds, heals 48077 health and 38462 mana. While eating, you must stay sitting. You will get well nourished and gain 20 in a stat for 1 hour if you spend at least 10 seconds eating.
This unique approach to a community consumable places a strong focus on participation. While one person may easily put and donate all of the stuff for the feast, the responsibility for gathering resources and having feasts prepared has now shifted to the group.
But why is it referred to as Stone Soup? Many people are acquainted with the folktale, but for those who aren't, Wikipedia has a version:
Some visitors arrive in a community with nothing except an empty cooking pot. The locals refuse to share any of their food supplies with the starving visitors when they arrive. The pilgrims then go to a creek, fill the pot with water, lay a huge stone in it, and set it over a fire. One of the locals gets intrigued and inquires about their activities. The tourists respond that they are creating "stone soup," which they say tastes great and that they would be happy to share with the villager, but it still needs a little garnish, which they don't have.
The villager, anticipating a portion of the soup, is willing to part up a few carrots, which are put to the soup. When another villager asks about the pot, the tourists remark their stone soup, which hasn't yet realized its full potential. As additional villagers pass by, they each contribute another item to the stew, such as potatoes, onions, cabbages, peas, celery, tomatoes, sweetcorn, meat (such as chicken, pig, and beef), milk, butter, salt, and pepper. Finally, the inedible stone is removed from the pot, and tourists and locals alike enjoy a wonderful and nutritious pot of soup. Despite the fact that the visitors duped the villagers into sharing their food with them, they successfully converted it into a delectable supper that they share with the benefactors.