The long awaited patch 2.4 for Diablo II: Resurrected has finally arrived and with it a new set of challenges to overcome, including the return of Summoner Druid! With multiple summons and endless possibilities in mind, summoners will be able to pump their favorite class up even more than before.
The "d2r patch 2.4 notes" is a blog post about the new changes in Diablo II: Resurrected for Patch 2.4, which includes multiple summons and new challenges.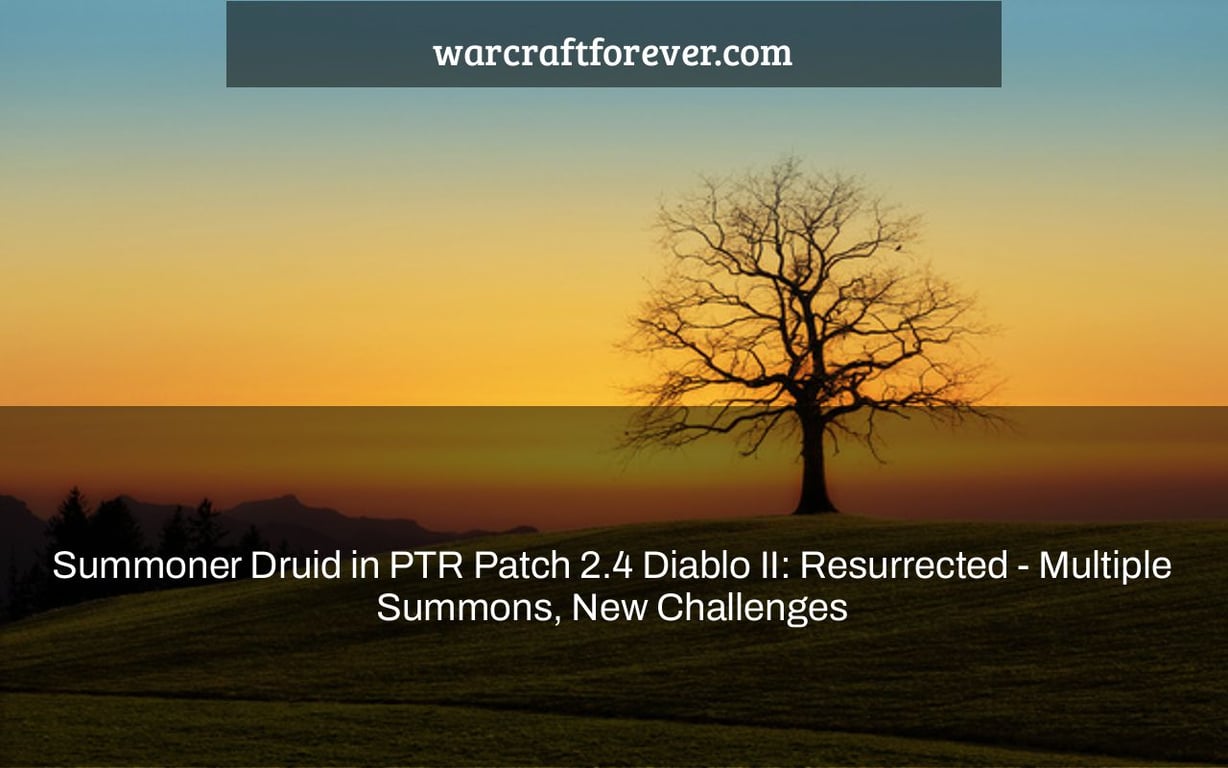 Fans of the Diablo II Druid class for a long time: Resurrected was overjoyed to learn that a long-cherished wish had come true: with Patch 2.4, Druids will be able to call all of their Ravens, Wolves, and Bears at the same time!
With this adjustment comes concerns regarding the Summoner Druid's increased viability. So, what's new? Are there any new obstacles to overcome? Has their anticipated survivability and usefulness altered as a result of this build? Do they still need exorbitantly priced equipment?
Yes, yes, yes, yes, yes, yes, yes, yes, yes, yes, yes, yes, yes, yes, yes, yes, yes, yes, yes, yes, yes, yes The Summoner Druid's future is bright, however there are still certain areas where he can improve.
Patch 2.4 brings improvements to Raven.
The original Ravens on the PTR for Patch 2.4 were amazing beasts — picture Ginsu knives with wings — but they only lasted a few seconds before you had to recast them. In a recent post, we discussed this issue and requested that the Ravens' lives be prolonged so that we wouldn't have to spam this spell as frequently. Later in that PTR, this was corrected, and it was carried over into this patch. The length has been substantially enhanced, however the damage has been reduced somewhat. Overall, it was a good compromise that made the Ravens a lot more user-friendly.
Summons for several wolves/bears
With just a slight tweak, we tested the Summoner Druid build we built and polished five weeks ago with the first D2 Patch 2.4 PTR and discovered that it works great. This tutorial has been revised, however keep in mind that this build won't be available until Patch 2.4 is released:
Diablo II: Resurrected's Summoning Druid Build
The ability to summon all of your Wolves and Grizzlies at once was the most significant change in this PTR build for the Summoner Druid. If desired, you may call up to 5 Spirit Wolves, 3 Dire Wolves, and 1 Grizzly, as well as 5 Ravens, one Spirit, and one Vine. We, along with a large number of other Druid fans, agreed that this was a necessary adjustment to make this workable. Blizzard listened to the community and took action, resulting in this stunning scene:
Without surrendering its boss-killing powers, having complete summoning capacity converted this single-target specialty build into a competent AoE farmer. While the initial incarnation of the game failed to complete the Hell Secret Cow Level due to a lack of summons, the extended zoo handled the large cow groups well. Ravens left too long without being re-summoned and running out of attacks, as well as the odd death of the Oak Sage spirit, were the most common casualties.
This PTR also includes new Uber Diablo/Dclone mechanisms that extend the Uber Diablo spawn throughout a whole regional database, as well as new spawn progress messages. Uber Diablo was destroyed three times by the Summoner Druid with an extended zoo without dying or losing the Mercenary. Spirit Wolves, Oak Sage, and even the rare Dire Wolf had to be summoned on occasion. While not the fastest Uber D kills ever, they were safe for the druid and the result was never in dispute.
Extensive minions' outcomes:
Large mob groups are now possible with this version, thanks to much greater geographical coverage.
With relative ease, capable of take down act bosses and Uber Diablo.
As a consequence, it's reasonable to assume that the Summoner Druid's tier has shifted. While we used to refer to the Summoner Druid as a "D-tier novelty build with expensive tastes," it's now more equivalent to a B-tier build, capable of handling a wide variety of content with moderate ease and minimal risk. It isn't A-tier because of its poor pace in doing so, but it is a significant improvement. It still has a high price tag, but so do most endgame setups.
Immunities are still a problem, but they can be dealt with.
Prior to this modification, Druids had to choose between Spirit Wolves, who dealt Cold damage in addition to their Physical damage, and Dire Wolves or Grizzly, who dealt simply Physical damage. Physical Immunes are a thing of the past now that you can call both, right? You'll already have Spirit Wolves summoned to deal with them.
Not so fast, my friend.
Even with the partial cold damage of fully invested Spirit Wolves, this build still suffers against Physical Immunes. Physical Immunes can be defeated without breaking the immunity, but it takes a long time. Cold immunity is less of an issue — in fact, it doesn't seem to be an issue at all. However, the uncommon Physical and Cold Immune mob does appear, and you should evacuate the area as soon as possible.
You'll need a Mercenary that can utilize an equipment that may Amplify or Decrepify damage. The Runeword Lawbringer may be used in the off-hand position by the new dual-wield Frenzy/Iron Skin/Taunt Act V Mercenary to apply Decrepify and eliminate Physical Immunity, making your life much simpler (Act V dual wield mercs can only use 1-handed swords). There are many superior options for the main hand, owing to the convoluted method in which the Mercenary dual wield algorithm fails to identify some offhand weapon features. Lawbringer is not as impacted as other weapons by these, making it an excellent offhand weapon.
Act V Mercenaries are superior than Act II Mercenaries since they are much more active and adept at joining your zoo; the Act II mercenary prefers to hang out in the backfield with your Grizzly.
Yes, the Act V Merc's Taunt has a nasty tendency of canceling Decrepify, but Decrepify reapplies so rapidly that it doesn't make much of a difference in terms of functionality.
New Difficulties
For this build to shine, Enigma has gone from "good to have" to "must have."
The larger zoo provides a serious control problem. The zoo spreads out rapidly, and keeping the zoo together and working on the same group of mobs might be difficult without Enigma or another teleport gadget like Naj's Puzzler.
You may cast your beefed-up Ravens in the direction of mobs you wish to target to some degree, which will draw different amounts of your minions. Minions spread out in the other way, on the other hand, may miss the tip.
Unfortunately, the Grizzly's AI hasn't improved in general, and it still has a proclivity for going in the wrong way.
To outpace your minions, you don't need a lot of additional Run Speed.
It's especially difficult when the group separates into many mobs.
Some zones, such as Arcane Sanctuary, are practically impossible to complete without the use of a Teleport to reunite the gang. You can burn a lot of Town Portals, but it quickly becomes tiresome.
Thankfully, the enhanced AI that returns split minions to you helps a little, but Enigma is crucial to this build's long-term pleasure.
Enigma, on the other hand, has its own set of issues, including putting the Druid in grave risk if they miscalculate the stomp. You want to land near a group of monsters, but doing so directly on top of them puts the Druid at risk of getting attention too fast and not making it out alive. The Act V Merc's Taunt seems to assist a little with this, but not completely.
I discovered that this put my Druid's health in jeopardy, so I made a little tweak to the build, requiring 1 point in Poison Vine as a requirement and at least 1 point in Carrion Vine, which consumes corpses to restore health to the Druid. With +Skillers, summoning a rapid Carrion Vine may restore enough life to resolve the issue, however the Carrion Vine dies often. It was so beneficial that I added it to my right-click menu to call up anytime I needed to regain my health. This only works since Ravens doesn't need to be recast as often or as rapidly as before.
This has altered my perspective regarding the Carrion Vine's usefulness, which I had previously dismissed as worthless in this setup. Enigma, on the other hand, didn't have as many summons to handle, therefore it wasn't as mission vital.
Issues with the Summoner Druid that have yet to be resolved
Despite how significant this improvement is, there are still certain difficulties with the Summoning tree that prevent it from achieving its full potential, as well as some item shortages.
As a pure summoner, your options for investing your points are still restricted because to the significant synergy between the minion classes. When it comes to synergy, hybrid summoner setups will have to make some difficult decisions between survivability vs. damage output. Although careful testing may reveal the ideal method to balance out these synergies, the pure summoner construct currently invests in all of them.
The Vines are still useless, providing no benefit to Summons. The Carrion Vine is the only one that has shown to be beneficial in dealing with the Druid being beat up and teleporting in with his minions to gain aggro, however the Poison Vine and Solar Creeper have proven to be absolutely worthless. Extreme delicacy is a difficulty that all Vines face. It is just not a good use of points to summon creatures that offer little to nothing and demand continual recasting. Vines should be modified at some point in the future.
We're yet unaware of any Druid-specific equipment that enable Summoning. For Season 2 of the Ladder, maybe a Summoning-focused item would be a suitable Runeword to create? It's possible that this will motivate more people to attempt the Druid on the Ladder and beyond.
Related Tags
d2r patch 2.4 release date
diablo 2 resurrected
destiny 2 patch notes