The new patch released on PTR today brings a lot of changes to Diablo II, the most significant being an all-new summoner class. Many users have expressed concerns about this change and it's effectiveness in competitive play.
This article will cover some of these issues as well as potential solutions for them that Blizzard might implement over time.
The article also covers some other things you should know when playing with the patch notes from today's release!
The "diablo 2 release date" is a problem that has been present for a while. Blizzard released a new patch to fix the issue.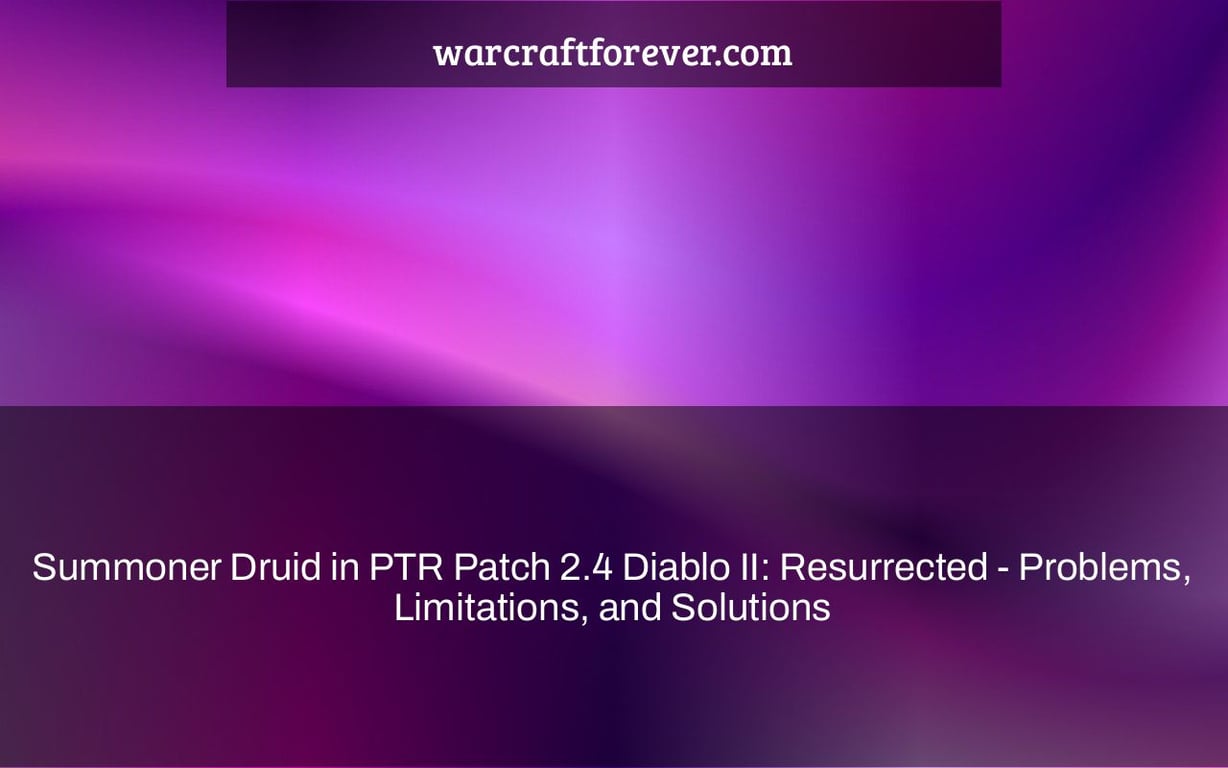 Fans of the Druid class in Diablo II: Resurrected have hoped for a proper Summoning Druid build in the game for a long time. With multiple modifications to the different minions in the most recent patch, including new/improved synergies, a massive bonus to Ravens and Dire Wolves, and other enhancements, it looked like we were getting closer to that reality.
This post will look at the issues and limits of the build as it now stands on the 2.4 PTR, despite the fact that it might be made into a viable build with more costly gearing. We'll wrap up with some suggestions for making the Summoner Druid a viable build in Diablo II: Resurrected — sans the crazy gear requirements.
So Far, the Story
Despite the PTR adjustments, the Summoning Tree for Druids will not transform the Summoner-focused Druid into anything more than a D-tier twink with pricey tastes. Currently, the Summoning tree's typical state is the same as it's always been: a source for a few support minions for Elemental builds or a component in any of a variety of variable-successful hybrid builds. The class dream of a lone Druid out in the wilderness with his faithful nature minions has yet to materialize.
This is a significant letdown for those of us who enviously watch the Summonmancer, the other main summoning class/spec, demolish the globe as an S-tier construct. Necros are the uncontested kings of the summon, with the ability to skill for up to 37 minions between the Golem, Skeletons, Skeleton Mages, and Revives (not counting the merc; everyone gets one of them), and equip to allow for even more (up to almost 70 by most counts). While Druids don't want to enslave every rabbit in the forest, we do want to be respected as masters of nature's summons.
We were able to get a functional Summoner Druid with the assistance of Wowhead writer Skulm, an experienced Summonmancer who helped discuss gearing tactics for a Summoning Druid build. It's currently just a late-game build that works beyond level 76 with costly gear, but it's a shockingly good boss-killing spec.
Diablo II: Resurrected's Summoning Druid Build
The Build-In Technique
It was time to test after we fine-tuned the gearing. We settled on Dire Wolves as the right balance of durability, high damage, and coverage for our Druids after experimenting with the Spirit Wolves (not enough damage, more squishy) and the Grizzly (too little spatial coverage, weird AI problems where the bear would sometimes just walk away from targets). We also found Oak Sage to be the most beneficial.
The Ravens boost is a game-changer for the Summoning build, albeit the Ravens' short lifespan means you'll be spending much of your time in the back field resummoning them. One interesting feature was that if you direct your Ravens towards the opponents you wish to attack, the Dire Wolves would typically follow suit. Minions might be irritating since there is no way to command them where to battle, but it does allow you some control over how they are directed. They didn't always follow the Ravens, but they did so often enough that you could keep everyone together most of the time.
Tests on Hell's end-level bosses revealed that none of them could withstand this construct. Except for some Raven recasting, they all fell down fast and with little to no work on the Druid's side. They had greater trouble with semi-big groups like those in Chaos Sanctuary, however the named bosses were less of an issue than the vast number of minions surrounding them. Even if the Ravens and Dire Wolves took a time to gnaw through them, it was still a relatively safe construct for the Druid himself.
The absence of AoE is most noticeable when trying to complete levels like the Secret Cow Level quickly. It's possible to grind your way through it, but it'll never be the ideal build for this level. Leave it to the experts in AoE.
To see the construction in action, check out Skulm's video:
Problems with the Skills Tree
There are four categories in the Summoning Skills tree.
Oak Sage, Wolverine Heart, and Barbs Spirit are among the spirits.
Ravens – Ravens – Ravens – Ravens – Ravens – Ravens
Spirit Wolves, Dire Wolves, and Grizzly Bears are all wolves/bears.
Poison Creeper, Carrion Vine, and Solar Creeper are examples of vines.
Problem 1: For each category, you can only have one kind.
Spirits: Oak Sage is the most popular choice here, and despite the modifications in Patch 2.4, it will continue to be the most popular choice for a few of reasons. To begin with, improvements to Oak Sage have resulted in it being rather hardy, which is a significant improvement. Heart of the Wolverine and Spirit of Barbs, on the other hand, do not share this sentiment. In contrast to Oak Sage, these spirits are now mushy and die off quickly. Plus, your wolves will require Oak Sage to remain alive if you're running a complete Summoner setup in higher level Hell. You'll be busy enough recasting your Ravens that you won't want to have to do the same with your Wolves.
Ravens: Because there is only one Ravens spell, there is no option. Ravens have received a significant upgrade, and they now hit like a ton of bricks. However, since they are damage spells with animations rather than actual minions, they are immune to auras and buffs. They have no synergy with your other minions, however they do gain damage synergy from your Wolves/Bears —12 percent each level for each of the three kinds. They also have a relatively limited duration, which means that as a pure Summoner, you'll spend practically all of your time standing in the backfield recasting your Ravens… over and over again. You could even have to resummon a Wolf for variation. What a blast!
Wolves/Bears: You may call up to five Spirit Wolves, three Dire Wolves, and one Grizzly at once. With Druids, this has long been a point of controversy. Because necromancers may call a variety of comparable minions, why can't Druids summon both wolves and bears at the same time? Although Necros may only have one sort of Golem, this isn't a fair comparison. Singletons are golems, while skeletons and revives make up the army. Druids may either have a single Grizzly or a small army of Wolves. The geographical coverage isn't even close to being the same.
Vines: There's a reason vines aren't included in builds: they're useless. The Poison Vine does very little damage, moves slowly, and has a synergy with Rabies, which Summoners seldom utilize (and even Werewolf druids hardly even use). The Carrion Vine restores life and the Solar Vine restores mana, but a Summoner Druid standing in the rear furiously recasting Ravens at 6 mana each cast is unlikely to get hit or run out of mana. Vines currently provide no advantage to a Summoner Druid, and none of them are worth putting a single point on.
Problem 2: Minion synergies that are too strong severely limit versatility.
Synergies that are supposed to boost minions in a complementary way instead end up chaining them together, trapping you into a rigid route. You have no option but to put all of your points into all of the Wolves/Bears in order to keep them alive and functional. These synergies are what they have in common as Wolves and Bears:
Spirit Wolf: +25 attack rating every level and +10 defense rating per level
Dire Wolf: +15 life each level
Grizzly: +10 damage each level
In Spirit Wolves, Dire Wolves, and Grizzly Wolves, Ravens additionally gain 12% more damage for each level (but offer no synergy in return).
While they seem to be excellent on paper, if you discover that your minions and Ravens need all of these synergies to operate, it raises the issue of why the minions were designed to require them in the first place. Add to that the fact that they don't have strong survivability at higher levels without the extra Life from the Oak Sage, so you'll want to spend all of your points there.
To have minions capable of functioning at higher Hell levels, you must currently devote all of your points to Spirit Wolves, Dire Wolves, Grizzly, and Oak Sage, and all of your remaining points to Ravens and Oak Sage. That leaves you with just 10 points to invest in yourself, such as 1 point into Arctic Blast and 9 points into Cyclone Armor. You can't do anything else to aid your minions, however.
Problem 3: The "rotation" is monotonous and rapidly becomes dull.
You must devote all of your points to your Ravens, Wolves/Bear, and Oak Sage in order to have functional minions. What does the poor Druid have left to do? Because you'll be using Ravens to target certain monsters and they'll be leaving swiftly throughout each encounter, the solution is to step back and recast Ravens again and over. You may need to recast a Wolf or your Grizzly to reposition it for variation.
Summoner Druid is a game with almost just one button. The positive is that it's a relatively simple construct to operate, but it's not really enjoyable for more than an hour or two.
Problem 4: Druids don't have any support abilities to help their damage-dealing minions.
The trouble is that, even if you had any points to spare, there is little you can do to assist the actions of your primary damage-dealers other than resummon them after they die. Summonmancers may cast a variety of Curses on their opponents depending on the scenario, but Druids have no power to help their minions in any way. They might learn an elemental spell or shapeshift to add some damage, but casting spells or striking things takes away the most important ability in your build right now: summoning your hard-hitting Ravens indefinitely.
Problem 5: Endgame gearing is prohibitively costly.
This isn't a construction that can be completed on a budget. While personal defense and mana regeneration aren't as important, you'll need to spend extensively in +Skills to make your summons as high as possible (gotta feed those synergies). Beast and Spirit will be your primary setup, with Call to Arms on switch for buffing. The one-of-a-kind weapon Physical immunities/resistances are mostly wiped away by the Reaper's Toll on an Act II Mercenary. Enigma for teleport aids with the fast repositioning of minions. These aren't simply nice-to-haves; without them, the construction grinds to an uncontrollably slow halt. If the gearing necessary to make a build function implies that a toddler wearing it could slay Hell Baal with a sharpened crayon, the design has major flaws that need to be addressed.
Solutions to Summoner Druid's Issues
The Summoning Skills tree, rather than being a follower, deserves to be a leader. While it will never be the "greatest" Druid build, it has the potential to be a lot more fun and successful than it currently is. Following that, here are some suggestions for improving the Druid Summoner's life:
Remove the prohibition between Wolves and Bears collaborating. This is by far the most often requested adjustment from Druids for Summoning to perform properly. The Druid is aligned with the other classic summoner class, the Necromancer, by having our own blend of DPS, caster, and tanks in Nature's army. Increase the amount of Wolves we can call as well.
Rework the Vines to help the group and summoned Minions, and give the Druid something else to do. Only the Druid is affected by Carrion Vine and Solar Vine, and not in a good manner. Re-envision the vines. Have the druid debuff the enemy they slither past instead of boosting them. Physical resistances are reduced. Reduce their speed or the amount of damage they do. To help the Spirit Wolves, lower their Cold resistance. Give the druid some strategic tools to aid their minions while they take a break from recasting their Ravens.
Ravens' lifetime should be extended, at least a bit. The primary responsibility of a Summoner Druid is to recast Ravens. This sends harm to the proper location. Resuming them immediately seems to help clear down huge groupings more quickly. However, they vanish after 5 hits, and even if you limited yourself to recasting them after they vanished, you'd still be left with little time to do anything besides stand in the rear and recast Ravens. At first, it's entertaining, then the novelty wears off.
Examine the high reliance on synergy by the minions. You can't leave any of the minions out or fail to spend all of your points in them right now since the synergies are essential for the other minions to function. In fact, the Oak Sage is almost a need, leaving them reliant on not one but two things to prevent them from dying like flies: the synergy from Dire Wolves and the Oak Sage. The synergies that are supposed to help them grow simply lock Druids into having no choice about where to place their points.
Because to the synergy' lockstep requirements, using this as a leveling build will be difficult. To maintain a balance between damage output and survivability, good leveling builds normally depend on the ability to invest substantially in one or two skills early on, but with the Summoner Druid, you'll need to spread out the points across your five essential abilities. Investing a lot of early points on Ravens and hoping to stay ahead of the damage only works in the early stages when there isn't a lot of mob density to deal with and you don't need tanky Wolves to keep them off you. All bets are off if you start facing huge groups like the pygmies in Act III.
Summoner Druids' options are severely limited by the need of these synergies, which include not one but two to keep your minions alive.
Include some Druid summoner-specific items. None of the druid-specific Pelts provide any benefits to Summoning Skills. Jalal's Mane provides a +2 bonus to all Druid skills, as well as a +2 bonus to Shape Shifting. Cerberus' Bite grants +2-+4 Shape Shifting as well. Elemental Skills have a +3 boost from Ravenlore, while Druid Skills gain a +1-2 boost from Spirit Keeper. A pelt with +Shape Shifting abilities, maybe with some type of support aura and +Faster Cast Rate (so you can resummon your Ravens that much faster, of course) would be a good start. Perhaps some equipment that allows us to cast more Wolves than is ordinarily permitted?