As a Warcraft player, you know that particle density has an important role in the game. It is used to determine how much damage each missile or spell causes and can be crucial for defeating your enemies. What are some other uses of this variable?
Particle density is a term that is used in the game of Warcraft. The higher the particle density, the more particles are on screen at one time. If you want to increase your playing experience, then it is important that you have a high particle density.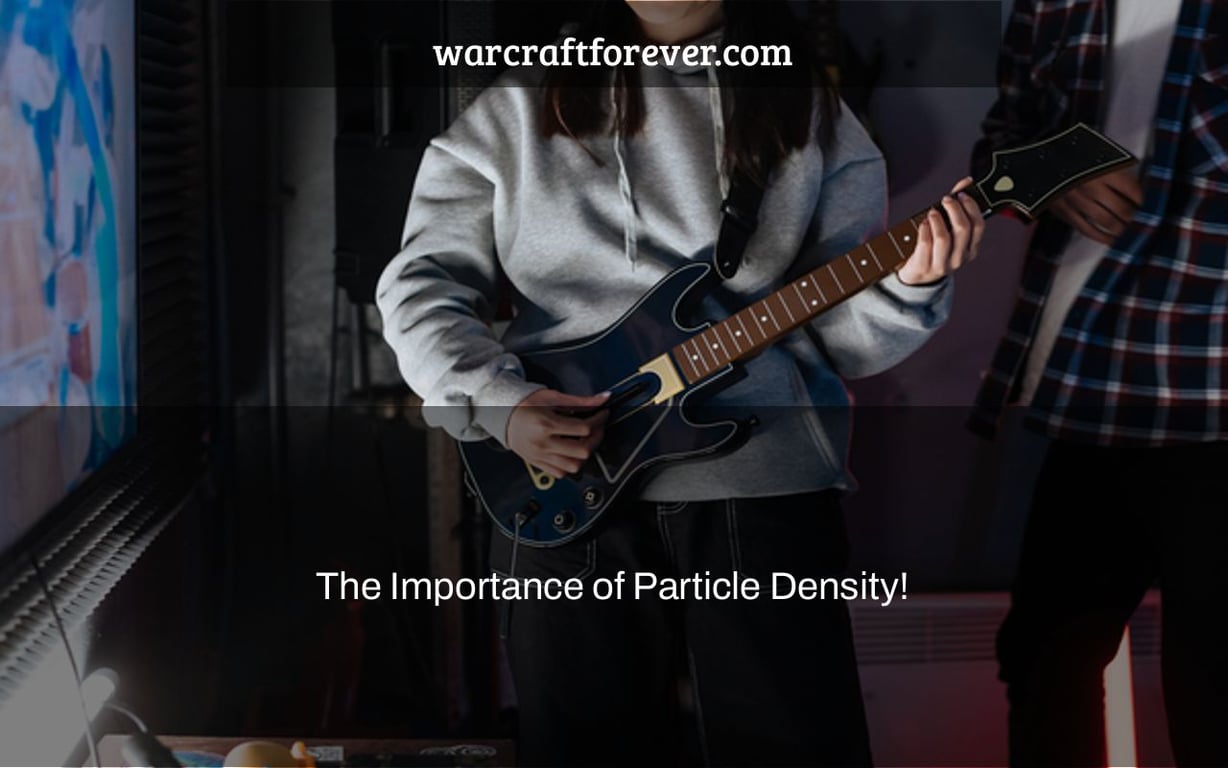 Graphics Options:
We have a plethora of various graphics options in World of Warcraft (or most games) that boost the game's visual effects. However, depending on the quality of your graphics card, most settings may degrade your PC's performance.
You'll have FPS troubles if your graphics card can't handle the effort you're putting on it. We have suggestions for World of Warcraft, thankfully. Make sure you pay attention to them, since they will help you optimize your PC's performance when gaming.
---
What is the definition of particle density?
Particle Density, according to the visual settings menu, affects the quantity of particles used in effects such as spells, flames, and so on. If your setting is too high, you may notice a decline in performance, particularly in scenarios where there are a number of people casting spells, such as Battlegrounds, Dungeons, and Raids.
---
What Are the Advantages of Particle Density?
Because I am colorblind, I need a great deal of help while playing the game, particularly in locations with a lot of green and red. Gathering herbs used to be a pain in the posterior since herbs, particularly Mageroyal and Liferoot, were difficult to see.
Particle Density, thankfully, highlights objects with which we may interact.
Here's a YouTube video I made explaining why particle density is so important. In this little video, I demonstrate how viewing a plant, Mageroyal, may be challenging and how Particle Density can help.
Please like and subscribe for more material in the future. If you have any questions or comments, please post them in the comments area below or on the video. Thanks for taking the time to watch!
---
Illustrations:
I've included screenshots to demonstrate the differences when each parameter is enabled. As previously said, the herb example is the greatest since Mageroyal is tough to see. I've also included several corpses and a Copper Ore node!
Mageroyal:
JavaScript is required to see this slideshow.
Corpse:
JavaScript is required to see this slideshow.
Ore of copper:
JavaScript is required to see this slideshow.
---
Conclusion:
Particle Density is a crucial parameter to have active, and it's sometimes ignored, particularly if your graphic settings are set to 1. Your Particle Density parameter is likely disabled if your settings are set to 1.
If you're colorblind, this option will vastly increase your ability to see things that you can interact with! To be clear, I'm using in-game colorblind filters.
The setting enhanced the visibility of lootable plants and corpses that were previously difficult to see. The Copper Ore node wasn't as promising, but consider these three possibilities when flying or moving quickly; having these alternatives accessible aids us in effectively collecting and plundering.
---
Feedback:
Please use the comment area below to provide any comments. Use the contact me method to get in touch with me. Please consider like and sharing this article if you found it useful and think it may be useful to someone else.
Thank you for taking the time to read this!
The "particle density of soil formula" is a key factor in the success of any garden. The particle density is how many particles are in one cubic meter. This number can be used to determine the depth and volume of a garden bed.
Frequently Asked Questions
Why is particle density important?
A: Particle density, simply put, is the number of particles that a particle effect has. The higher this number is for an object or area, the more realistic it looks as if it was actually there in real life. This can be achieved by reducing how many pixels are being used to render an object and increasing its size so that all these pixels have something to work with.
What does particle density indicate?
What is particle density in physics?
A: Particle density is the ratio of particles per unit volume. It can be used to measure a materials mass or packing density, which depends on both particle number and size.
Related Tags
factors affecting particle density
how to calculate particle density
soil particle density definition
particle density vs bulk density
particle density of soil pdf