In the upcoming expansion Return of Sepulcher, players can purchase rings for their Class. These rings will provide players with a variety of bonuses to help them in-game and allow you to customize your look while telling part of your story as an adventurer.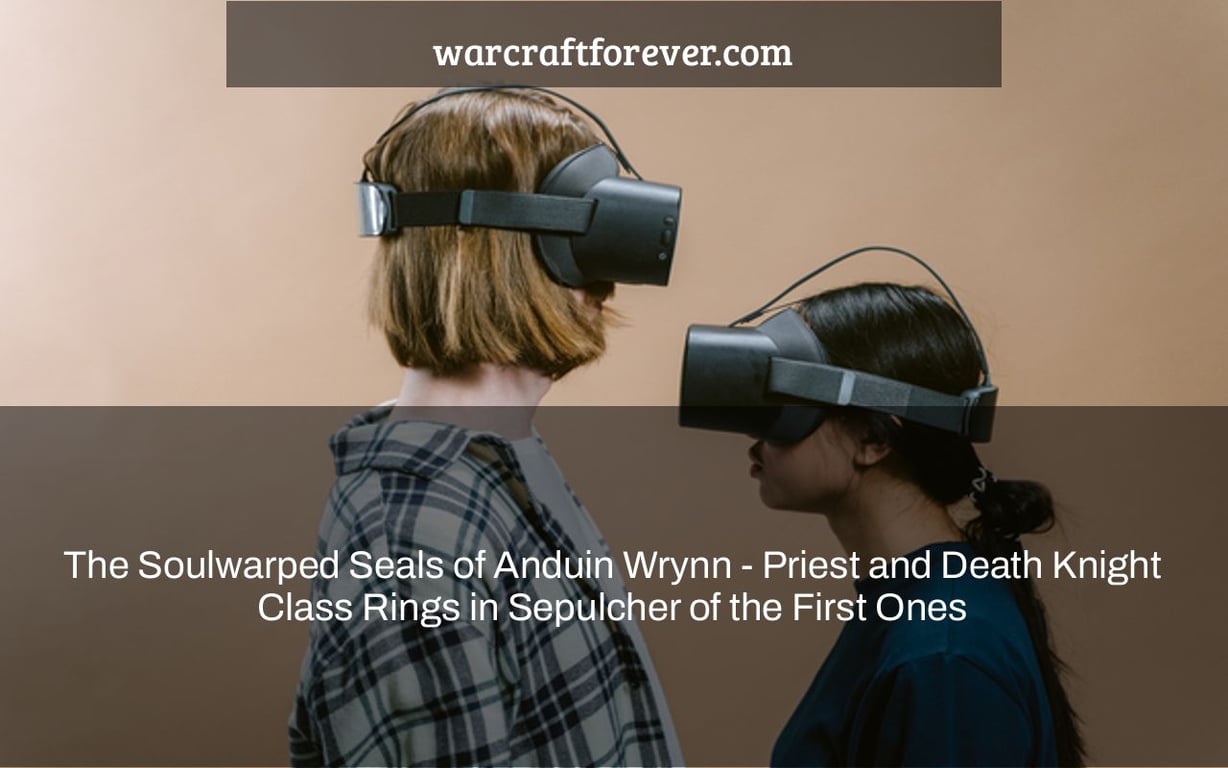 We have two class specific rings gained from the eighth boss, Anduin Wrynn, in our continuing exhibition of unique items from Patch 9.2's forthcoming Sepulcher of the First Ones raid. These one-of-a-kind pieces of jewelry are exclusively available to Priests and Death Knights, and they depict the anguished King of Stormwind's duality, torn between his history as a Priest and his current control as a Death Knight of the Jailer. Anduin's raid encounter reflects these themes, as he employs Priest-like skills like Beacon of Hope and Wicked Star with more typical Death Knight strikes like Soul Reaper and Remorseless Winter.
Anduin's two class rings signify his prior training as a Holy Light Priest and current life as a Death Knight ruled by Jailer.
Anduin's former training as a Priest of Holy Light is represented by the Soulwarped Seal of Wrynn. The ring bears a phrase from the Lion of Stormwind, which was spoken during the Legion cinematic trailer, right before his death on the Broken Shore, indicating that it may have belonged to Anduin's father, Varian Wrynn.
The special effect Lion's Hope may look unusual to a Shadow player, but it seems to function well for all specialties, boosting damage and healing with a higher chance to proc as the target's health drops. However, it's unclear if it'll be susceptible to proccing on unexpected targets, which might be problematic if a Shadow Priest accidentally triggers it on a friend, or a Holy/Discipline Priest accidentally triggers it on an opponent, and therefore loses the bonus to their main function. Interestingly, unlike the other ring, this one isn't marked as unique-equipped, but this is likely an oversight that will be corrected before the patch goes live.
Anduin's transformation into a Death Knight under the Jailer's command is symbolized by the Soulwarped Seal of Menethil, which physically warps his noble soul into something terrible. Interestingly, the name Menethil does not allude to Anduin, but to Prince Arthas Menethil of Lordaeron, popularly known as the Lich King, a prominent Death Knight from Warcraft history. We had suspected that Arthas was the root of Anduin's dominance, and this was validated during raid testing, confirming that the original Prince of Darkness appears as the Remnant of a Fallen King.
In return for the special effect Remnant's Despair, which is a debuff that enhances the impact of illnesses and has a larger chance to trigger against higher health targets, the Death Knight ring has just one secondary stat. It's tough to determine how powerful this will be, given that certain specialities place a more priority on illness damage than others, but it's definitely thematic. Despite the fact that Anduin employs a lot of traditional Death Knight skills throughout his fight, he does not deploy any illnesses.
These are the only two class-restricted artifacts in Sepulcher of the First Ones right now, however it's doubtful that there will be a ring for each class since they're all based around Anduin. While this may appear to be unfair to those who play the "left out" classes, legendaries and other special effect items have historically favored a select few classes from tier to tier, with Warriors, Rogues, and later Hunters having access to the only legendary weapons throughout The Burning Crusade. With the introduction of patch or expansion-long quest systems in Mists of Pandaria, legendaries became accessible to all players instead of being restricted to ultra-rare raid loot for certain classes.
Although mockingly dubbed "welfare legendaries" at the time, this system has proven to be extremely popular because it allows far more players to interact with them, and it has even extended those items into activities other than combat, such as the Battle for Azeroth legendary cloak's role in sanity resistance during Horrific Visions.
The legendary cloak was crucial to surviving within the Horrific Visions of Stormind and Orgrimmar during Patch 8.3 in addition to its fighting stats.
Blizzard has since experimented with bringing legendary drop back into the game in a variety of ways, ranging from class-wide pools of Legion legendaries that could drop anywhere in the game to special effect weapons that can only be used by a few classes, to raid bosses Argus and Sylvanas dropping unique legendary items.
Of course, these two rings are just epic in quality rather than legendaries, but there isn't much of a difference in this situation. Even indicated degree of strength is a flexible guideline, since Rae'shalare, Death's Whisper isn't much better for Hunters than Edge of Night is for Rogues, however it has to be known how powerful these rings will be above usually priced epic gear. Whatever the case may be, they are still one-of-a-kind class-specific goods with unique special effects that can't be found anywhere else, and that alone makes them cool.