The best two-on-two arena team in the game. A tier list for all Warcraft expansion teams, at a glance.
The "tbc arena comps tier list 2v2" is a tier list for Arena teams in the Burning Crusade Classic. This tier list has been created by a player who has had a lot of experience playing Arena in this game mode.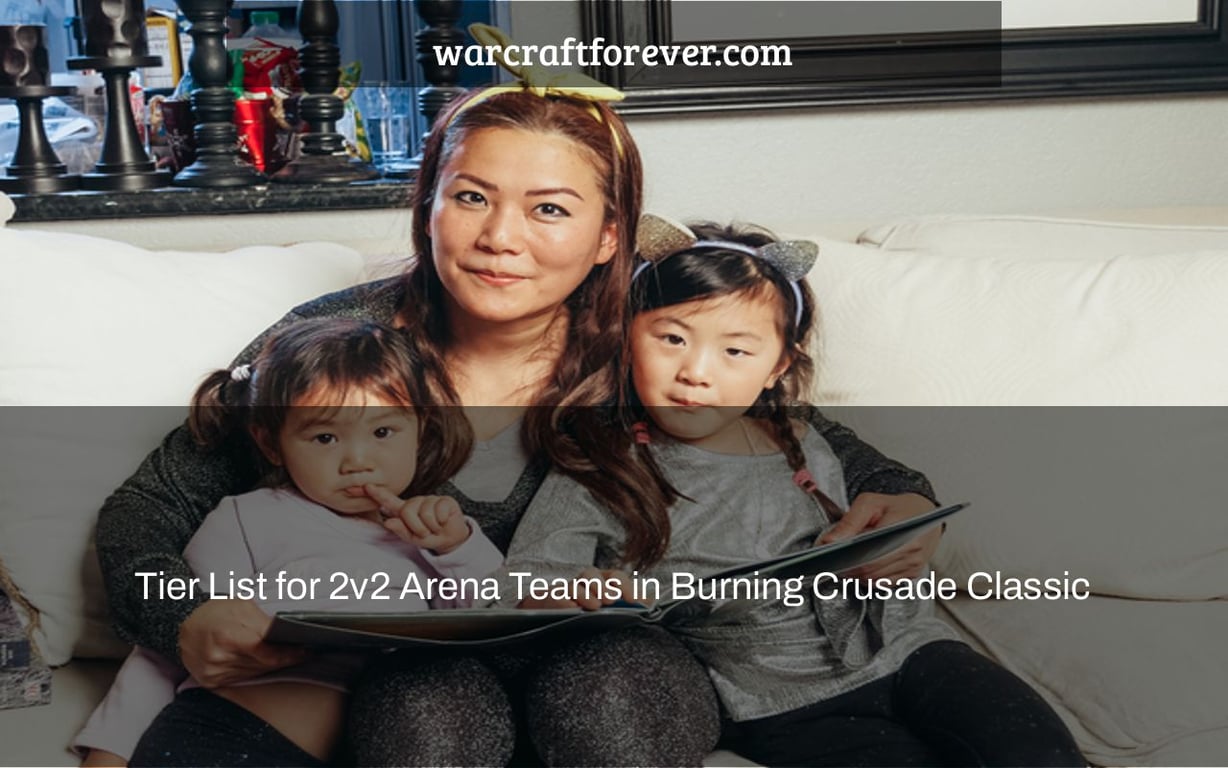 With the Merciless Gladiator Arena Season in Burning Crusade Classic coming to an end, we felt it would be a good opportunity to provide a thorough and exhaustive composition tier list for Arena. We'll go through all of the brackets, starting with 2v2. Our perspective is data-driven, which means we look at everything through the lens of statistics. It means we'll be evaluating how many teams achieved Rank 1 with each composition and how that affects the strength of each.
We'll rank teams from S to B, with S denoting a comp that an experienced and dedicated player could reasonably achieve Rank 1, A denoting a comp that's good enough for Gladiator but not quite reliable for Rank 1, and B denoting a comp that even skilled players would struggle to get Gladiator with and is completely incapable of achieving Rank 1. S tier compositions are ranked as such because their class synergy makes them both offensively and defensively strong, while A tier compositions may shine offensively but be poor defensively, or vice versa.
I'm especially experienced with the 2v2 bracket, having played over 3000 games as a variety of compositions and earning Rank 1 ratings as Warrior Druid, Rogue Druid, and Lock Druid throughout Seasons 1 and 2. Aside from my own experience, I'll be using the Season 1 and Season 2 final ladders to compile this list. We'll focus on Season 1 (and examine what we know but can't totally confirm regarding Season 2) since the season 2 ladder isn't finished (at the time of writing this guide).
When it comes to S tier setups in the 2v2 bracket, there's a surprising lot of variety. In TBC, there are eight distinct comps that might easily be classified as S tier. To take a deeper look at each combo and why it's included in its tier, we'll combine the 46 teams who received Rank 1 in Europe and the 33 teams that received Rank 1 in North America into a master list of 79 teams (in Season 1).
S Tier
According to the data, Rogue/Priest is the most powerful combination, accounting for over a quarter of all Rank 1 teams. The enormous burst, offensive / defensive dispels, and array of completely instant cast CC at this comp's disposal make it a powerhouse. A single composition accounting for 25% of all teams in the Rank 1 range is a clear indication of how powerful it is. In the hands of skilled players, this combo can completely blast over the ladder with practically no hurdles since it has no meaningful countermeasures.
Rogue/Mage accounts for 16% of the teams that got Rank 1. This comp has more CC than Disc Priest/Rogue, and ultimately can end a game much quicker. However, without heals, defensive dispels, or the ability to easily reset the game if things don't go their way (debatable, perhaps), Rogue/Mage does take slightly more finesse than DPR. Still, it's undeniably an S tier comp. Blind and polymorph don't share DR, meaning this composition both boasts one of the highest CC outputs in the entire bracket, (frost nova into triple polymorph into blind can take a warrior out of the game for over 30 seconds straight, for example) as well as the highest damage output in the entire bracket, as the rogue's ability to cheap shot > gouge > kidney shot on cooldown gives the mage 10+ second windows to drop shatter combos onto the kill target.
In North America, there were only three Rank 1 spots for Warrior/Druid, but in Europe, there were eight. Regardless, it accounted for 14% of the teams who received Rank 1. It's a well-known behemoth, capable of massive defense, crowd control, and oppressive damage. The warrior's mortal strike and mace stun make this a dangerous offensive combo, particularly when combined with the druid's ability to spam entangle roots / cyclone to lock down a victim for the warrior to attack. Due to the warrior's ability to peel so successfully for the druid with intercept, fright, hamstring, and disarm, and the druid's ability to do the same for the warrior with entangle roots and cyclone, Warrior/Druid is also exceptionally tough to kill. The fact that druids lack a defensive dispel and warriors are prone to sitting in extended chains of CC is its biggest flaw. Despite this fault, the Warrior/Druid takes third place and receives a S tier rating.
Rogue/Druid is an easy choice for the 4th slot, and this is a composition that's known to get much stronger as the seasons progress, largely thanks to the legendary weapons known as "Warglaives" that come out in Season 3. Accounting for 9% of the teams that got Rank 1, this comp has even more CC than Disc Priest / Rogue, but lacks defensive and offensive dispels, which is it's major weakness. Regardless, it can gain the upper hand extremely quickly and set teams behind with clever rotations of Cyclone from the Druid while the Rogue spends time locking down the other targets with cheap shot > gouge > kidney shot rotations.
One of the more unusual combinations on the list is Warlock/Priest, but statistics don't lie. This highly strong pair excels in scenarios when the priest is free to spam offensive dispels on the kill target while sprinting towards the opposing healer to land a psychic scream, accounting for 6% of the teams that received Rank 1. Disc priests inflict more damage than any other healer, and warlocks deal defensive damage, thus disc priests have a lot of offensive globals to spend before they have to worry about healing. Anything may be killed with a well-timed terror or psychic scream when these two classes are able to do damage combined.
Warlock/Druid is another class that unquestionably belongs in the S tier, accounting for 6% of the Rank 1 slots. The main difference between Priest/Lock and Druid/Lock is the Druid variant's absence of dispels, similar to the Disc Priest / Rogue and Resto Druid / Rogue issue (primarily offensive). Their advantage derives from their ability to use CC to overwhelm the adversary with Entangling Roots, Cyclone, Feral Charge, and Bash, while the priest only has psychic scream, which has the same DR as the warlock's fear. The Warlock/Druid combo is substantially more defensive. They can extend games out long enough to run their opponents out of mana / work through all of their defensive cooldowns since it's so much more difficult to kill.
Hunter/Druid is the unquestioned king of CC, comfortably putting it in the S tier. It was no surprise that it accounted for 6% of the Rank 1 positions. With viper sting being unstoppable for priests, and scatter/trap/entangling roots/cyclone rotations being nearly unstoppable for warrior/druids, rogue/druids, and priest/rogues (when targeted on the priest), this comp has obvious win conditions despite the fact that hunter's are difficult to play at high levels and have glaring weaknesses, this comp has obvious win conditions (such as their dead zone and reputation for being easy targets to kill). If there were more serious hunters playing the game, it seems that more teams would have attained Rank 1 with this competition.
Mage/Priest is a very potent combination that would be considerably higher on the list if it weren't for warlocks and hunters. This combination, which takes up 6% of the Rank 1 slots, is similar to many of the S tier comps in that it includes a lot of CC and, like many Rogue compositions, can provide a lot of burst damage. Because polymorph and fear are not on the same DR, and disc priests can inflict so much damage to assist the mage in securing kills, this team may kill the other target in a matter of seconds when they place CC on the opposing healer.
A Tier
We're looking at compositions that got Gladiator on a regular basis but couldn't quite obtain Rank 1 on a consistent basis for the A tier.
At the top of the list is Rogue/Rogue, merely because aside from taking many Gladiator slots, it did steal two Rank 1 positions. This comp can kill anything it faces with relative ease simply by rushing a target down with 3 separate openers all smashed on top of each other. It might be the fastest paced comp on the list. It also has a lot of CC with two blinds, two vanishes to sap the blinds, and two sets of cheap > gouge > kidney shots.
Due to the fact that several teams earned Rank 1 with Rogue/Warlock this expansion, it warrants a slot (at least for seasons 1 and 2). This combo, like Mage Rogue, overwhelms opponents with massive damage. Because it lacks the second ingredient of oppressive CC that mage/rogue have, it is relegated to the bottom of the list. Even still, in the hands of the proper players, this combo can regularly win any comp on this list. Because rogues may lock down two targets at once by kidney shooting one and disappearing to cheap shot the other, the warlock can consistently hit a fear practically every game—and in the 2v2 bracket, a 10 second dread might last an hour.
Rogue/Hunter is similar to Rogue/Rogue in that it has ridiculous levels of damage ready to be dumped on the first unfortunate victim that happens to come within the hunter's line of sight while in a cheap shot or kidney shot. This combination, like Rogue/Rogue, managed to snag a Rank 1 title as well as a slew of Gladiator slots. It also gets a lot of CC from scatter traps, blinds, and sap.
Due to the fact that priests can solve the warrior's primary weakness: sitting in CC, Warrior/Priest is a remarkably powerful comp. This combination is definitely deadly, since it sneaks in a Rank 1 slot. The priest may make this a very unpleasant scenario for anybody on the opposite side of the gates by keeping the warrior mobile. The apparent flaw is that they lack any type of ranged CC, making the priest susceptible if the warrior is placed in CC while the priest is under pressure.
Due to the shaman's Windfury totem, ability to assist with bursts that can't be stopped (frost shock, Nature's swiftness chain lightning), heroism, and purging, the Resto Shaman/Warrior possesses devastating offensive pressure and can very easily kill everybody in the game in a mace stun. Shamans may also use earth shock and grounding totems to stop the warrior from using CC. The apparent flaw is that shamans must cast to heal and cannot remove curses of languages, which means their kill window may be incredibly small at times.
Rogue/Shadow Priest has a lot of damage, much like the other double DPS combos that include a rogue. It can, however, play a bit more defensively than some of the other double DPS builds, making it more adaptable. Fear and blindness don't share a DR, and the shadow priest's 5 second silence isn't trinketed, therefore this comp can kill pretty much everything in the opener. Shadow Priests, on the other hand, must cast to deal damage (unlike hunters, mages, and warlocks, who can all deliver tremendous damage without being interrupted), and they're also highly squishy, so the flaw is obvious.
Paladin / Warrior is more than capable of earning Gladiator thanks to Freedom, defensive dispels, Hammer of Justice, and the capacity to discharge startling amounts of damage. Paladins also have adequate immunities courtesy to Divine Shield / Blessing of Protection to withstand some of the quadruple DPS comps that can smash most other healers in the opening. Even still, after they've exhausted their tiny list of cooldowns, paladins are incredibly unreliable owing to the same issue that shamans face: they must cast to obtain any substantial amount of healing and cannot remove Curse of Tongues.
B Tier
We're looking at B tier comps that aren't quite as good as A, but might still become Gladiator if the players are diligent enough. You'll note that the vast majority of the real compositions that individuals perform have already been included. That's because TBC is a surprisingly well-balanced game in the sense that if excellent players train and stay with it, they may achieve high ratings with a vast range of configurations. Even yet, there are a few competitors who simply don't have what it takes.
Resto Shaman/Warlock This is a risky combination because of the amount of damage a warlock with bloodlust can do. Purge, Frost Shocks, and Earth Shocks may be used by Resto shamans to knock people out, making this a shockingly bursty and hard comp, particularly for unwary players. However, since they lack a second set of CC, defensive utility, and durability, playing this comp at high ratings is challenging.
This combination has a window to dependably score kills because to Hammer of Justice / Coil / Counter Spell combos, but it lacks the burst of the Resto Shaman / Warlock and is no stronger defensively. It isn't perfect, but if the players are committed, it can get the job done.
Double mage, whether it's Frost or PoM Pyro, may be a frightening sight to see. They have the unrivaled capacity to do 15,000+ damage in a single blanket silence using quick spells. They can kill your healer without having to open up their spell school and risk being booted, which allows them to win very often. Still, other from the ability to CC / flee, they have very little defensive value, and if they meet a warlock, they're highly likely to lose no matter what they do.
BM Hunter / Elemental Shaman To achieve kills, this composition often uses an engineering trinket known as "Net," which roots a player for 10 seconds. When you aren't looking for it, the shaman's Bloodlust, Net, BM / Aimed shot, and an NS chain lighting will usually be enough to take down an adversary in the first two seconds of the game. However, they perish swiftly, and the elemental shaman will sprint oom much too fast for them to restart the game.
Mage / Elemental Shaman This combination can perform the same things as Mage/Mage and Ele/Hunter, but with the extra fear of a Bloodlusted Mage in the mix. However, they, like many other compositions at this tier, lack a second set of CC and die shortly.
Enhance Shaman / Healer Enhancement shamans aren't trustworthy enough to land kills on their own since they don't have the Mortal Strike effect. They also lack CC, making it impossible for their healers to survive against classes that wield Mortal Strike. You can still perform well if you team up with a skilled healer who recognizes your flaws.
Obviously, there are many more team configurations, but this covers the vast majority of the team compositions I've personally seen in the Arena / on a Swift Netherdrake.
The "best 2v2 comp burning crusade" is a tier list for Arena teams in the Burning Crusade, which are used to rank players and teams. The rankings are based on a player's win-loss record and their skill rating.
Related Tags
tbc arena comps 2v2
tbc arena comps tier list 5v5
tbc arena comps tier list 3v3
tbc arena comps 3v3
wow arena tier list