The Burning Crusade is returning, and with it comes all of the new changes. It's time to figure out what will stay, go, or get better from this patch! Let's try our best at predicting the future shall we?
The "tbc phase 4 dps rankings" is a tier list that predicts how well players will perform in the upcoming Phase 5 of Burning Crusade Classic.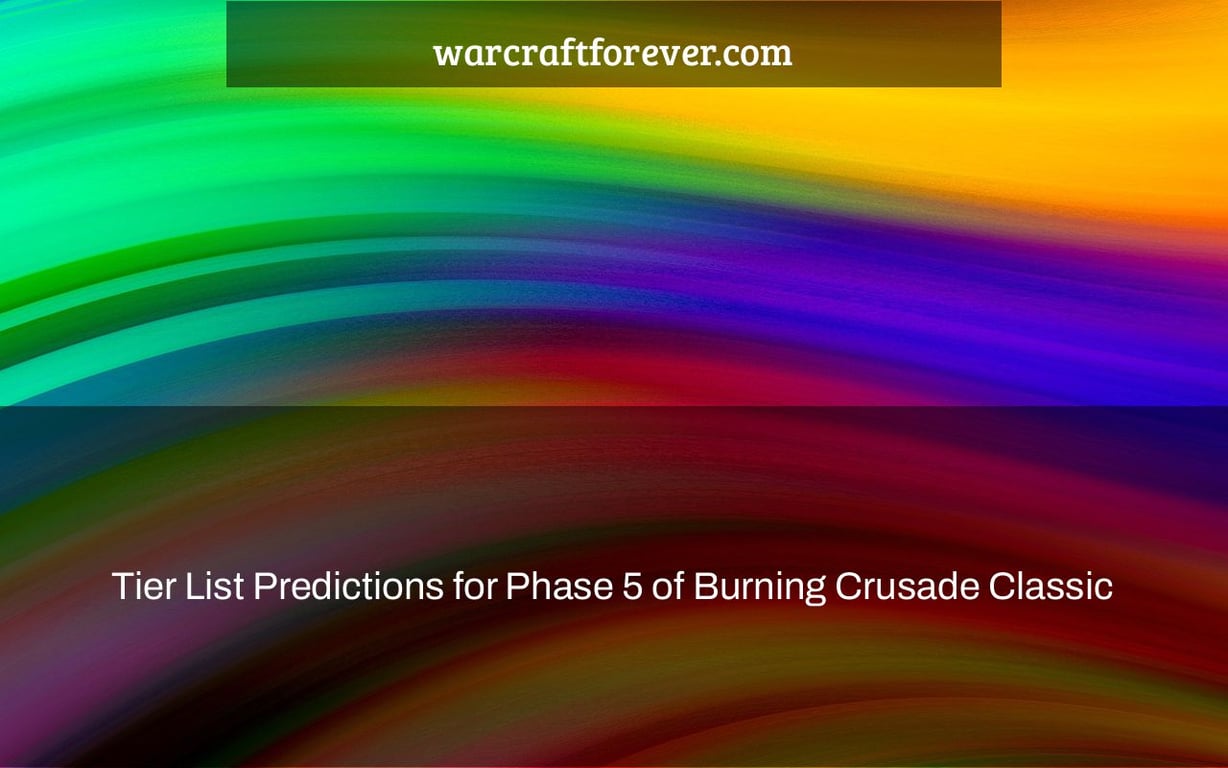 Fury Warriors were noted as a great candidate for the "Tank 3" position in Black Temple speedruns in our Phase 3 viability rankings. The Fury spec was able to fill this niche because most of their tank targets were trash mobs that did not hit hard and could be tanked with quite aggressive gear sets that were compatible with the spec's high TPS while also allowing the off-tank to pump out sizable personal DPS when their target was dead. Furthermore, during the rare multi-tank boss engagements in Phase 3, the second off-tank was not required to create high TPS (for example soaking the Saber Lash ability on the Mother Shahraz fight or tanking the second Flame of Azzinoth on the Illidan Stormrage fight). This meant that a Fury off-tank could wear heavy mitigation gear without worrying about Threat production on a few boss encounters, and could tank trash with much more aggressive gear. Unfortunately, the Sunwell Plateau raid's architecture and optimization make this specialty much less significant in Phase 5 than it was before. On the one hand, trash will take up a lesser percentage of overall clear time in Sunwell than in previous raids, since almost all of it is front-loaded before Kalecgos, and these packs can be reliably 2-tanked by a Paladin / Feral combo. The boss encounters in Sunwell that benefit from a third tank (such as M'uru / Entropius) put out a lot of tank damage while also requiring a lot of tank TPS to keep aggro over healers and DPS, and the Fury spec is unable to gear for both of these constraints at the same time because it relies heavily on offensive gear choices for Threat generation. As a consequence, if your raid team decides to 3-tank one or more Sunwell Plateau monsters for the sake of safety or consistency, a second Feral Druid will be a considerably stronger off-tank option this phase.
The "tbc 2v2 tier list" is a tier list for the upcoming phase 5 of Burning Crusade Classic. It's based on the current meta and predicts which classes will be strong in the future.
Related Tags
tbc phase 3 dps rankings
wow tbc phase 3 tier list
best dps tbc phase 4
tbc classic raid tiers
burning crusade tier list