Mythic+ is one of the most challenging and rewarding raiding experiences, designed for players with a large time commitment. Season 12 will soon be upon us and if you're doing it on normal or heroic mode then prepare to give up your weekends as we all do when there's an expansion coming. If however you're interested in Mythic Plus but haven't committed yet, read on to find out some tips that might help make this weeks worth it!
The "9.1 5 affix changes" is a new patch that has been released for the game "Warcraft". This patch was released on September 10th, 2018 and it includes 5 affix changes.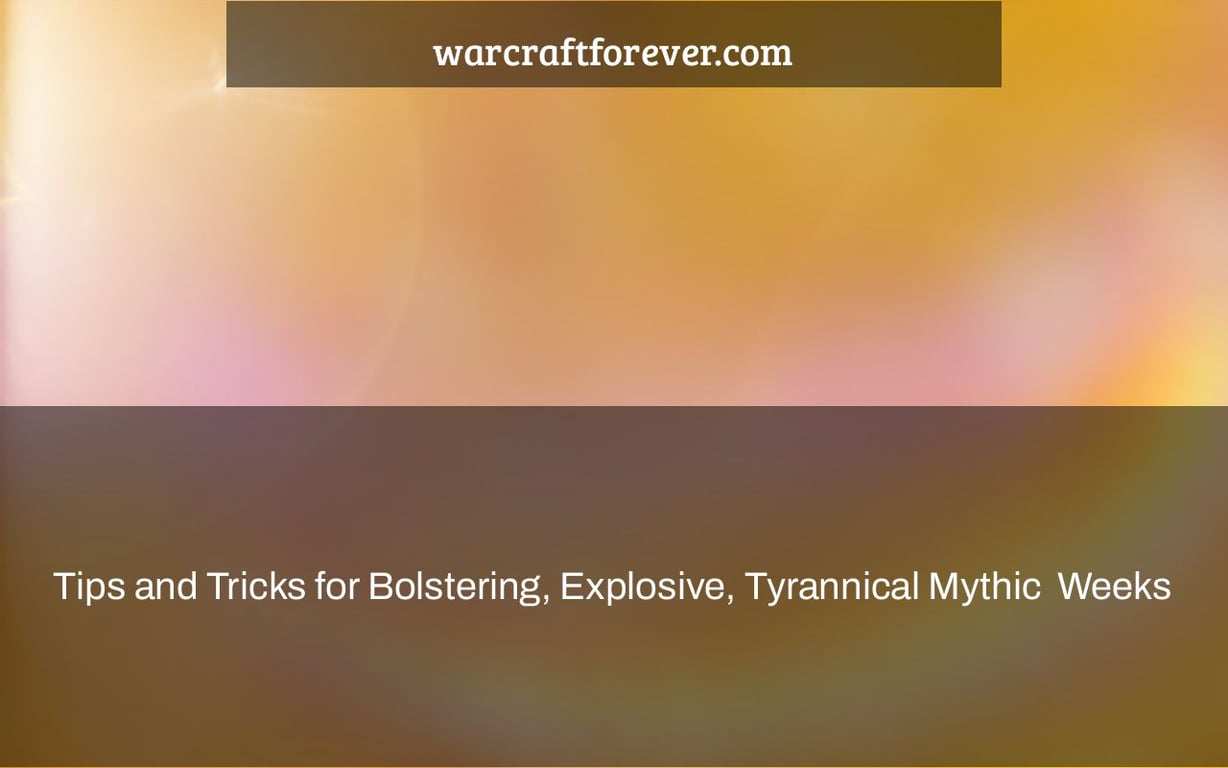 Welcome to the dungeons for this week. This week's affixes are Bolstering, Explosive, Tyrannical, and Tormented!
This week is another tough and inconvenient one, making it two terrible weeks in a row. This dungeon isn't as tough as the one last week, but it's still a challenge. Boosting is the most challenging aspect of this game, since it needs extreme accuracy in order to avoid creatures with several bolstering stacks. Furthermore, bolstering increases the difficulty of many classic pulls, ranging from very tough to impossible. With a few major exceptions that will be detailed on a dungeon-by-dungeon basis, explosive is usually rather straightforward to deal with. You'll have an easier time with Explosive if you can keep your mobs together. Take it as you will. Tyrannical is Tyrannical.
Due to Explosive, Signet of Bolstering is also quite potent on this week's affix set. When you kill an explosive, you earn a stack of the Signet of Bolstering, which has a much greater uptime and does a lot more damage than other choices on this row.
Wake of the Necrotic
Bolstering, Explosive, and Tyrannical are all affixes that hinder imaginative pulling this week, since Bolstering restricts a lot of the pulls in the initial section and stunts the ability to integrate packs throughout the dungeon. There are usually a number of pulls that use Discharged Anima and Anima Exhaust and involve pulling a bunch of garbage with mismatched HP. This is not recommended during Bolstering since Bolstering might create difficulties with a variety of monsters. The timing should be forgiving enough that Necrotic Wake may still be completed at a high level, but the monsters will be very tough, and the trash pulls will be limited.
This week's Necrotic Wake suggestions The bosses, especially on Tyrannical, appear to be the pain points of Necrotic Wake from week to week. Make sure Amarth, Surgeon Stitchflesh, and Nalthor the Rimebinder have some type of weaponry.
Blightbone's innate Kyrian Anima Exhaust ability should be enough to deal with this monster. You may also use Blight Bag to pull this monster and use Anima Exhaust and offensive cooldowns to cleave them down quickly. The Blight Bags aren't bolstered, but the soldiers are.
If you CC the adds that are still up during the Final Harvest for Amarth, the adds will not be eaten and you will be wiped. To prevent having to kill the adds, top groups will CC the mages with paralysis or Shackle Undead on every set, as explained in this tip of the week. This does, however, need coordination.
Saving a Bloody Javelin is a frequent technique for Surgeon Stitchflesh, as is utilizing the Javelin on the first add + boss to ensure you don't have multiple adds and have a chance to 1 phase the boss. If you miss the javelin on the first Kyrian Stitchwerk, you may have to use hammers or concentrate the stitchwork on the boss.
Finally, it is quite characteristic of Nalthor the Rimebinder to have Bloodlust yet not utilize it on Stitchflesh. You should also use Forgotten Forgehammer against Icebound Aegis shields if you have additional DPS from Dark Exile below. This will reduce the amount of damage your party takes as a group.
Apart from that, there are a couple pulls this week that are much more difficult owing to Bolstering. Due to their shield mechanism, Skeletal Marauder pulls have a high probability of merely giving the rest of the pack a stack of boosting. Merging trash packs after the first monster is also not recommended on Bolstering owing to the health mismatches that are common in that region. Finally, go slowly through the Necropolis and concentrate on the Kyrian Stitchwerk. This week, you may use the Flesh Crafter's Throw Cleaver to strike and damage Oros Coldheart as an additional tip. This may help you save a lot of time.
Keep an eye out for those mobs and stick to the regular weapon approach, and you should be OK.
Guide to a Necrotic Wake
Depths of Sanguine
Tyrannical severely restricts this key, since the bosses in this case are very difficult to master. With that said, if you have a high degree of coordination and DPS, you can get away with using this key for free. Because the mob density in this key is quite low, Bolstering is usually not a problem. Explosive is a breeze to deal with in this dungeon, and it even gives you stacks of Sinfall Boon, so it's a win-win situation.
This week's Sanguine Depths suggestions The Sinfall Boon lanterns and how to prolong stacks FOR FREE are a huge hint! You can get another stack of the Sinfall Boon bonus for the cheap low cost of 1 Explosive, Giant Deathweb Egg, or Crashin' Thrashin' Robot. There's no reason why you shouldn't be able to acquire a 10 stack of the benefit from every lantern, especially if it's Explosive. You get stacks when you use explosives:).
Additionally, having Bloodlust for the majority of the bosses will give you the greatest results. In Sanguine Depths, you're likely to be given a complete wipe to trash in any spare time you have. You don't have the same luxury as employers when it comes to wiping them out. The most crucial thing about Sanguine Depths is to make sure you have excellent plans for all four bosses.
Kryxis the Voracious – You'll be alright if you put the Severing Smash orbs in a solid area and absorb the Juggernaut Rush.
Executor Tarvold – Make sure you have all of your offensive cooldowns and that you immediately concentrate down any additions. It's also highly useful to have the Sinfall Boon lantern bonus.
Grand Proctor Beryllia – Soak 3 – 4 stacks of orbs each time, then employ powerful personals. It's a typical technique to rotate immunity and enable other players to absorb four stacks of orbs if you're performing a high enough key rotation.
Guide to Sanguine Depths
The Ascension Spires
The most critical aspects of Spires of Ascension are dealing with a few unpleasant enemies and having an acceptable quantity of damage. The only things that are very bothersome are the bosses and the bolstering time drain. This is because Spires bosses are very lengthy, and you waste a lot of time Bolstering on junk.
This week's Spires of Ascension tips
Some of the most difficult mobs to deal with and how to deal with them:
Forsworn Goliath – In practically every pack he is in, this mob should be targeted. This is owing to his enormous shield in comparison to the other HP creatures in the area. Keep an eye out for the cast of Recharge Anima.
Kyrian Dark-Praetor (Kyrian Dark-Praetor) – Have a displacement since they can and will sprint in unexpected ways. These mobs have a good possibility of becoming boosted by jumping out of the pack.
Avoid as many of these as possible, and if you must pull them, make sure you get at least 30 yards away. Forsworn Squad-Leader – Avoid as many of these as possible.
Beyond that, the most important suggestion is to bring a lot of boss damage. The timeframe may be eaten away by powerful bosses, so be cautious and carry strong single target DPS specs.
Guide to the Ascension Spires
Atonement Halls are places where people go to make amends for their sins.
Halls of Atonement may be challenging if you're not in a well-coordinated group, and the timer is especially challenging this week. Tyrannical significantly slows down this key. Bolstering, on the other hand, is a major offender in this dungeon, since it severely restricts the kind of pulls you may do. Explosive is usually not too awful, although it may be a little tricky in certain places.
This week's Halls of Atonement tips
This week's basic challenges in this dungeon include having enough damage to properly oppose the timer and minimizing Bolstering's blunders. Many dungeon monsters, such as the Depraved Houndmaster or the Depraved Obliterator, are stationary casters that may readily disseminate packs. When packs get dispersed, it becomes much more difficult and time-consuming to bolster destroy them. To cope with this in general, make sure you draw Shard of Halkias, avoid pulling Toiling Groundskeeper with other garbage, and try to bolster kill as much as possible.
The most important thing is to pull slowly, make sure you're killing monsters, and keep Shard of Halkias in mind as you're pulling.
In the Inquisitor Sigar chamber, Explosive is also irritating.
The dungeon may still be completed in a less aggressive, hold W fashion. At the same time, the timing becomes incredibly tight, to the point where you can only make a few mistakes. It's really simple to skip pulling Oros Coldheart and instead play his aura with the last monster, which will spare you a minute or two on your timeframe. You may also save a lot of time by bringing two or even three Loyal Stoneborn into Halkias, who owns him.
Guide to the Halls of Atonement
Tirna Scithe Mists
Because of Ingra Maloch and the dungeon's proportional influence on the timeframe, Tyrannical is an exceedingly nasty affix in this dungeon. It makes the timer useful in the event of any genuine errors in this key. Because of the other affixes, the error threshold is low, but any mistake might cause the timer to malfunction. The labyrinth has been saving a lot of time in Mists recently, but now that it's Bolstering, the ability to combine new packs in the maze is much lower this week.
This week's Mists of Tirna Scithe tips This week's most tough elements of Mists of Tirna Scithe are the labyrinth and the bosses. Tyrannical is brutalized by both Ingra Maloch and Mistcaller. When it comes to Ingra Maloch, balancing cooldowns, preserving Bloodlust, and having large contributions from your tank and healer are all critical to saving time on this fight. Almost all adds created by bosses in this expansion do not scale with Tyrannical, but Ingra Droman Oulfarran does, which is one of the reasons this monster is so tough.
Mistcaller does a lot of damage to enemies, and if you don't have enough healing, it may wipe you out. Mistcaller on Explosive is especially challenging since you must have a ranged assigned to eliminate the explosives anytime the Guessing Game goes out.
Bolstering should be avoided in the Maze. Many standard routes need you to combine numerous maze packs and drag additional packs through the barriers. On Bolstering, this is a lot more difficult and should be used rarely.
Scithe Guide to the Mists of Tirna
Plaguefall
If you assume the dungeon is being played clean, Plaguefall still has a rather generous timeframe. In this dungeon, Tyrannical is a tough opponent. Many of the bosses with lengthier phases include extra mechanics or groups of mechanics that demand more coordination, healing, or may even wipe you if handled properly. Bolstering may be tough in certain areas of the dungeon, requiring you to break up pulls that would typically be completed in a single pull. Explosive may be a little irritating on a few pulls, but it's usually not too awful.
This week's Plaguefall advice The dungeon's most tough section is the bosses. Cooldowns for Globgrog, Domina Venomblade, and Margrave Stradama are all very significant bosses in and of themselves.
Drag a Pestilence Slime into the Globgrog area and use it to assist burn the monster before he summons his second wave of adds. While utilizing permanent CC on the Slimy Smorgasbord, you should be ccing or killing the little additions.
Make sure you have cooldowns for each step in a variable form for Margrave Stradama. Infectious Rain, one of the scarier abilities in the game, will most likely be performed twice every active phase on Margrave. For this Disease downpour, make sure you stack defensives, externals, and dispels correctly. If your healer is an excellent player, you may also use the Pestilence Slime tech in the first phase of Margrave Stradama.
The Gushing Slime in the Globgrog chamber and the Plaguebound Devoted in the Margrave room are the two trash pulls in the dungeon that are difficult. Both of these mob kinds should be split up into many pulls rather than being done all at once. This is mostly due to Bolstering, since there might be significant time penalties or fatalities if these mobs do not die at the same moment.
Guide to Plaguefall
Theatrical Pain
In comparison to previous dungeons, Theater of Pain isn't that challenging this week. This is owing to the dungeon's low mob density and the dungeon's minimal effect from Bolstering and Explosive. Tyrannical is never good in Theater of Pain, but this isn't an awful dungeon in general.
This week's suggestions for Theater of Pain
Dealing with the supervisors in a tolerable manner and having good Bolstering execution are the major pain areas in Theater this week. As previously said, the dungeon is quite basic; yet, since the dungeon is so simple, any errors are exacerbated due to the tight timeline. There shouldn't be too many complications since the mob density is low, but there are a few of pulls you'll need to do differently than usual.
You must, for example, ensure that you reinforce kill Portal Guardian and maybe reroute your usual Kul'tharok wing. One of the most significant re-routes or meticulous considerations that you must account for is Shackled Soul.
You should have an easy time if you over-gear Theater of Pain, but the key is still not free on Tyrannical. Make sure you have strong boss-handling methods in place.
Guide to the Theater of Pain
The Opposite
The Other Side has come to an end.
This week's suggestions for De Other Side This is one of the most difficult weeks on the calendar. With the affixes Bolstering Explosive and Tyrannical, there are just a few affixes that collectively slow down De Other Side so much that it is a dungeon that should be avoided this week. The Ardenweald wing is responsible for a lot of this. If you enter this dungeon, you must be very meticulous and concentrated on dealing with the garbage monsters, methodically killing the packs, and concentrating on the explosives.
Apart from that, ensure sure the Hakaar wing is handled with properly and that the packs are taken slowly. Just keep Bolstering in mind and destroy everything equally.
The Guide from the Other Side
Watch This Video-
Mythic+ is a special difficulty mode that Blizzard added to World of Warcraft. It's a tough, challenging mode that requires players to be at their best in order to complete the weekly quests. The "cross realm mythic sanctum" is a new strategy for Mythic+ progression.
Related Tags
tyrannical, bolstering, storming prideful
signet of bolstering
wow 9.1 mythic+ affixes
sanctum hall of fame
halls of atonement no skip route