The "Mythic Plus" difficulty setting is a step up from the normal Mythic mode. It brings in numerous new challenges, and players don't need to be at max level or have completed all of the previous tiers before starting on this difficulty tier. With this guide, you'll learn how to set yourself for success as you gear up for your first trial through these dark dungeons.
The "tyrannical inspiring quaking" is a term used to describe the mythic dungeons in World of Warcraft. These dungeons are meant for mythic players, which means they're more difficult than normal dungeons. They also have different mechanics and bosses that make them more interesting.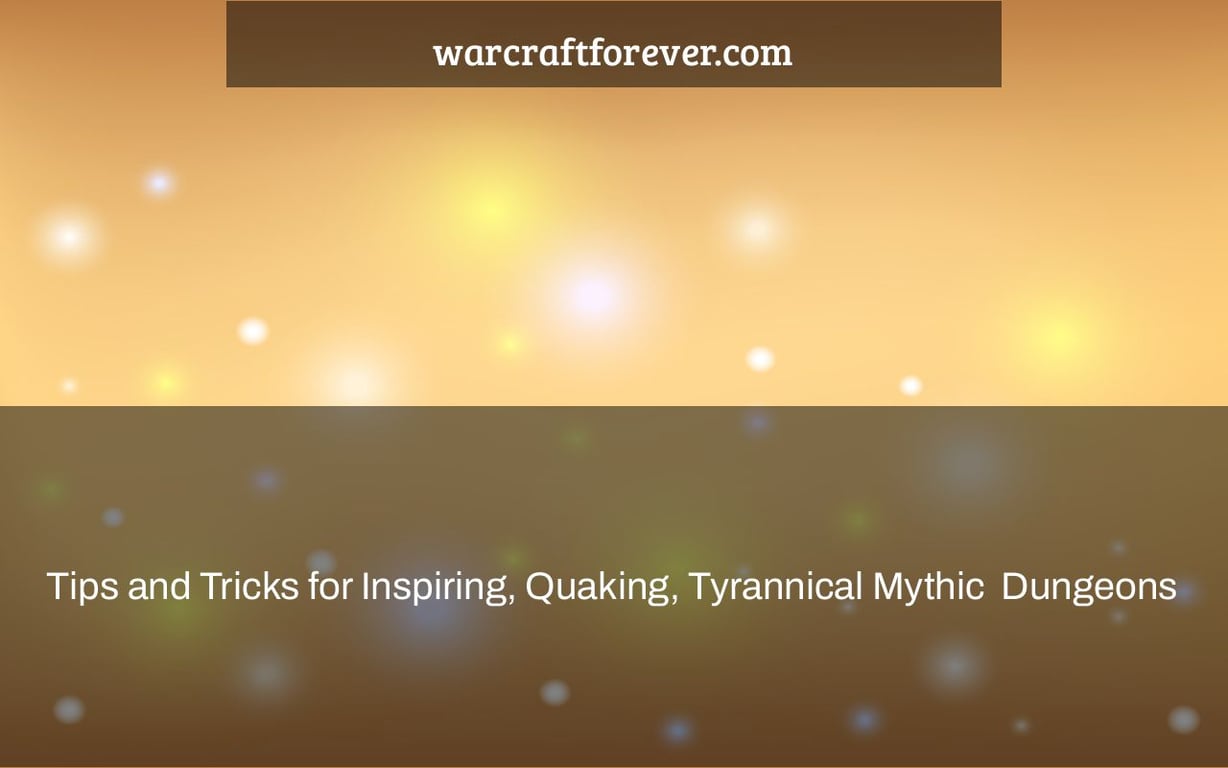 Welcome to the dungeons for this week. This week's affixes are Inspiring, Quaking, Tyrannical, and Tormented!
On this week's affix set, inspiring is usually the most difficult affix. Interrupts and other difficulties that do not ordinarily endure cause a lot of trouble on packs. Additionally, if you have an inspiring mob with Incinerator Arkolath, Inspiring protects his spells from being stopped.
If you are concerned, just play the packets a little slower than usual. In this essay, I'll highlight several prominent packs / mobs, however everyone has various issues.
Taking Care of Soggodon and Quaking
Quaking is usually straightforward, although it might be aggravating depending on what you're attempting to do in the dungeon. Soggodon the Breaker is a pain on Quaking, but there is one way to keep his Bindings of Misery from overlapping with Quaking. All you have to do is pull Soggodon the Breaker anytime your quaking timer has less than 10 seconds remaining. His initial binding occurs at ten seconds into the pull, and further bindings occur at 20-second intervals, which correspond to quaking. Pulling him anytime quaking is active is your best strategy, since his spell queueing may be finicky at times. This is a trembling weakaura. The following is what would happen in the worst-case scenario.
Wake of the Necrotic
This week's affixes of Inspiring, Quaking, and Tyrannical stifle inventive pulling by displaying Inspiring in potentially annoying ways when contrasted to some of the popular pulls. Although the timeframe in this key is not very challenging, the mechanism for setting up pulls is much more complex. Tyrannical also makes this dungeon more tough since the bosses are nearly often the thing that keeps people back in here.
This week's Necrotic Wake suggestions The majority of the issues this week are on the bosses as a result of Tyrannical, although Inspiring is still a challenge in a few pulls.
Blightbone's innate Kyrian Anima Exhaust ability should be enough to deal with this monster. Many individuals will choose to execute Blightbone with a Bloody Javelin and a trash pack or Tormented mob in the nearby area.
If you CC the adds that are still up during the Final Harvest for Amarth, the adds will not be eaten and you will be wiped. To prevent having to kill the adds, top groups will CC the mages with paralysis or Shackle Undead on every set, as explained in this tip of the week. This does, however, need coordination. On Amarth, Bloody Javelin is usually used in conjunction with a Tormented mob. This is shown in the video below.
Saving a Bloody Javelin is a frequent technique for Surgeon Stitchflesh, as is utilizing the Javelin on the first add + boss to ensure you don't have multiple adds and have a chance to 1 phase the boss. You may have to concentrate the Stitchwerk or use hammers on the monster if you miss the javelin on the first Kyrian Stitchwerk. In addition, the boss does not CAST HIS ESCAPE SUB 5 percent HP. Alternatively, strong CDs like Ashen Hallow + Bloodlust may be used, but it all relies on the group and the key level. You can wipe if you let this boss alive for too long and have many adds up.
Finally, it is quite characteristic of Nalthor the Rimebinder to have Bloodlust yet not utilize it on Stitchflesh. You should also use Forgotten Forgehammer against Icebound Aegis shields if you have additional DPS from Dark Exile below. It's also a good time to utilize Battle Rezzes and sacrifice individuals to the Dark Exile at this stage. This may help you save time with the boss in general. You may also use Leap of Faith the Dark Exile if you have a priest who is feeling particularly young (and you have Battle Rezzes). This was done many times throughout the MDI, and you can view the results here!
Apart from that, there are a couple pulls this week that are much more difficult because to Inspiring. The chief perpetrators are Zolramus Necromancer and Nar'zudah. They are either inspired mobs themselves or are surrounded by inspired mobs. Don't be scared to utilize CC or just skip these packs entirely from your path.
Guide to a Necrotic Wake
Depths of Sanguine
Overall, the bosses make this dungeon exceptionally challenging on Tyrannical. Both inspiring and quaking are not free, but if you are well-organized and have a strategy in place, you should be OK. To avoid quaking your buddies, spread swiftly for Quaking. On Inspiring, keep an eye out for any particular packs with a lot of casters.
This week's Sanguine Depths suggestions
The Sinfall Boon lanterns and how to prolong stacks FOR FREE are the two most important ideas for this week. You can get another stack of the Sinfall Boon boost for the cheap low cost of 1 Giant Deathweb Egg or a Crashin' Thrashin' Robot.
The bosses of Sanguine Depths are the most difficult to defeat. Having Bloodlust for the majority of the bosses will give you the greatest results. In Sanguine Depths, you're likely to be given a complete wipe to trash in any spare time you have. You don't have the same luxury as employers when it comes to wiping them out. The most crucial thing about Sanguine Depths is to make sure you have excellent plans for all four bosses.
Kryxis the Voracious – You'll be alright if you put the Severing Smash orbs in a solid area and absorb the Juggernaut Rush.
Executor Tarvold – Make sure you have all of your offensive cooldowns and that you immediately concentrate down any additions. It's also highly useful to have the Sinfall Boon lantern bonus.
Grand Proctor Beryllia – Soak 3 – 4 stacks of orbs each time, then employ powerful personals. It's a typical technique to rotate immunity and enable other players to absorb four stacks of orbs if you're performing a high enough key rotation.
The Gluttonous Tick at the start of the instance is the largest concern from an Inspiring standpoint. Because these monsters erupt with stacks of Engorge, the most crucial element is to make sure you have CC, interrupts, and control over these Inspiring creatures.
Guide to Sanguine Depths
The Ascension Spires
The timeframe in Spires of Ascension is quite forgiving most weeks if you tackle the dungeon at a leisurely pace. This week will be no exception. However, since Inspiring makes pulls far more difficult to set up and perform, the execution of this dungeon is much greater than regular weeks. Spires of Ascension is one of the dungeons that requires the greatest coordination and kicks, and Inspiring is a difficult task in this dungeon. Tyrannical and Quaking are likewise not available as free affixes. When you have to avoid missiles while being piled up with other players, quaking is unusually tough on the angels and Ventunax.
This week's Spires of Ascension tips
Because of Inspiring, the initial two of pulls in this dungeon are crucial. The basic guideline is to CC the first Forsworn Vanguard that is inspired, then finish the other 6 monsters, break the CC on the vanguard, and DPS it while you go to the next pull.
Due to Tyrannical, the bosses are often very difficult.
Azules – This boss requires Bloodlust, which you should acquire this week. There are certain weeks when lusting the first draw is quite okay; this week, though, you must seek to desire this boss. You can also CC the Forsworn Mender in the pull in front of the first boss, take this mob into the draw, and use the weapon purge to inflict just a little bit extra damage to the monster if you're playing in a super coordinated group.
Ventunax – As with Kin-Tara, you'll want to have Bloodlust on hand for this fight. This is owing to the fact that for many organizations, this boss is the tipping point. Dodging while ensuring that the party does not bleed out to the hemorrhage is quite tough. You may utilize bleed removal methods like Blessing of Protection to remove bleeds as soon as possible (second bleed is pretty normal). Furthermore, the bleed will only affect qualified ranged targets, which means that in certain comps, this might be only one person, so be cautious.
Oryphrion – This boss is all on managing mana and Charged Stomp. It's critical that you get the boss inside the vulnerability window as soon as possible. If your tank is slightly outside of the hitbox, you can compel the monster to stomp. If your tank is slightly within the hitbox, you can escape his stomping. Additionally, if your windwalker is piled on top of the tank when the stomp goes off, you may Diffuse Magic the DOT back onto the monster, which is quite effective. It's a lot of damage to do this immediately before a vulnerability phase, which is another reason Windwalker is OP.
Devos – Is just a lengthy boss. Make sure you don't bleed out to the dispels and instead lure the Run Through to the far corner of the room. On the boss, melee will have a much greater uptime as a result of this. If you desire more screen real estate, you can also use the Corgi-Goggles toy on the huge irritating angle to change her into a Corgi.
Guide to the Ascension Spires
Atonement Halls are places where people go to make amends for their sins.
Due to execution, Halls of Atonement is one of the most challenging dungeons on this week's affixes. Because of the way you must approach Inspiring, it is very difficult to master. Tyrannical may also be a huge challenge in this dungeon owing to lengthy monster battles, thus arriving prepared with a well-coordinated party is essential.
This week's Halls of Atonement tips
In this week's affixes, the most important items in Halls of Atonement are incoming tank damage and cast mitigation. Interrupts are very necessary in Depraved Obliterator. As a result, you must be very selective about which creatures you draw into trash packs and how this impacts tank damage. It's also quite helpful to have a mobile tank that can get away from Vicious Gargon quickly.
If you need to make up time, skipping either Oros Coldheart or Soggodon the Breaker from this week's affix set is a solid choice. With the slow, it's a little more harder to avoid the statues, but if you play close to the boss and tank the monster along the wall, avoiding should be rather simple. The negative debuff has no effect on Lord Chamberlain's tank bleed, therefore the only physical effects are the Statue Toss and standard Melees. This implies that if you are struck, you may easily be shot by the statues, although this is a typical occurrence anyway. This week, I would typically suggest starting with Oros Coldheart and the final fight, although it is ultimately up to your group's comfort level.
Another helpful suggestion is to use the Loyal Stoneborn on Incinerator Arkolath near the shard on the right side. The reason for this (and why you shouldn't use it on any other trash pulls) is because this mob is much more hazardous, and stoneborns are far more useful on Single Target than AOE. You'll be able to utilize a lot less DPS / Healer cds as a result of this.
Guide to the Halls of Atonement
Tirna Scithe Mists
This week in Mists of Tirna, Scithe is one of the more difficult affix sets in the dungeon. If not overgearing the dungeon, a poor coordination party may be completely left out to dry in the labyrinth because to Inspiring's CC immunity. You'd want to employ a lot of interrupts and CCs, but you're unable to do so because to inspiring.
Quaking is mostly unaffected, although there are a few drawbacks to be aware of.
This week's Mists of Tirna Scithe tips First and foremost: In the labyrinth, be very cautious of Inspiring. The Mistveil Tenders are one of the main mobs to look out for among the many inspired mobs. They throw an AOE heal on the party, and if you don't have a CC on the pack's inspired monster, you may extend a 30-second pull into several minutes. Due to the coordination and difficulties you would encounter if you achieve this, I would strongly advise against bringing further mobs over the wall.
Second, Quaking on Ingra Maloch should be avoided at all costs. You might lose a lot of damage if you are locked out during the vulnerability time. When entering the vulnerability window, keep this in mind.
Using a pet to drag the 3rd Tormented mob over the wall before confronting Ingra Maloch may be a huge aid. Simply use a Pet Attack through the wall on the afflicted mob, pull the pet back, and he will come through the wall. You may learn about tactics that include dragging stuff through the wall here, but I would strongly advise against doing so outside of the tortured crowd.
Scithe Guide to the Mists of Tirna
Plaguefall
In this dungeon, Tyrannical is a tough opponent. Many of the bosses with lengthier phases include extra mechanics or groups of mechanics that demand more coordination, healing, or may even wipe you if handled properly. Both inspiring and quaking are minor annoyances. Inspiring necessitates CCing certain mobs and groups in order to prevent mobs from casting freely. Quaking is particularly difficult against bosses, since many of them feature mechanisms that encourage stacking.
This week's Plaguefall advice The dungeon's most tough section is the bosses. Cooldowns for Globgrog, Domina Venomblade, and Margrave Stradama are all very significant bosses in and of themselves.
Drag a Pestilence Slime into the Globgrog area and use it to assist burn the monster before he summons his second wave of adds. The amount of DPS you have in relation to the key level is ultimately what determines this. While utilizing permanent CC on the Slimy Smorgasbord, you should be ccing or killing the little additions.
Make sure you have cooldowns for each step in a variable form for Margrave Stradama. Infectious Rain, one of the scarier abilities in the game, will most likely be performed twice every active phase on Margrave. For this Disease downpour, make sure you stack defensives, externals, and dispels correctly. Also, Quaking irritates Margrave. On Margrave, the normal guideline is to have 2 – 3 tiny cooldowns every upstairs phase, or 1 huge cooldown and 1 little cooldown.
Brood Ambusher and Venomous Sniper are inspired by the rubbish in the Domina Venomblade chamber. This is a rather inconvenient configuration in the room, but it can be managed as long as the mobs are kept apart and do not inspire others. Be cautious here, and use kicks and stops as needed.
Guide to Plaguefall
Theatrical Pain
When properly prepared for the content, Theater of Pain is one of the most difficult dungeons. The timing is not excessively generous, and the bosses are really difficult to execute. Furthermore, the dungeon has a low mob density, but the kind of mobs present limits the number of unique and huge pulls. All of this culminates in a difficult five-boss dungeon with a timeframe that is particularly tight on Tyrannical.
This dungeon is one of the most challenging Inspiring dungeons since the inspired mobs, as well as the mobs that must be disrupted, are both very tough. This necessitates a lot of CCing and planning that isn't often required during the week. This affix ends up costing you a substantial amount of time due to the CC and cooldown allocation, which takes time away from you that you wouldn't have in a regular run. Some of the bosses take it fairly hard when it comes to quaking.
This week's suggestions for Theater of Pain
Taking Care of Inspiring:
In the Kul'tharok wing, be wary of the adjacent Bone Maguss, Maniacal Soulbinder, and Shackled Soul. If you don't get CC on the inspired mob in these packs, you're going to have a lot of troubles.
Getting Rid of Quaking:
Just be very cautious with all of the bosses. Whether or not you can control it, most bosses feature a spread / stack mechanism. Simply ensure that you are situating yourself with Quaking in mind, and you should be OK. Keep an eye out for the hands on Kul'tharok, the grips on Gorechop, the suck on Mordretha, the Endless Empress as players return upstairs, and the hands on Xav the Unfallen when players return upstairs.
Guide to the Theater of Pain
The Opposite
With the affixes Quaking, Inspiring, and Tyrannical, the Ardenweald wing has practically infinite pull potential. On those areas of the dungeon, De Other Side is a pretty favorable dungeon, but the Hakkar the Soulflayer wing is much tougher on Inspiring. Overall, the Mechagon / Hakaar wing relies significantly on your tank and how you execute techniques in this dungeon.
This week's suggestions for De Other Side The main source of frustration on De Other Side is undoubtedly the bosses, which Tyrannical amplifies significantly. Tyrannical is so tough in this dungeon because of how difficult the bosses are, how long they are, and how harshly you are punished if you make errors on them. On this week's affixes, making sure you have enough of cooldowns for the bosses is strongly recommended.
Because of the Inspiring mobs in that corridor, the Hakkar the Soulflayer wing is likewise exceedingly deadly. All three inspired mobs are Atal'ai High Priests, and although this seems to be the best option, Atal'ai Hoodoo Hexxer have a lot of necessary kicks, and Atal'ai Devoted must be CCed. This corridor should be approached with caution, and you should take it slowly.
If you're reading this and intend to walk around the ring collecting all anima abilities before entering a certain wing, please stop right now. From the start, turn left and go straight towards the Ardenweald region. This will give you two anima abilities and severely restrict your retracing.
Overall, providing you can deal with Inspiring and have enough of boss damage, this week is one of the best weeks to play De Other Side.
The Guide from the Other Side
Watch This Video-
Mythic+ dungeons are the best way to get a good amount of experience and gold in Warcraft. This is because they provide a high level of difficulty, but also allow players to earn more loot. The "m+ prideful routes" are the best way to do this.
Frequently Asked Questions
What does tyrannical do in mythic?
A: The word tyrannical means literally rule by brute force. It is not a synonym for powerful.
Can you interrupt inspiring mobs?
A: Yes, but only if they are not in the loop of playing their Inspiring Mob song.
Does inspiring affix prevent interrupts?
A: No, it does not.
Related Tags
quaking weakaura
mythic dungeon tools dratnos
dratnos addons
mythic plus this week
season 2 mythic+ plus routes