Activision Blizzard recently announced that they are making changes to their Board of Directors. This makes it the second game company this month (the other being EA) to make such a change after reports of nepotism and cronyism in the industry surfaced. What will these changes mean for Activision Blizzard? Does it indicate a shift away from big name celebrities on boards, or is the goal simply more diversity?
The "Activision Blizzard Board of Directors" is an upcoming change to the Activision Blizzard Board of Directors. The new board will be made up of 12 members, instead of 13. Read more in detail here: activision board of directors statement.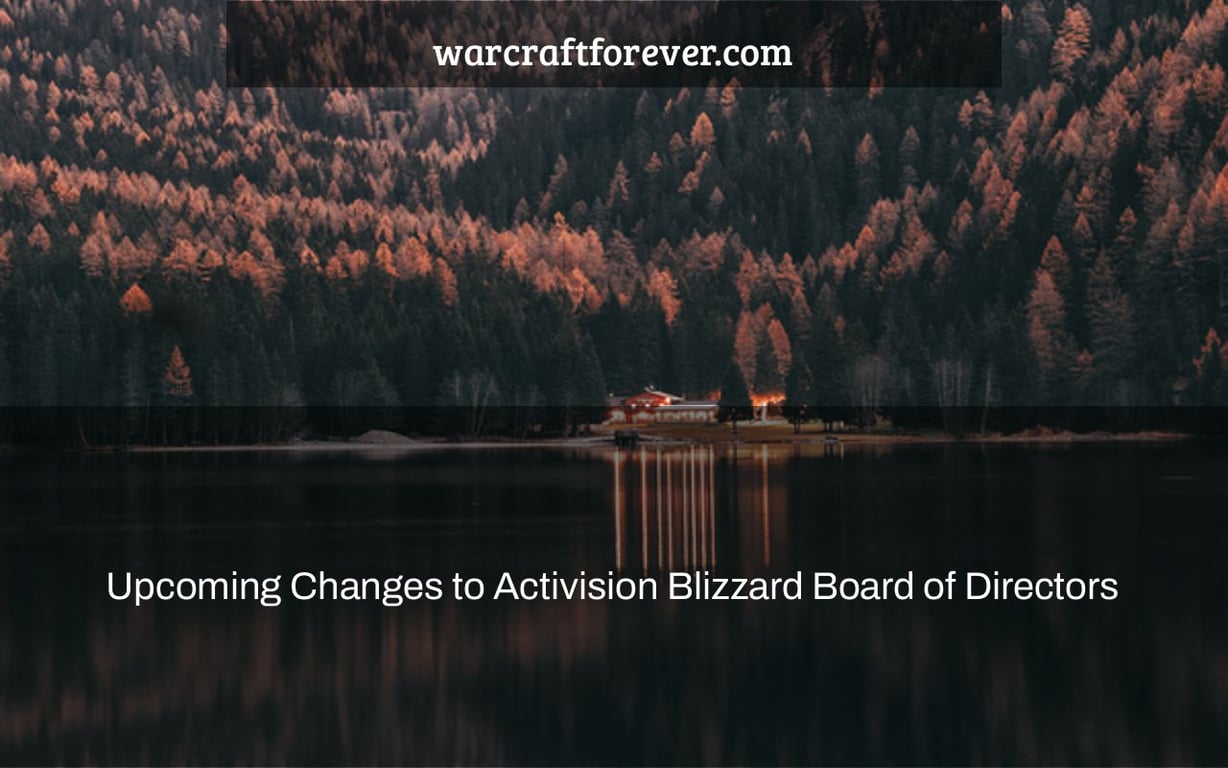 Two new members will join Activision Blizzard's Board of Directors, while two others will depart. Lulu Cheng Meservey and Kerry Carr will both be up for election at Activision Blizzard's $68.7 billion sale to Microsoft's annual shareholder meeting on April 28th. Meanwhile, Hendrik J. Hartong III and Casey Wasserman have decided not to seek re-election and will leave the board after a seven-year stint.
Lulu Cheng Meservey is technically already a member of the board, elected to serve on the Workplace Responsibility Committee last week on April 16th, but will stand for public re-election alongside Kelly Carr, who will serve on the Audit Committee. Meservey is currently VP of Communications at Substack and previous work history includes positions at the World Bank, MIT Lincoln Laboratory, and McLarty Associates strategic advisory firm, as well as co-founding TrailRunner International. Carr has held several senior positions at Bacardi limited since 2014, currently serving as the Senior VP of Global Performance Management, and previously worked at Kid Brands, Inc, Avon Products, AT&T, the American Broadcasting Company, Deloitte & Touche, and The Walt Disney Company.
Hendrik Hartong and Casey Wasserman will be replaced by Lulu Cheng Meservey and Kelly Carr, pending ratification at the forthcoming annual shareholder meeting.
Activision Blizzard has previously been chastised for failing to comply with a new California state rule mandating at least three female directors on boards of six or more members. Due to their projected purchase by Microsoft, the business claimed to have started a search but were unable to complete it before the end of 2021 deadline, implying that the short length of service before the board would be dissolved by Microsoft had made the seats impossible to fill. The Board of Directors will now consist of 6 men and 4 women as a result of the proposed amendments.
April 21, 2022–SANTA MONICA, Calif.—(BUSINESS WIRE)— Lulu Cheng Meservey has been elected to the Board of Directors of Activision Blizzard, Inc. (NASDAQ: ATVI). In addition, during Activision Blizzard's 2022 annual meeting of shareholders (the "2022 Annual Meeting"), Kerry Carr will be nominated for election to the Company's Board of Directors.
Ms. Meservey is a member of the Workplace Responsibility Committee and was appointed to the Board on April 16. At the Company's 2022 Annual Meeting, Ms. Meservey will run for re-election to the Board. Ms. Carr will be a member of the Audit Committee if she is elected.
At the 2022 Annual Meeting, Hendrik J. Hartong III and Casey Wasserman have decided not to run for re-election. Their term as directors will come to an end when the directors are elected at the 2022 Annual Meeting.
"The inclusion of Lulu as a director and Kerry as a director nominee is part of our Board renewal process, and it demonstrates our commitment to extending the abilities, experiences, and various backgrounds of our directors," stated Lead Independent Director Robert Morgado. "On behalf of the whole Board, I'd like to thank Henk and Casey for their years of dedication to Activision Blizzard. Their strategic leadership and advice have been crucial, and we owe them both a debt of gratitude."
"Lulu and Kerry will offer vital talents and expertise as we continue to concentrate on developing an excellent environment to produce amazing games," stated Bobby Kotick, CEO of Activision Blizzard.
"It's an honor to join Activision Blizzard's Board at such a pivotal time in the Company's history, when tremendous possibilities abound and the purpose to connect people across the globe is more vital than ever," Ms. Meservey said. I'm excited to contribute my expertise to the Company as it focuses on critical goals for workers, shareholders, and stakeholders throughout the globe."
"I am thrilled about the possibility of joining the Board of Directors of Activision Blizzard, a world-class entertainment business with a strong foundation and enormous growth potential," Ms. Carr stated. The firm has achieved some significant strategic and cultural advancements, and I want to be chosen so that I may contribute to efforts to promote the company's future ambitions."
Lulu Cheng Meservey's bio Since June 2021, Ms. Meservey has served as Vice President of Communications at Substack, an online platform for independent newsletter and podcast producers. Ms. Meservey co-founded TrailRunner International in May 2016 and served as its Chief Operating Officer and President from January 2021 to June 2021 before joining Substack. Ms. Meservey worked in the chairman's office at McLarty Associates, a worldwide strategic consultancy business based in Washington, D.C., from 2013 to 2016, and she continued to serve as an adviser from 2016 to 2021. Her prior experience includes positions with the World Bank, where she advised on international open data initiatives, the MIT Lincoln Laboratory, where she worked on an international framework of norms in cyberspace, and as a financial analyst at J.P. Morgan. Ms. Meservey graduated from Yale University with a B.A. in political science and an M.A. in law and diplomacy from Tufts University's Fletcher School.
About Kerry Carr Ms. Carr is the Senior Vice President Global Performance Management, Revenue Growth Management and Shared Services at Bacardi Limited, a privately held spirits company. She has held the role of Senior Vice President Global Performance Management since April 2020, and in April 2021, became the Senior Vice President Global Performance Management, Revenue Growth Management and Shared Services and was appointed to the CEO's Global Leadership Team. Prior to that, Ms. Carr served as Global Senior Vice President—Continuous Improvement and Special Projects from 2014 until 2020 at Bacardi. Ms. Carr held a number of positions in finance, operations, supply chain and organizational design before joining Bacardi, including serving as: Executive Vice President, Chief Operating Officer, and Chief Financial Officer at Kid Brands, Inc. from 2012 to 2014; in positions of increasing responsibility in finance and operations at Avon Products, Inc. from 2003 to 2012; Vice President of Internal Audit and Corporate Security at AT&T Inc. from 2001 to 2003; Senior Vice President & Chief Financial Officer at ABC Television Stations and Radio Group from 1999 to 2001; Vice President Worldwide Management Audit and International Labor Standards Compliance at The Walt Disney Company from 1996 to 1999; Vice President of Internal Audit at Capital Cities/ABC, Inc. from 1991 to 1996; and various financial management and audit roles at Deloitte & Touche from 1985 to 1991. Ms. Carr holds a B.B.A. in public accounting from Hofstra University.
The "brian kelly activision net worth" is a blog post by Activision Blizzard CEO Brian Kelly. In the blog, he explained upcoming changes to the company's Board of Directors.
Related Tags
reveta bowers
activision executives
activision blizzard org chart
robert corti
activision blizzard investor relations