The 9.2 Tier Set Bonuses for the Vengeance Demon Hunter in WoW Classic are now live on Battle.net, and with that comes a new opportunity to analyze how these changes will impact players interested in maximizing their DPS potential as an AoE Powerhouse!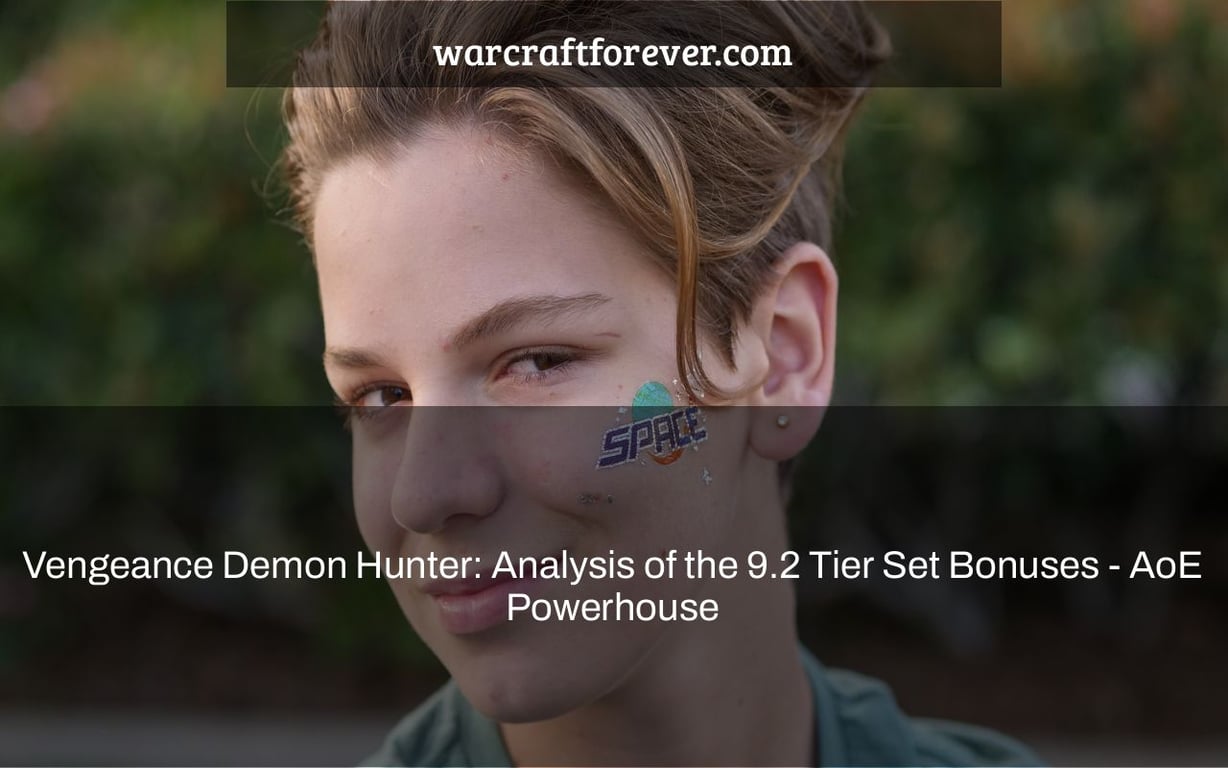 Itamae, the author of our Vengeance Demon Hunter guide, has expanded on the Vengeance Demon Hunter Tier Set bonus modification.
Effects and Change
Rapacious Hunger, a Vengeance 4 piece set benefit, has been changed from prolonging Immolation Aura if active or providing 2 seconds of it if not, to decreasing the cooldown of Immolation Aura or Fel Devastation by one second every lesser Soul Fragment consumed on the newest version of the 9.2 PTR.
This modification addresses two main flaws in the prior set:
We can no longer accumulate insane stacks of Blind Faith, rendering us virtually immortal in all conditions, since the cancelaura connection with our skill Fallout no longer occurs.
Because we can no longer acquire unlimited uptime from a single Immolation Aura, our damage from Growing Inferno doesn't scale as well.
However, the new set still introduces some new difficulties while also reinforcing some of the existing ones in the basic standard.
On our GCDs, there is a severe resource dispute.
Degenerate gameplay might result from optimizing either harm or defense.
It introduces a number of levels of unpredictability to our specification, either directly or indirectly.
Weaknesses and Strengths
We can summarize the Weaknesses and Strengths in this set quite simply: The new 4 set is still borderline overpowered in large scale AoE while offering very little benefit on ST or low target AoE.
Factors at random This set generates three basic sources of randomness:
If both Immolation Aura and Fel Devastation are on cooldown, each soul consumed will lower the cooldown of one of them at random. If just one spell is on cooldown, the cooldown of that spell will always be lowered.
In our rotation, soul spawns from both the 2-set and Fallout have a % chance of procing and contributing to resource conflict.
Darkglare Boon has a 1% probability of procing and has an impact on our rotation.
a single goal The set provides an order of magnitude less damage increase in ST than the existing Shards of Domination scheme. Because our ST damage is among the lowest, if not the lowest, among all tanks, dealing with a high DPS co-tank like Protection Paladin is a problem because we are unable to retain agro adequately while they have cooldowns available. On ST, the Blood set now delivers roughly 15-20% of our total damage, while Immolation Aura gives around 8-10%. With the higher uptime from the new 4 set, we should anticipate to see approximately a 30% boost in uptime in most instances, implying that the set bonus is worth roughly a 3% DPS gain when used to optimize the value of GCDs and Growing Inferno ticks by only pressing Immolation Aura when it expires. Because applying Immolation Aura instantly resets the stacks of Growing Inferno, we must keep track of the time rather than pushing it as soon as it's accessible.
On the defensive side, we should anticipate a rise in Metamorphosis uptime from 26% to 35% when played regularly, and up to 43% while playing for maximal defensiveness. However, most of this uptime would be squandered in most scenarios since we don't want to use it for melees over tankbusters unless the encounter is a high uptime patchwerk-type encounter like Fetid Devourer, where we want as much uptime as possible. In that situation, we'd have to employ a customized build with Feed the Demon and never utilizing Immolation Aura or spending any resources on Soul Cleave or Spirit Bomb, as well as canceling aura on our Fel Devastation spells, to cause even less damage.
AoE of a small size (2-9 Targets) The set bonus is fair, but not exceptional, at low target counts. From all sources combined, we should anticipate to sustain around 4 souls every other GCD, providing for a reasonable amount of damage from Spirit Bomb, as well as excellent sustain from the additional souls created and enhanced Metamorphosis uptime. In this situation, hitting Immolation Aura early is no longer a disadvantage, since the additional souls gained from Fallout allow for more Spirit Bomb, which compensates for the damage lost during the last ticks of Growing Inferno while also reducing cooldown. Waiting until the ticks run out is somewhat better defensively, since it reduces the cooldown on Fel Devastation and allows for longer Metamorphosis uptime, similar to ST.
Large Area of Effect (10+ Targets) When we get to 10 targets and beyond, the set bonus starts to seem a little too powerful. Because the 2-set bonus scales with the number of targets, we can effectively create enough souls per GCD to press just Spirit Bomb and renew Elysian Decree, Immolation Aura, and Fel Devastation as required, never needing to use our single target generator. The additional souls also provide more cooldown reduction, allowing us to maintain up to 50% uptime on Metamorphosis, increase our versatility by significant amounts during Blind Faith windows, and provide significant amounts of healing, making us more durable on larger target counts while becoming vulnerable as target counts decrease due to enemies dying.
Interactions
Covenants
In any multi-target circumstance, Kyrian is a clear winner for covenants, since the adaptability and fury given by Blind Faith enable for a near-infinite cycle of spenders while while offering pretty steady damage mitigation. Venthyr may be competitive in single targets, perhaps topping Kyrian, but he lacks consistency.
Talents
There will be a few different talent builds depending on the scenario, but the most notable change is that Fallout will be substantially stronger than the other skills in its row, and Spirit Bomb will most likely become the norm.
For the most part, this should be the typical, most adaptable construction. It has a nice balance of damage and resilience. It may be preferable to switch to Feed the Demon for greater defensive uptime in strongly fortified locations where huge pulls are still feasible, given the loss of damage isn't very severe in AoE.
On Metamorphosis, this talent build would give the maximum uptime at the expense of practically all DPS. Surprisingly, using any button other than Elysian Decree, cancelaura Fel Devastation, or Shear to optimize soul production for extended uptime renders the third row completely worthless.
This is the same as our current standard build for Fiery Brand's high uptime, which is more effective in magic damage clashes.
Legendaries
Given the present state of affairs, we will continue to utilize Razelikh's Defilement for maximum damage in ST, Fiery Soul for magical protection with the brand build, and Darkglare Boon for maximum Metamorphosis uptime, assuming we run Kyrian and the normal talent build for most scenarios. We'll most likely employ Darkglare Boon and hope for good rolls to optimize the Sinful Brand extension if Venthyr proves to be stronger.
As the GCD conflict prevents us from spending most of our fury, producing and spending souls becomes more crucial. Our most effective legendary in AoE will most likely be Darkglare Boon. As a result, Soul Cleave isn't employed, meaning Razelikh's Defilement and Fiery Soul aren't particularly useful. Despite being random, we should anticipate roughly 4-5 resets in a 6 minute boss battle, and it gets more dependable in keys as the amount of rolls increases owing to the cooldown reduction from the set.
Conflict over resources and GCD We will often find ourselves overcapping fury owing to being unable to use it fast enough before obtaining more due to the flood of fury from Blind Faith and increased uptime on Immolation Aura, as well as the rise in souls from Burning Hunger and Fallout. Furthermore, since we have more souls, we are pressing Spirit Bomb instead of Soul Cleave, lowering the value of our legendaries that rely on Soul Cleave. Furthermore, we have no spare GCDs or requirement for our generators (Shear or Fracture) in AoE circumstances owing to the additional resources. While it is feasible to play without Spirit Bomb, employing a legendary like Razelikh's Defilement makes it net neutral, albeit at the cost of possibly obtaining more from other legendaries. In Single Target, on the other hand, in a regular build, we alternate between feast and famine, being inundated with resources that we don't have free GCDs to use within the Blind Faith window and being relatively hungry outside of that window. If we play a more defensive approach, we just disregard all resources and focus on creating as many souls as possible, which is fairly poor gaming.
Last Thoughts
With no further modifications to our spec, this set bonus will be underwhelming in raid, solidifying our position as the lowest DPS/threat tank while giving minimal defensive advantage. Without a gimmick like Castle Nathria's kiting methods or Havoc's strength, I don't anticipate Vengeance to be a popular raid selection with this set. Whether it's from this set or spec tweaks, I'd like to see a more substantial increase in our damage.
The issue is very different in Mythic+. I anticipate Vengeance to be pretty entertaining, particularly when drawing bigger packs, since the set scales well and we do receive a shakeup to our picked skills and legendaries, which is a first for Shadowlands.
Overall, this set bonus is more balanced than the previous one, although it falls short on lower target counts and seems to be deficient, particularly when compared to other tank sets. The new randomization layers aren't great for tanking either, however they can be tweaked.
Watch This Video-