This tier set is designed to be a mid-level upgrade. While it does have some of the most powerful bonuses in the game, its stats are not quite as strong as those found on higher level sets. However, if you're looking for an alternative that isn't too expensive and doesn't require intricate crafting work, this may be one worth considering.,
The "tbc pre patch twitter" is a social media account that posts updates about the upcoming patch for World of Warcraft. The "Warrior 9.2 Tier Set Bonuses Guide Writer First Impressions" will discuss the changes to each class, and how it feels to play them in the new patch.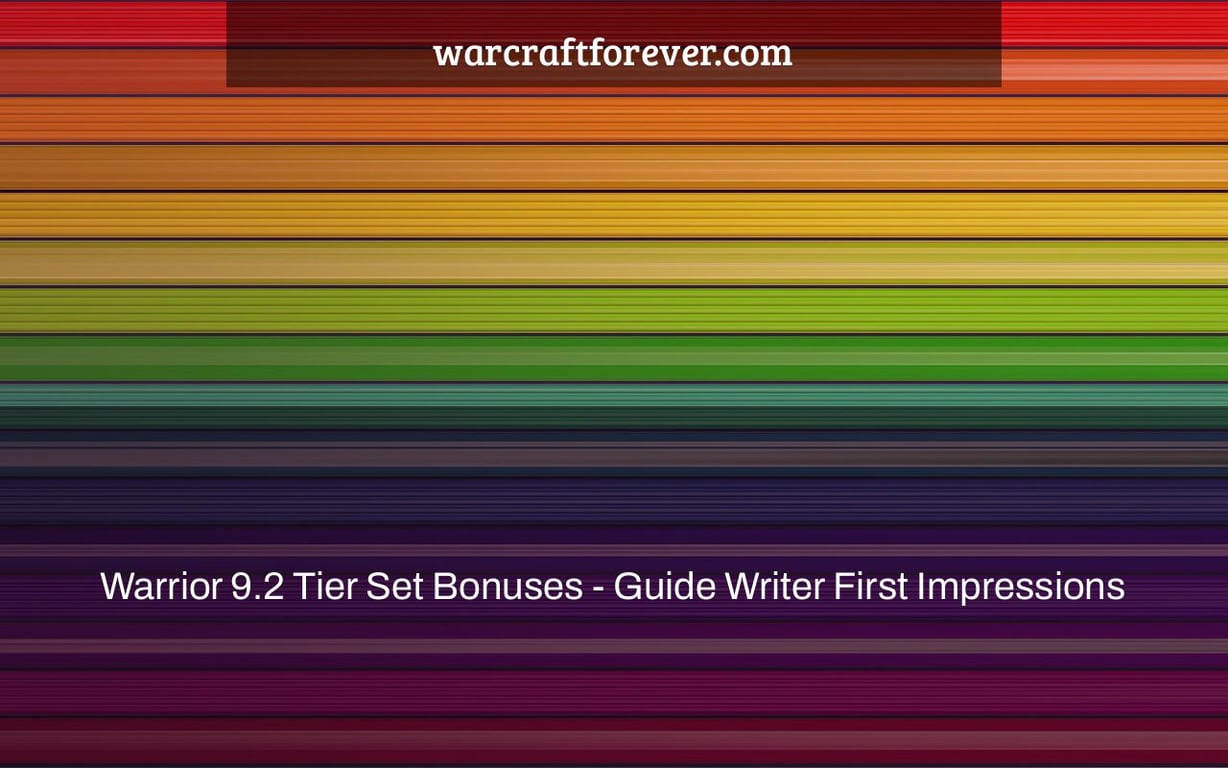 The Tier Set benefits for all 36 specialties in the 9.2 Eternity's End PTR have been datamined. Below are all of the bonuses and armor models.
9.2 Bonuses for Tier Sets in All Specializations Models from the Mythic Tier Set (9.2)
Our Guide Writers have offered their early thoughts on the 9.2 Tier Set extras. Below you'll find a list of all of our previously published opinion pieces.
The 9.2 Tier Set Bonuses: First Impressions
First Impressions of the Death Knight Tier Set First Impressions of the Demon Hunter Tier Set First Impressions of the Hunter Tier Set First Impressions of the Monk Tier Set First Impressions of the Paladin Tier Set First Impressions of the Priest Tier Set First Impressions of the Rogue Tier Set
The impending incentives for Arms are intriguing, but uninspiring at this point. The two piece is only worth 2% because Arms already runs out of rage by the end of Colossus Smash, so increasing the duration doesn't add as much as it sounds like it should, and the four piece's bonus ranges from 1% to around 4% when maximizing the bonus every time, which isn't going to happen very often. Tier bonuses have always been worth around 4-6 percent each, with the first bonus being somewhat weaker and the second significantly stronger, thus both are plainly undertuned given the changeable nature of the 4p.
This is an intriguing problem because, although the four-piece benefit can be fixed with tuning, there is no feasible figure by which the two-piece bonus could be boosted to the range of other tier bonuses – it would have to be more than twice the length of Colossus Smash. The principles are faulty in other ways as well; the four-piece bonus is predicated on anger, making Windfury Totem more more crucial for a spec that already values it almost twice as highly as any other in the game (depending on setup and individual performance).
With such little gains, it doesn't seem worth speculating, but there are a few things worth trying on the PTR:
Increased rage production is critical to optimizing the four-piece benefit, which means that skills like charge-weaving, Skullsplitter, and even Ravager, in addition to Windfury Totem, will be crucial in maximizing the bonus with each Colossus Smash cycle. Unfortunately, the incentives are so little that the changes in talent result in a net loss.
Venthyr may use the Sinful Surge legendary to continuously increase the duration of Colossus Smash, which might offer some value to the four piece. However, this isn't particularly practical, since Condemn is undertuned and chaining the duration that way isn't dependable.
Enduring Blow isn't obvious how it will effect either bonus. Both are unlikely to function with it, since the 2p would almost quadruple the duration, and the four piece may possibly be harmful if it caused Colossus Smash to activate before expending even the minimum of 75 anger, perhaps overwriting an existing bonus.
Overall, it's an intriguing idea that harkens back to Test of Might, but while the Azerite trait started off strong and benefitted from synergy that made it ridiculously overpowering, the tier benefits just don't accomplish enough to warrant excitement. Increasing Arms' burst damage is a good concept, but it's not the greatest approach to go about it.
Fury's future bonus seems to be fairly appealing, since it will be beneficial in both single-target and multitarget battles, and will enhance damage by up to 5% (2p), 8% (4p), and 13% (both). Tier bonuses have always been worth around 4-6 percent apiece, with the first being somewhat weaker and the second significantly stronger, however this varies widely depending on the class/spec and many interactions, thus the Fury boost looks to be on track. Because Raging Blow is already the most often used ability in the rotation, there isn't much of an influence rotationally, but this is also a strength, as the high frequency means the set is triggered that much more frequently.
That isn't to imply that the collection is without flaws. Both bonuses are focused on throughput, therefore they don't help much in burst damage scenarios when Recklessness is already active and Rampage or Bladestorm is doing the bulk of the damage. They also don't make significant changes to talent sets, however which covenant will win depends on what tuning occurs throughout the PTR.
Despite the fact that the benefits are generally valuable, there are a few things to bear in mind:
Because Sinful Surge already considerably increases Recklessness uptime, Venthyr benefit less from the boost than other covenants. Although not employing Depths of Insanity or removing Anger Management in favor of Reckless Abandon might compensate for this, it does not always result in better overall performance.
Hack and Slash was buffed in 9.1.5, but it gets even better in 9.2 thanks to how well it works with the tier bonuses: in addition to maximizing the damage increase and chance to trigger Recklessness, it also makes the normally overlooked third charge of Raging Blow more relevant thanks to more frequent resets.
Cruelty is already the default skill for Fury Warriors, but the tier benefits solidify its position – you'll never be able to avoid it.
In multitarget, Raging Blow is seldom utilized since the rotation prioritizes Rampage, Whirlwind, and Bloodthirst (with Fresh Meat, though you'll want to put it in more if you're using the tier set).
However, there are several unresolved questions that will have to wait until we get an opportunity to test on the PTR.
Will the four-piece incite Reckless Abandon to rage? Similar effects have been known to cause partial fury in the past, so there may be some synergy here.
Will Depths of Insanity lengthen the game? The conduit has no effect on Recklessness triggered by Unbridled Ferocity, which might be owing to the two expansions being separated. However, since the conduit adds a percentage rather than a flat length, it would only increase the effect's duration from 4 to 5.3 seconds at peak rank, which is powerful but not too so.
Is it possible that the four pieces will activate Signet of Tormented Kings? When both the legendary and the anima power are employed in Torghast, the legendary does not activate the anima power, and vice versa. Given how potent the synergy would be, the abilities would have to be triggered at a slower pace, even if it's doubtful the two are meant to operate together.
Overall, the tier bonuses seem to be solid and give a significant boost in almost all types of content. Although Fury already has an intriguing rotation that many players are content with, without significantly changing the rotation or go-to talents might be beneficial or negative depending on your viewpoint. When compared to prior tier bonuses, it also looks to be on target in terms of tuning, though this will rely more on final tuning than anything else.
This set is fantastic! Both bonuses add to the pleasure of the game by allowing you to choose whether to strengthen your offensive or defense. When you spend 30 Rage on the 2-piece, you get a stacking benefit. When you reach 8 stacks, you may use Shield Slam, Thunder Clap, or Ignore Pain. Ignore Pain just takes 50% more damage. It's fine, it's good, it's dull, it's fine Shield Slam and Thunder Clap are more intriguing since they claim to be "200% MORE EFFECTIVE," rather than merely doing more damage. Presumably, this implies they'll inflict triple damage while also generating triple Rage, and Thunder Clap will be a 10-second, 60% AoE slow that increases to a 90% AoE slow if you're skilled in Crackling Thunder. We don't know whether this will combine with Heavy Repercussions, but if it does, Empowered Shield Slams will offer 3 seconds of Shield Block uptime as well as 9 more Rage. That's definitely a too much of an engagement to anticipate, but it's a potential worth exploring. It's possible that the Thunder Clap extra slow with Crackling Thunder is as well, although I believe it's less probable. Even if it just adds 10% to the standard 60 percent, a 70 percent, 10-second AoE delay has the potential to be highly helpful. This is an excellent addition. It provides you a boost in damage or defense every now and then. It's a trackable benefit that's passive. This implies that expert players can keep an eye on it and adjust their play appropriately, but even complete beginners may benefit from it. Blizzard did an excellent job with the design.
The 4-piece bonus not only improves on the 2-piece's excellent design by giving Avatar 8 stacks of the 2-piece boost right away, but it also gives Avatar direct offensive and defensive benefit in the form of 10% higher damage output and 10% damage reduction while it's active. Since the elimination of Azerite armor at the end of BFA, the Warrior community has been clamoring for a defensive component to Avatar, and although 10% seems a little low (I'd love at least 15%), it's still a nice benefit. Anger Management will undoubtedly reclaim its position as the most popular final-row talent, both in raiding and Mythic+. We hardly knew you, Heavy Repercussions. In Patch 9.2, Avatar uptime should easily exceed 50%, particularly with the bonus of the 2-piece and 4-piece creating large bursts of additional Rage. This has a lot of potential.
With the two-Legendary system in place, I believe there's a good potential that Necrolord, yes, Necrolord, will be a viable Covenant for Protection Warriors in Patch 9.2. Anger Management and Necrolord work well together, particularly with the Necrolord Legendary. Being Necrolord causes a significant Rage generation cooldown. This is also true with Kyrian and Night Fae Warriors, however unlike the Kyrian and Night Fae Legendaries, which just enhance damage, the Necrolord Legendary (Glory) significantly increases Conqueror's Banner uptime. Avatar's cooldowns should be significantly decreased as a consequence of the persistent, steady drip of increased Rage. There's a lot of synergy going on here. The 2-piece provides large bursts of Rage production as a reward for expending Rage, while the 4-piece provides additional fuel for the fire. The Kyrian arrangement is likely to remain the most popular owing to its simplicity and ease of burst damage, but the Necrolord setup seems to be quite intriguing. The main disadvantage is that intermissions in raid encounters, as well as slow-pulling in Mythic+, cause the wheels to come off. This tier set is fantastic regardless of Covenant preference. The enhancements provide a wonderful, all-around effect that will aid raise resource creation and strengthen the class offensively, defensively, and, most importantly, make it more enjoyable to play.
Watch This Video-
The "12 15 wow patch notes" are the latest changes that have been released for the game. The guide writer has taken a look at what these changes mean for the game.
Related Tags
wow 9.1 twitter
wow dev tweets
shadowlands launch issues
shadowlands beta patch notes
blizzard devs on twitter