In the Warcraft universe, Zovaal is said to be a "prisoner of war" who was sealed away after he failed in his mission and brought Hell on earth. Could this prisoner have been more than just an undead creature?
Zovaal is a powerful and ancient shadow demon who has been imprisoned in the Shadowlands for millennia. He is one of the few beings that can actually control the dark forces there, but he's not all-powerful. If Zovaal isn't the true jailer, then who is? Read more in detail here: zovaal the jailer.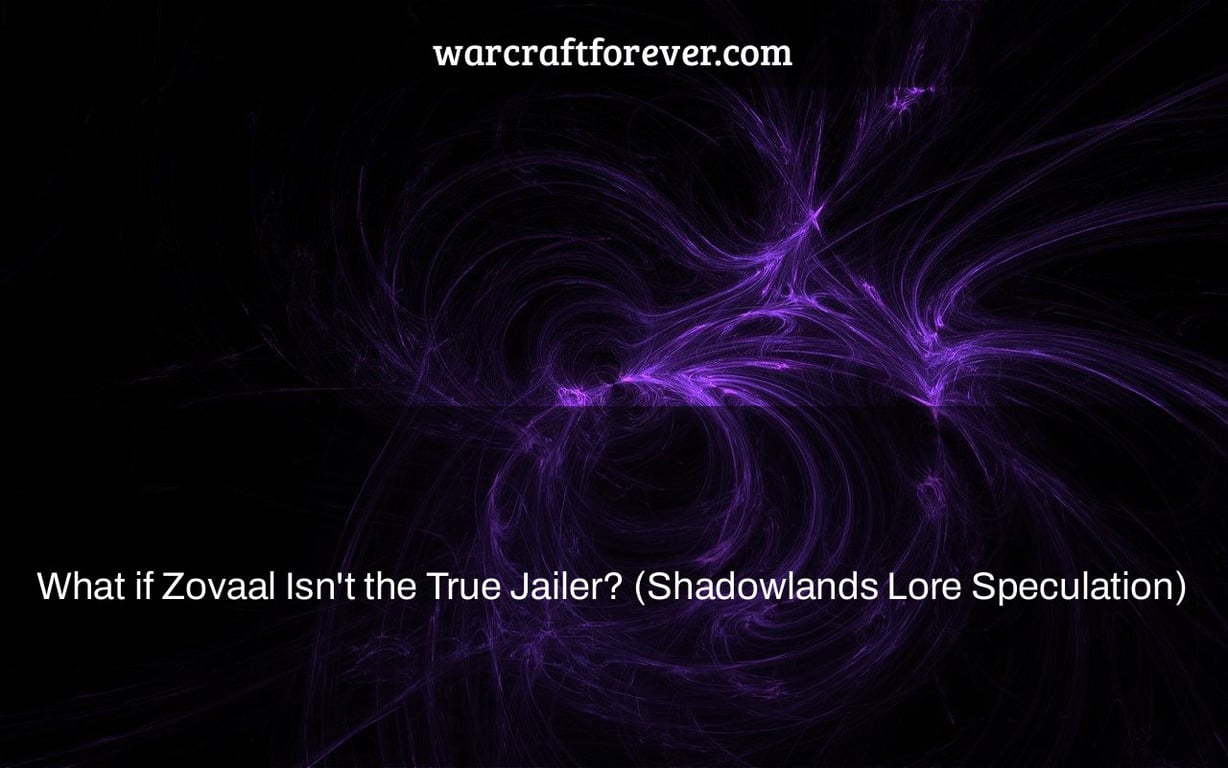 What if Zovaal isn't the Jailer, but rather a pawn in the hands of the Jailer? It's enjoyable to guess when it comes to lore analysis, even if you know the hypothesis is probably too far-fetched to be genuine. As the saga of the Shadowlands draws to a close, I'd like to propose my own craziest notion.
The Jailer is the Primus. Zovaal is his Dominated pawn, and has been from virtually the beginning, saying his words and carrying out his schemes. And we've just made a huge, huge error.
Allow me to explain.
Announcement from the Shadowlands
My theory begins with the Announcement from the Shadowlands trailer. Not the one where we see Sylvanas tear apart the Helm of Domination, the announcement trailer that we saw at Blizzcon 2019 opening ceremony. In case you need a reminder, here it is.
The trailer opens with a close-up of the Helm of Domination, followed by Bolvar Fordragon presenting himself as 'the Jailer of the Damned,' a moniker he used in the Fall of the Lich King finale. As the picture shifts to reveal Icecrown, the ripped split into the shadowlands above, the camera pans out to see the Helm lying shattered on the floor.
The damned's prisoner. A difficult assignment that I failed to do. Now, ripped asunder by her, the timeless curtain shouts.
The scene shifts once again, and we've arrived at one of the trailer's most pivotal moments. When Sylvanas first arrives in the Shadowlands, he approaches a person who is kneeling and shackled. We get our first look of the Jailer as the narrator warns of the "darkest of terrors" that should "never be allowed free."
The deadliest of terrors lurk inside the domain of darkness, and they should never be let go.
The next scenes illustrate the concept of the Shadowlands by exhibiting visuals of the places we'll visit: Bastion, Maldraxxus, Revendreth, and Ardenweald.
The shadowlands go on forever. Their terrors and splendors were never intended for human eyes to see. I'm not sure they'd be able to handle seeing what's in store for them. If their trust can be acquired, the inhabitants of this world hold the secret to restore the balance between life and death.
Finally, we see the Jailer again as Bolvar speaks the same words we'll hear throughout the expansion: "Death comes."
Death arrives, and the end of everything is just the start.
This is when things start to get interesting. The Jailer's silhouette does not like the Jailer as we are familiar with him.
Pyromancer, a Youtuber, purportedly posted a picture of the Jailer's early concept art in 2019. This picture corresponds to the silhouette shown in the trailer.
Both photos do not resemble Zovaal, but they do resemble someone we are familiar with: the Primus.
We've now been given an official explanation. Any little variations we see are the result of releasing early concept drawings before final artistic judgments have been made. In an interview, Ion Hazzikostas said as much.
But bear with me for a second. What if we pretend for the sake of this post that the Jailer's resemblance to the Primus in this initial peek of the expansion is a hint to the twist that's been lying in plain sight all along?
The Death of Zovaal is a story about a man named Zovaal who
After defeating Zovaal in the Sepulcher of the First Ones raid, a cinematic shows his demise. I wrote a detailed analysis of it and the preceding movie, but I left out a few remarks – mostly because they go beyond analysis and into sometimes very crazy conjecture.
In Sepulcher of the First Ones, the Jailer Encounter Cinematics are examined (Spoilers) If you'll pardon me, these are the things that sprang out at me and made me wonder – well, everything.
To begin with, when Zovaal is beaten and his armor melts away from him, the visual effect is extremely similar to how Anduin's Domination melted away.
Second, we never see the Primus in a flashback of Zovaal being judged by his fellow Eternals. Instead, he throws an unsettling shadow over Zovaal, and the clinking of Zovaal's chains can be heard. While it's possible that this was done to save having to produce a high-res model of the Primus, the effect is menacing, and it almost appears to emphasize the idea that the Primus was the one who imprisoned Zovaal – and might be called his Jailer.
Finally, when the Primus asks Zovaal to explain himself, we get a glimpse of a side of Zovaal we've never seen before. And his rationale here is startlingly different from anything else we've heard from him previously.
The Jailer: You hold on to what is doomed. A split universe will not be able to withstand the coming events.
In fact, gamers have reacted angrily to Zovaal's apparent shift in rhetoric, expressing their displeasure that he would wait until he was physically dying before revealing his whole scheme was for "a larger good." All he can speak about in the film we see before this meeting is his wonderful scheme. Other than the Jailer's own intentions for absolute dominance and control, there is no reference of "what is to come."
Every event is put in motion by Zovaal. Every pawn has been placed in the game. All for the sake of reclaiming the power that lies dormant inside your universe. The wounded, defenseless soul of Azeroth, brimming with potential that I shall utilize to destroy this faulty reality. Your world's soul has been taken by death. Now, mortals, bear witness to Eternity's End.
There's also the mystery of why Zovaal's apparent concern of a greater danger was never brought up to us. In his contacts with us, Zovaal has avoided mentioning it, preferring to brag about his Death-related plans for Azeroth and his excellent strategic ability. Sylvanas doesn't appear to be aware of it, as she never mentions it in her debates with Anduin Wrynn. When the other Eternal Ones tell us about this scenario, they speak about Zovaal losing his Arbiter authority and being sentenced to the Maw, but they don't mention him presumably fearing a larger danger. It seems to be a weirdly essential point to overlook.
Furthermore, Zovaal seems to be a distinct person in this scenario. His facial expressions are unlike anything we've ever seen from him before. He's become almost… gentler.
The Deception
So, here's what I've come up with.
Zovaal, the Primus, and Sire Denathrius stumbled upon two vital pieces of knowledge a long time ago. One was that a major danger was approaching. The other is that the Eternal Ones' sigils may be used to open a doorway to Mortis Zereth, a forbidden realm with the capacity to modify the world itself. The three of them decided to take action. They'd get their hands on Mortis Zereth and utilize his power to rescue the universe.
Warmongering to his core, the Primus believed that the only path ahead was for Death's forces to take full and absolute dominance over the cosmos – to vanquish all other Cosmos and rule supreme. Denathrius was in agreement. Zovaal, on the other hand, was convinced differently. "A universe divided will not survive what is to come," he says. A battle erupted, and instead of assisting the Primus, Zovaal had become an impediment.
The Primis realized two additional things at this moment. To begin with, acquiring access to Mortis Zereth would be difficult, particularly if other Covenant officials learned of his intentions and tried to intervene. Second, there's nothing like a nice distraction to keep you occupied.
Denathrius, his buddy, may have taught him that. The Primus disclosed the proof that Zovaal had attempted to contact Mortis Zereth, accusing him of attempting to get access to prohibited information in order to strengthen his own authority. The Primus, a great manipulator, staged events so that Zovaal seemed to be the perpetrator of the acts that would most enrage the other Eternal Ones. This is evident in the judgment itself, as Kyrestia, the Archon, expresses surprise that Zovaal, the Arbiter, would abandon his holy duties. Zovaal's danger to the grand cycle has the Winter Queen scared.
Denathrius, of course, is aware of the reality and just reminds Zovaal that he had the option of cooperating with him and the Primus rather than opposing their objectives.
The Archon: You have disobeyed your duties as Arbiter, and you will be bound for the rest of your life. The Queen of Winter: Your insanity has put the whole cycle of Life and Death in jeopardy. Denathrius, Sire: You might have gone a different route, brother. Consider what we might have done if we had worked together.
Zovaal was caught off guard and didn't see the danger coming; before he could react, he was stripped of his Arbitership and placed in chains, the crime he was accused of being so heinous that the rest of the Eternal Ones agreed to the worst penalty available.
The Origins of Dominance
The Primus had been working on something rather astonishing, it turned out: a runic language whose primary aim was to completely silence another. Domination magic was developed by the Primus, not the Jailer, and was used to tie Zovaal as part of his sentencing to the Maw. The Primus designed everything of the Domination we've seen in our own world, including the Lich King's helmet and Frostmourne. (Zovaal, he claims, used Domination against him, compelling him to create these beings, which he then sent forth into other worlds – but more on that later.)
However, as powerful as the Primus' runic language was, we must assume that a greater force was necessary to tie his rebellious sibling, Zovaal. Would beings like the Eternal Ones be remorseful for eternally damning one of their own? What offense might have been performed to justify such a punishment? Of course, such explanations are beyond our comprehension. What is obvious is that the Primus provided exactly what was required: a new runic language whose primary goal was to obliterate the previous one. The Dominion's language. – The Shadowlands Grimoire
Of course, we've seen Domination magic in the past, with Ner'zhul, Arthas, Death Knights, and other victims. But, with the Domination of Anduin Wrynn, we've got an opportunity to observe the impacts of this dreadful power up close in this expansion.
The first time we see a dominated Anduin, it's in the cinematic Kingsmourne. The Jailer, out of patience, finally commands Sylvanas to forcefully dominate Anduin against his will. As she's about to do it, she seems to hesitate – while he challenges her to make a choice. In Taliesin & Evitel's cinematic analysis of Kingsmourne, Taliesin points out the fact that, for a moment, we don't know for sure if Anduin has been corrupted or not.
Anduin arrives in Elysian Hold, and the situation shifts. He seems to be himself, speaks in his own voice, and even uses his own voice at first. Anduin, the great lover of peace, doesn't typically appear this hostile, so that's the only visual clue we have that something's wrong.
The illusion finally breaks when the Archon learns it's the Jailer, and we see the visual evidence of Domination – too late to spare the Archon from assault or prevent the Jailer from obtaining her symbol, as it turns out. The idea that looks may be deceiving is a recurring subject in Shadowlands.
Even when Anduin seems to be himself, and definitely after he begins to reveal the more visible visual affects of Domination, we recognize that the voice we hear is frequently not his. The Jailer, on the other hand, communicates via him – and does so even throughout and after the Anduin Wrynn boss battle.
Jailer (through Anduin): Do you not grasp what I'm saying? This one is a no-brainer for me. Anduin! says Sylvanas. (Through Anduin) Jailer: Complete your ultimate goal: annihilation. The destiny of everyone who wields my sword.
Zovaal's Role in the World
Returning to Zovaal. The Primus carved Domination runes into his skin as he became the first creature to be Dominated.
The Jailer's face was engraved with powerful runes, which could only signify one thing. The Primus utilized the language of Domination to inscribe the Eternal Ones' sentence on his brother's flesh, using this whole new system of magic to imprison the Banished One in what was supposed to be an impenetrable prison. – The Shadowlands Grimoire
Here's something more to think about. Every other Dominated persona we've encountered hasn't behaved like themselves and doesn't speak in their own voice. Domination's primary objective is complete control, to completely conquer a person's will. Zovaal was the first Dominated character, and the runes that dominate him are engraved into his body rather than just covering his armor.
Why do we just accept the assumption that he is completely in control of his own will?
Going through the Jailer defeat cutscene again, I found something interesting. There are no runes inscribed onto Zovaal's face when he responds to the Primus's query. He hasn't been dominated in any way.
Furthermore, the scenario shifts in the middle of his speech. As he claims,
You save what is destined to perish. A universe divided will perish…
Kneeling in front of the Primus, he recalls the scenario.
But suddenly the scene shifts to the present, and the Jailer, now changed into an empty vessel, utters the last words.
…as well as what's to come.
This is what I believe occurred. Because it is the final recollection Zovaal had before his mind was eternally bound by Domination, the memory fades out at that point. I suppose that's when the Primus etched his Domination runes into Zovaal's skin, interrupting him in the middle of his statement. Those last remarks were never heard by the Eternal Ones.
I also think Zovaal was Dominated from that point on till he died. We watched as the Domination seemed to dissolve away from him in the same manner it had melted away from Anduin.
I think the major reason Zovaal seems so different in that moment is because it is the first and only time we have ever seen him talk in his own voice.
Every encounter we've had with him since his Domination has been with "The Jailer" – a being who has always been Zovaal's Jailer – the one who has been dominating and manipulating him – The Primus.
It's important to remember that titles might relate to more than one person. In Oribos, "The Arbiter" was not always a broken construct. It used to refer to Zovaal. Spoiler alert: we already know it will relate to someone else at some point in the future. Prince Renathal shown that he has the potential to be the next Sire of Revendreth. Ner'zhul was formerly the Lich King, and Arthas was swayed by him. Arthas later rose to become the Lich King himself.
So, if this is the end of Zovaal's Domination that we're witnessing in this cinematic, it paints the memories he experiences here in a new light as well.
The sky above Icecrown has been ripped open. In full Domination armor, Zovaal. Before his complete armor, Zovaal wears a collar around his neck, and the runes of Domination engraved into his skin gleam with power.
When he exclaims, "This must not be!" it's assumed that he's upset at finally being vanquished. But it might also be dissatisfaction with these images and memories of the things he's done – or been compelled to do – since he was Dominated.
The primary error in this view is self-evident. Zovaal may have been Dominated by the Primus at first, but he discovered a technique to undo the effects of Domination. Furthermore, when the Primus went to examine the Maw, Zovaal used his own power against him, imprison him as The Runecarver is an expert in runes. in Torghast and forcing him to build the well-known artifacts like as the Helm of Domination and Frostmourne utilizing Domination.
Unless that's not the case.
A Master Strategist and Tactician, The Primus
Despite the Jailer's boasts about his own grand and clever scheme, Zovaal is not the Shadowlands legend figure depicted as a master thinker and tactician. That is, in fact, something that has been mentioned especially regarding the Primus.
The Primus of Maldraxxus was regarded as the most tactical and strategic of the Eternal Ones that control Death's lands. Against any opponent, his stratagems and weapons would prove invincible. According to one version, the Primus' sole defeats were on purpose, since he believed there was more to be learnt in failure than in a never-ending string of definitive triumphs. – The Shadowlands Grimoire
Steve Danuser discussed how the Primus became such a superb tactician in an interview with SA Gamer.
Thanks to a little aid, the Primus has honed his tactical deduction and strategic reasoning beyond mortal bounds. "It is reported that the Primus sought out an ally who could show him the limitless timeways, which he used to see the same conflict play out again and over again throughout realities," Danuser says of his hard training program. He pointed out how even little variations in strategy and personnel placement may tip the fight one way or the other. The Primus can instantaneously appraise any circumstance and create the most probable route to triumph after decades of rigorous study."
With all the discussion about Dragons in 10.0 and everything, "It is rumored that the Primus sought seeking an ally who could reveal him the endless timeways" is one hell of a statement to stumble across in a lore interview from over a year ago. If I'm mistaken and Zovaal is the Jailer, this is strange. Why was the Primus built up as a master strategist in this way? One of the issues with Zovaal's constant claims of playing 5D chess is that few people believe him. He seems cartoonishly nasty, like someone we're supposed to distrust at first sight and go to great lengths to avoid – not at all like a brilliant strategist. That's made worse by the presence of a character who is obviously trying to be a realistic strategist.
But if I'm correct and the Primus is really the Jailer, everything makes sense. He'd have to be a genius to pull it all off. He'd need the kind of strategic thinking that comes from witnessing the same war play out over and again across other universes. And if part of the Primus' strategy was to make it seem as though Zovaal was solely responsible for everything from Domination armor designs to the plot to reach Mortis Zereth, then the Primus would want to portray Zovaal as the Big Bad. He'd have Zovaal say and do things that made him seem like a truly scary foe with his own goals. It's the ideal diversion. Even if we beat Zovaal, we'll be lulled into a false feeling of security, congratulating ourselves on severing a puppet's cords while the puppeteer walks free.
But how does it square with the Primus's own impronment as The Runecarver is an expert in runes. in the Maw? That is something I am working on.
The Primus claims that he started to observe Zovaal's effect outside of the Maw and decided to investigate. He concealed his symbol in Korthia, then traveled to the Maw, where Zovaal fought him, robbed him of his memory, and imprisoned him as The Runecarver is an expert in runes..
It is unusual that the Shadowlands' greatest strategist, who is reputed to only suffer defeats he intends, could be so easily outwitted and destroyed by his own Dominated pawn. According to the Shadowlands' Grimoire,
Domination, the Primus' most powerful runic language, was supposed to stay in the Maw, but even the best-laid schemes sometimes go wrong.
That's a clever way of phrasing it. The best-laid intentions often go astray. We were informed shortly after that when the Primus seems to experience a loss, it is done on purpose. This seems to be a hint to me.
The Runecarver is an expert in runes.
When we meet The Runecarver is an expert in runes., he seems like quite the pathetic creature. Chained up in Torghast, he tells us how his memories have been stolen by Zovaal, but if we help him by bringing him his memories, and releasing one of his hands, he promises to help us by creating powerful equipment.
We really want to achieve this since it will allow us to utilize the Runecrafting method, so we enlist Ve'nari's assistance. She does, but she takes a minute to caution us about our behavior before sending us on our way.
This ought to be enough to break the bonds that hold your newfound ally. <Ve'nari pauses for a moment.> Before you do so, I offer a word of warning. No creature imprisoned in that place should be trusted. Tread carefully, mortal. After all, it would be a shame to lose so valuable a business partner.
I'm reminded of the Blizzcon announcement trailer once again. While the narrator informs us, Sylvanas comes to a halt in front of a kneeling and shackled person.
The deadliest of terrors lurk inside the domain of darkness, and they should never be let go.
The implied meaning is that the chained figure is Zovaal, who was set free by Sylvanas. But that isn't the case. Even though we've seen visions of Zovaal bound and shackled in this manner, he couldn't have been physically tied himself by the time Sylvanas came if he conquered the Primus millennia before. By the time she arrived, the only creature remained in that posture was the same bound and chained individual kneeling on the floor that we had helped to liberate in Torghast.
The Runecarver is an expert in runes. Conspiracy
So, here's what I believe occurred.
The Primus thought he could employ Domination magic to great advantage in his plot to spread Death over the cosmos, but he wasn't quite ready to admit it. For a time, he worked in both Maldraxxus and the Maw, using his puppet Zovaal to conduct experiments and begin the process of forming a Mawsworn army, but he eventually decided that he needed to be in the Maw himself to properly oversee things, possibly because Zovaal had begun to show signs of being able to resist Domination.
However, the Primus' preparations required that his actual intents be kept mainly hidden. With the exception of Denathrius, the rest of the Eternal Ones – and a large portion of the Shadowlands – would try to stop him if they found out, so if the Primus was going to relocate to Torghast, he'd have to do so in a way that would never raise suspicion – even if he was found literally creating tools of Domination.
As a result, the Primus left a sequence of messages behind. If discovered, they would give the impression that he was concerned about Zovaal escaping his bindings and pursuing the sigils once again. He concealed his own symbol in Korthia and then pretended to vanish.
In actuality, the Primus intended to pursue Mortis Zereth' power, but he would continue to employ Zovaal as a pawn in his scheme. That way, he'd be able to infiltrate the Sepulcher without the other Eternal Ones noticing. But we'll get to it later.
By the time we come across The Runecarver is an expert in runes., we are lead to believe he has been imprisoned for eons, that he's entirely helpless, and that he's been forced to create the tools of Domination that we've seen have been sent out into the world. We are lead to believe this by The Runecarver is an expert in runes. himself. This is the Primus's story. And it's a deception.
The Primus, in actuality, was in command the whole time.
"The few losses the Primus sustained were purposeful," it is said once again. There's reason to suppose that if we discover the Primus seeming to be defeated, it's all part of his master plan.
The concept of deception runs throughout the Shadowlands tale. We're cautioned right away that things aren't always as they seem. In the narrative of Maldraxxus, we learn that one of the House of the Chosen's leaders has been misleading us all along. We first aided Sire Denathrius in his revolt in the Story of Revendreth, but we were frequently cautioned that things aren't always as they appear – and this is proved true when we learn Denathrius is working with the Jailer.
Many of the Forsworn have been duped by their own commanders, and had no clue they were collaborating with the Maw, according to the Bastion Covenant Campaign. In the Ardenweald Covenant Campaign, we are duped into murdering a friend who is disguised as an opponent.
We are frequently duped by Dreadlords who we learned had entered Renathal's court in Chains of Domination, patch 9.1's plot. We find they were manipulating events all along, and their ultimate goal was to rescue Denathrius, just when we believe we've found out and blocked their schemes. We assisted the Dreadlord Kin'tessa in finding the Fatescribe she was looking for in Korthia's side missions.
The tendency of deceit continues in Secrets of the First Ones, patch 9.2's tale, when the Dreadlord Mal'Ganis once again utilizes our image to deceive others.
Mal'Ganis (as you) says: Are you surprised? Mal'Ganis (disguised as you) says: Would anybody notice if I genuinely replaced you?
These are only a few instances, but you can see the pattern. You can't put your faith in anybody. Things aren't always what they seem to be. Just because something looks to be one way doesn't imply it really is. We are told this again and over again, yet we continue to be duped.
When Ve'nari warned us not to trust The Runecarver is an expert in runes., it was easy to dismiss at the time. We already knew The Runecarver is an expert in runes. was going to be an ally to us – helping us to make our powerful legendaries. Ve'nari's warning could quite safely be put down to a little bit of flavor – boding words to give a utility questline a little bit of edge.
Unless we really do take the over-reaching theme of deception to heart. What if we look at The Runecarver is an expert in runes. with the attitude that he might not be as helpless as he seems.
We've known for a long time that the Primus is the mastermind behind Domination, that he designed the Lich King's crown and armor, as well as the mourneblade Frostmourne, but we've never accused him of any wrongdoing since he looked to be Zovaal's prisoner.
If I'm correct, and the Primus has always been completely in charge and the genuine Jailer, then his appearance as Zovaal's prisoner is the ideal cover. No one will believe that the prisoner of an evident evil character like Zovaal is also his master and has complete control over all he says and does.
It also makes more sense in light of what we saw in the unveiling trailer. We've assumed that Sylvanas is standing in front of a chained figure is Zovaal, despite the fact that Zovaal wasn't chained that way when she arrived, and the silhouette looks more like the Primus than Zovaal. We chalked up the inconsistencies to art being released before the final concept was ready.
But what if it's not an inconsistency at all, but rather a deliberate choice? Then, just like us, Sylvanas would stumble upon a bound and shackled Runecarver. She, like us, thinks he is Zovaal's prisoner. In the last moment, we see the person towering behind Sylvanas – he looks even more like the Primus, and he is definitely in charge, the true mastermind behind all of her deeds, as well as ours since we met him.
There's one more question. If the Primus had never been Zovaal's slave, he wouldn't have spent his time in Torghast locked up.
No, no, and no. The Primus wouldn't have to stay in Torghast for the rest of his life. He hadn't expecting many guests since the location wasn't really well-known. He'd just have to make sure we'd be able to locate him if we were to drop by. He had a convenient means of keeping an eye on everything going on in the Maw – the Jailer's eye, to be precise.
Here's something more to think about. In the 9.2 storyline Focussing the Eye, we finally got rid of the Eye of the Jailer debuff. We "rescued" the Primus from Torghast in The Last Sigil the next week.
The Long Game (Very)
So the Primus is hidden in Torghast, manufacturing Domination instruments to send out into the cosmos while simultaneously being ready to pose as a hapless slave performing what he's been compelled to do to anybody who discovers him. Because Denathrius is his friend, he makes extensive use of Dreadlords to infiltrate other Cosmological groups, like as the Burning Legion, and sow the seeds of Death. Remember that the Primus' ultimate objective is for Death to become the most powerful force in the cosmos, namely Death under his own reign. Every action he's taken has been aimed towards achieving that objective.
I've previously mentioned the evidence that the Primus is a tactical marstermind, implying that if he wanted to pull this off, he has the intellectual tools to do it. But does he really want it? Is any evidence to support my claims that the Primus is as ambitious and aggressive as I claim?
Maldraxxus, the Shadowlands' army, is ruled by the Primus. Maldraxxus, a zone with a distinct Scourge aesthetic and the source of necromantic power, is notorious for prioritizing victory above everything else.
Victory—achieved via honest or dubious methods, whether through power or guile—is the ultimate qualification for a position among the Maldraxxi. Any soul steeled to survive hardship, according to legend, achieves Maldraxxus' goal of forging an everlasting army of unyielding souls ready to protect Death from those who threaten its purity.
Maldraxxus has also been known to wage war on other Cosmos kingdoms. In the film Afterlives: Maldraxxus, we watch Baroness Draka learn to adopt methods like stealth and subterfuge as she adjusts to her new home. People soon remarked that one of the sequences in the movie seemed very similar to one in Harbingers: Illidan featuring Felguards, prompting to conjecture that the Necrolords battled the Burning Legion.
Several conflicts between the Shadowlands and other Cosmological forces have subsequently been proven – and the Maldraxxus fight against the Burning Legion is particularly stated in one of the lore books that we first discovered in Tazavesh, penned by our buddy Firim:
The demons of the Twisting Nether wrecked Irik-house, tu's they said, and they died in a horrific conflict.
We all remember the story of the Burning Legion's assault on Maldraxxus and the horrific cost of the necrolords' triumph, so I nodded solemnly.
– Part 3 of Expedition Report A37J, page 4
A clip of the Felguards in the same Afterlives film clearly shows trees in the backdrop. Here's the deal: Maldraxxus is devoid of trees. In a Shadowlands Art Interview, it was even stated as something the art team had to design around.
One of the major obstacles in Maldraxxus, for example, is the lack of trees in the zone. On the screen, we needed to identify pieces that did the same thing – vertical shapes to break up the horizon lines.
This had already been spotted, indicating that Draka had departed the Shadowlands to visit the Legion's base.
In other words, although Maldraxxus is commonly portrayed as the protector of the Shadowlands, there is evidence that there was already a tendency toward the invasion of other Cosmological realms during the Primus' reign.
It's also worth noting that each Eternal One creates their own domain based on their own characteristics. With that in mind, I'd like to emphasize some of the attributes attributed to Maldraxxus once again. Each of the Maldraxxian Houses, their lord, and their distinguishing attributes are listed in the Grimoire of the Shadowlands.
House of Constructs, Margrave Gharmal, abode of juggernauts, of physical force and intimidation
Margrave House of Rituals, Sin'dane, is the abode of necromancy and magic, as well as intelligence and ambition.
House of Eyes, Margrave Akarek, house of deception and infiltration, secrets and flaws
House of the Chosen, Margrave Krexxus, home of weaponry and armor, tactics and strategy
House of Plagues, abode of toxins and poisons, delieration and decay, Margrave Stradama
Maldraxxus parallels our beliefs of Orcish civilization in many aspects, such as valuing strength and triumph, strategy and intimidation, but there is also a major focus on more underhanded pathways to dominance, such as deception and infiltration, exploiting vulnerabilities, poisons, necromancy, and decay. We can't help but notice that the word "honor" is absent from that list.
This links in well with Scourge invasions, infiltration of other Cosmological troops, and a number of other things we thought were part of Zovaal's strategy. It's likely that the Primus justified certain invasions by stating they were defensive in nature, such as attacking the Legion's stronghold in reprisal for the Legion's assault on Maldraxxus. However, he wouldn't be able to explain all of his military operations in this manner, which is why he needed to utilize Zovaal as a front. "It's not my fault that the Domination I built ended up in so many other places. I'm a detainee. Zovaal forced me to do it."
Let's face it, the Seat of the Primus also has an evil-mastermind-planning-to-take-over-the-universe aestethic.
When It Comes to the Primus's Seat
A massive statue of a Necromancer looms above Maldraxxus. Why not simply the Primus himself? I've always thought that was a weird option. During a conversation with Paryah regarding the Primus=Jailer idea, she said the following:
I think, and always have believed, that the Primus appears like without his mask on the Seat of the Primus, the statue itself. The primus, like that statue, has shattered teeth, much like the wonderful old gandalf magician. The statue has a hooded person, which represents deceit, and a skeleton, which represents death.
Check out the traditional "disguise" of bushy eyebrows. Check and double-check your glasses, ideally with horn rims (literally). Check for a large nose. Check on steroids if you have a mustache.
When I look at the primus, the first word that comes to me is "wizard." Not only me has referred to him as "Gandalf." This brings me to the Wizard of Oz, who was not who he seemed to be. Sylvanas is out to fight the actual enemy behind the curtain, as I said in my Arthas post.
Zovaal's chest has a hole in it. He is a hollow vessel with no heart. This has been bothering me from the beginning. Bing! Add the collar and you're done!
Character Spotlight: Arthas Menathil – An Iconic Villain Has Come to an End
However, the Anima
It didn't seem like the product of a long-term strategy to make Death the most powerful Cosmological force in the cosmos by the time we arrived in the Shadowlands. We discovered a lot of it was weakened and devoid of anima. The Primus' own realm, Maldraxxus, is in shambles. At first look, it does not seem that this is all part of the Primus's plan. For this, I'd want to return to a chapter in Grimoire of the Shadowlands, where we might learn a great deal about the Primus's workings.
The Primus realized that physical power would not be enough to win his realm; there were many nuanced facets of battle that need strict techniques of training and discipline. As a result, the Primus split his necrolord warriors into five houses, each of which reflected one of the five characteristics of the perfect Death champion. Each house, by its very nature, had a tense relationship with the others as they vied for control and power. This struggle took the shape of tense military drills at times, while at other times it was a lengthy game of deception and espionage. This infighting was not a sign of a failed system, but rather a necessary component of success. Conflict was an established method of claiming and maintaining power among Maldraxxus' most powerful. Weak commanders were as a result of it killed and replaced by those more fitted to lead their immortal army. While this technique is efficient at growing strength, it also explains why these once-mighty homes are now in such a condition of ruin.
First and foremost, the conflict we see Maldraxxus in when we arrive is on purpose. The Primus set up his zone this way on purpose, ostensibly to make his armies stronger, but it also had a secondary effect: it meant that no one could ever fully take the Primus's place, that his rule and position would never be challenged, because anyone who might pose a threat to him would be too preoccupied with fighting each other to question or overthrow his rule.
Second, manipulation and espionage are just as important to the Primus' goals and efforts as physical strength.
Third, conflict is a tool that the Primus use to hone his own abilities. He wants everyone in his army to be as strong and valuable as possible if he plans to launch a full-scale invasion from the domain of Death.
This is what I believe occurred.
With Denathrius' assistance, the Primus started to channel anima straight into the Maw in order to strengthen the army he was assembling. The sharpened impact of the anima draining away from the other worlds was noticeable. Faced with extraordinary adversity, the inhabitants of those worlds grew tougher and more resilient. The Primus started invading other worlds via Zovaal, developing friends and connections all throughout the Shadowlands.
What is the targeted outcome? While he desired Mortis Zereth' might, no great strategist depends on a single strategy. Zovaal also intended to utilize Domination on the remainder of the Shadowlands' inhabitants. He'd never have to persuade the Arbiter or the Winter Queen to join his cause; all he'd have to do is attack when they were least expecting it.
There was only one issue. Domination has shown its flaws.
The Issue of Domination
It's a motif we've seen before, but it's been amplified in the Shadowlands. Domination, although its might, is not without flaws. Even when totally Dominated, as Anduin demonstrated, it is possible for a victim to have moments of insight.
This is what I believe occurred.
Zovaal did began to exhibit symptoms of resistance to Domination, which is one of the reasons the Primus thought he needed to travel to the Maw in the first place. He began sending Domination tools out throughout the cosmos after he arrived, and watched how they, too, sometimes failed. This is why the Primus never sought to Dominate the rest of the Eternal Ones – one he could keep an eye on and prevent from ever totally escaping, but the other two – as well as all the residents of the Shadowlands? It's really too dangerous.
As a result, the Primus has been biding his time, playing the long game, sowing more and more seeds of Death throughout the cosmos until he felt ready to put the current events in action.
Mortis Zereth
So, let's assume all of the foregoing is correct. The Primus was trusted by the Archon and the Winter Queen. Why didn't he steal their sigils instead?
Probably because the act would have made him seem like a bad guy. The Primus' intentions rely heavily on secrecy. It's much safer to employ Zovaal, who the others already know to desire their sigils, and have him mention something about being exiled every now and then to make his reason seem plausible.
So alright. Let's say that, when Zovaal collected and used the covenant's sigils to create a portal into Mortis Zereth, he was as much of a Dominated pawn as Anduin. Why would the Primus have Zovaal open a portal, leave through it, and not follow himself?
First, Mortis Zereth is, canonically, a mysterious realm said to be the Workshop of the First Ones. When we knew that's where we were headed, we kind of expected to, at some point, meet First Ones ourselves.
The First Ones specifically forbade the Eternal Ones from visiting Mortis Zereth, and, from the sound of things, likely would be very much against any plans on the Primus's part to expand the reach of Death. There is also the very real possibility that they are the threat Zovaal warns about at the end of the Sanctum of Domination raid.
If the Primus is wary enough to act as if he is a prisoner of his own pawn, he is presumably wary enough not to enter an area where the First Ones may be waiting blind.
This is what I believe occurred.
The Primus did organize for the Jailer to visit Mortis Zereth first, sending him with a Mawsworn army but also – importantly – under the supervision of Dreadlords. The same Dreadlord, in fact, that he once sent to supervise the Lich King situation: Mal'Ganis. Perhaps Denathrius went too, who knows.
The Primus knew he would be able to follow, because he knew how to create more sigils. What's more, he wouldn't have to fight anyone for the power to reach Mortis Zereth this time, or be exposed when he took them. Thanks to his masterful manipulations, we would hand the sigils over to him willingly, "for safekeeping".
Once the Primus had established Mortis Zereth was safe, he revealed the way to make the Arbiter's sigil. As it turns out, it was easy – the Attendants of Oribos were able to forge one. The portal opens, and the Primus makes a great show of telling us he would not be going himself – the Eternal Ones are forbidden.
Dreadlords assault just as we're ready to walk through.
Remember that Dreadlords attacking as a distraction has happened before.
When I was last in Korthia, I saw something interesting. The Primus is nowhere to be found. He is, in reality, nowhere to be seen.
While we last saw him while that gateway was open, we have Bolvar's word that he was spotted after it was closed. The Primus seems to have put the gateway in Oribos, expecting us to reopen it.
Highlord Bolvar Fordragon says: After your flight from the Arbiter's chamber, we defeated the nathrezim… but they had sabotaged the gateway. Highlord Bolvar Fordragon says: Once the stain of Maw magic had been cleansed, the Primus placed the gateway in this chamber. Highlord Bolvar Fordragon says: He trusted that you would find an anchor on the other side to reactivate it, giving us a path to Mortis Zereth.
This is what I believe occurred.
The Primus is in Mortis Zereth.
He couldn't get via Zovaal's portal since it was too visible. When we originally established our doorway, he couldn't come through since everyone would notice. Instead, he ordered the Dreadlords assault the portal and "sabotage" it.
Then he put the dormant gateway in Oribos, explaining that he believed we would activate it. Perhaps he had previously learnt of the Waystone from his Dreadlord spies and knew it would open for us. Maybe he merely wanted to make it seem as though we were going to open it later.
Either way, the Primus still wouldn't be able to travel through any gateway that was openly known about. The Eternal Ones are forbidden from visiting Mortis Zereth – the moment he crosses that line, his mask slips away and he's in open war with the rest of the Shadowlands. His only chance was to slip through an open portal while everyone else thought it was closed.
So after he placed the gateway in Oribos, while it still appeared inactive, the Primus used it to come through to Mortis Zereth. Yes, the Dreadlords had sabotaged it, but if they are the Primus's allies, it's entirely possible for them to have placed some sort of back-door in the now-closed gateway, where if you knew exactly what you were doing, you could still use it to slip through.
So, what's next?
We do actually see the Primus in Mortis Zereth this week, but it's a projection of him. The official story is that he is still in Oribos, but that he is communicating telepathically to offer us advice.
I can't help but notice a recurring trend here: one of the Primus casting a shadow. His shadow, behind Sylvanas, according to the expansion release. The Primus is nowhere to be discovered when we first enter and explore the Shadowlands, but we hear about him, get a message from him, and transmit that word to others – the Primus may not be there in 9.0 as himself, but his presence nonetheless throws a shadow. We have images of the Primus in Korthia in Chains of Domination that lead us to his insignia, as if he left a shadow of himself behind to guide (or control) us. We observed as he threw a shadow on Zovaal in Sepulcher of the First Ones. Finally, we deal with an image – a shadow – rather than the Primus himself.
What is the topic on which the Primus is counseling us? Domination.
In Crown of Wills, the fifth chapter of patch 9.2's story campaign, we help research Domination – specifically, the ways to resist it. We learn that the denizens of Mortis Zereth have some natural resistance to Domination, and that first one phrases are the key to that resistance. We also learn about the moments that helped major lore characters throw off Domination in the past, and infused the shards of the Helm of Domination with their will.
And, sure, understanding how to resist Domination seems to be crucial. However, there might be another reason. The Primus, upset by Domination's flaws, has seized this chance to further investigate it, seeking our assistance not to destroy the weapon, but to iron out the kinks and perfect it.
The Primus brings us into his Runecarver's chamber at the Conclusion of the questline, where he forges the Crown of Wills, a potent anti-Domination instrument.
Then he takes the Crown from us, informing us that he would "keep it near until it is required again," while we concentrate on destroying Zovaal.
Note: There is one significant distinction between the Jailer as we first saw him and the Primus as we know him now. The Jailer wears a Crown, whereas the Primus has horns.
Now, I'm not claiming that the Crown he's wearing is the Crown of Wills; the models don't match, for starters. I'd like to note out that the Primus' horns are really a mask or headgear of some kind. If you examine his model attentively, you'll see that it matches the rest of his armor, including his glove and shoulder piece. This corresponds to his Runecarver form, since there's no room for those horns behind that mask.
So I'm just saying that if the Primus took off his horns and put on that crown, he'd look a lot more like the Jailer's early concept art than one would imagine.
His horns seem to be part of a mask rather than affixed to his head in his Seat of the Primus statue. And, you know, why is his statue so sinister-looking in the first place?
What's in Store
We feel we are victors at the time. Zovaal is no longer alive. The chasm between our world and the Shadowlands has been bridged. The soul of Azeroth is secure.
The Primus may or may not be evil, and he may or may not be precisely where he wants to be: with a lot more information about why Domination occasionally fails, a Crown whose power we don't completely comprehend, and potentially even unfettered access to the universe-altering power everyone has been talking about.
Spoilers for the PTR are ahead.
We don't see the Primus or the Crown of Wills in quests in the PTR, however we have seen Arbiter Pelagos wearing the Crown in datamined photographs. The Mawsworn onslaught, on the other hand, does not seem to be completely over. The Dreadlords and the Dominated continue to pose a continual danger, and the Dreadlords even carry out a plan that they say was set in place centuries ago by the Jailer – obviously they didn't receive the message that he'd been vanquished.
Patch 9.2.5 is on the way, and patch 9.2's main plotline had an eighth and final chapter dubbed "Epilogue: Judgement" before it was removed. We all know that, conspiracy or not, there are still a few loose ends to tie up, especially with Tyrande and Sylvanas.
The PTR Spoilers zone has come to an end.
Finally, right the beginning of this article, I mentioned a line in the announcement trailer: "Death arrives, and the end of everything is just the start."
"It's just the beginning," says the narrator. I'm not sure whether I need to mention anything at this point, but Patch 9.2 is called "Eternity's End."
Conclusion
So, what does all of this mean? Do I believe we'll also learn that the Primus was the true Jailer all along, and that whenever Zovaal says things like "Each and every event is put in motion. Every piece in the game "It was the Primus himself, bragging in plain sight about a scheme that needed godlike talents of manipulation, deceit, and strategy, wouldn't you agree?
To be honest, no. But it's a lot of fun to guess, and my favorite part about this hypothesis is that it's always plausible, even if the Primus never shows himself and we never find it was all a great conspiracy. It's possible that he hasn't exposed his real colors yet since he's still playing the long game. And it is a headcanon I prefer to believe, if for no other reason than my own delight.
I will leave you with one last thing. There is a precedent in World of Warcraft to use Latin, or Latin-sounding, words to hide secret meanings. As an example, the "mortis" in "Mortis Zereth" means death – we were told Grimoire that Zereth itself translates to "keystone" or "cornerstone", giving us a name that translates to "The keystone/cornerstone of death".
Apart from the obvious Dreadlords, World of Warcraft also has a precedent of deception and manipulation tied specifically to Dragons – Onyxia, the Black Dragon, and her own long-game of deception and subterfuge, was one of the first threats we ever faced, as I was reminded while writing the history of Anduin Wrynn.
With all of these considerations in mind, I'll suggest one probable meaning for the name "Maldraxxus."
"Malum" is the Latin word meaning "evil."
"Draco" is a Latin word that means "dragon."
Maldraxxus is a Greek word that roughly translates to "evil dragon."
I had a strong desire to utilize this picture in some way.
"Primus wow" is a theory that Zovaal may not be the true jailer. This is because he has been seen to have shadowlands lore. The Shadowlands are where all of the evil beings go when they die, so it makes sense that Zovaal would be in there. Reference: primus wow.
Frequently Asked Questions
Is the Jailer Zovaal?
Why did Sylvanas join the Jailer?
A: Sylvanas was forced to join the Jailer.
Why was the Jailer banished wow?
A: The Jailer was banished to the Outlands because he had become corrupted by power and greed, which is why he ended up running the Ironforge jail.
Related Tags
the jailer wowhead
zereth mortis
zovaal's vault
mmo-champion
zovaal shuffle