This week's Wrap-Up tackles the new armory system and how it is impacting pricing. There was also a lot of talk on LFR this week, with many players wondering if they should try to make their way out of standard raiding into LFR as soon as possible or wait for tier sets in January.
The "wow economy" is a weekly wrap-up of the latest news, updates and guides for World of Warcraft.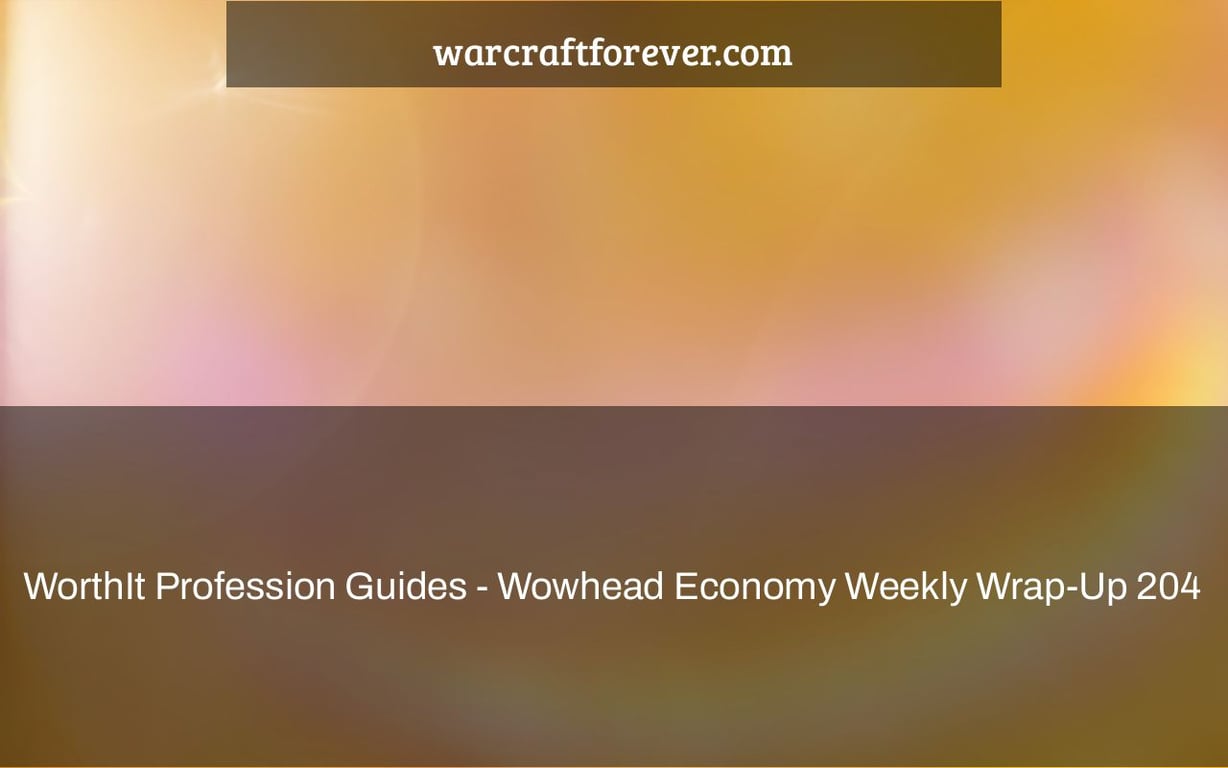 Weekly Economic Update in World of Warcraft Hello! The 204th episode of the WoW Economy Weekly Wrap-up is here!
My name is Samadan, and I'm a content maker that specializes in leveraging Professions and TSM to make money. On YouTube, I have a variety of tutorials, and I also broadcast my trips on Twitch.
If you'd like to join in and raise any questions, I'll be covering the piece live on my Twitch broadcast immediately after it's published.
On www.twitch.tv, you may watch live footage from Samadan.
Guides from WorthIt
DalaGG has been hard at work producing a beautiful in-game guide for leveling professions, among other things, since the alpha release of WorthIt Guides a few weeks ago….
Hey All,
I've just finished my Project WorthIt Guides, which I've been working on for the last 5 weeks, and here is the grand finale. This will cover the whole addon and should answer any questions you may have.
WorthIt Guides Begin with Guides, and you have a lot of them to start with. Whether you're a newbie or simply attempting to get into Gold Making, there's a guide for you. This includes a wide range of things, including farming, crafting, flipping, and beginner guides on where to begin. I also took the liberty of giving basic 101 tutorials to the addon for those who are just getting started, as well as my personal TSM Strings.
I decided at the last minute to include my own Shadowlands TSM Strings for Crafting, as well as a basic setup in case you wish to develop your own. With all of these tutorials, you should be able to pick up some new techniques and tips while also improving your Gold Making skills.
Introduction to the Professions of Leveling, Gathering, and Crafting: The second feature I'm most pleased of is the Leveling Guide Setup, which allows you to level Gathering and Crafting professions simultaneously.
Gathering Professions: To begin, you may pick from a variety of Gathering Professions such as Mining, Herbalism, Skinning, and Fishing. After that, you may choose the expansion you want to level your profession in, and it will display the most frequent item for leveling. So you've figured out what you're cultivating.
Then you access the Guide, where you'll find specialized conversation for that Levelling session, as well as an importable path to follow to level your profession. You're also given Trainer Waypoints for leveling, which allows you to locate your specific trainer without having to go around in circles, and it simply makes for a better overall experience.
Optional WorthIt Guides Addons include:
For importing and showing the Guides routes to follow, use Routes and Routes-Import-Export. Farms and Trainers can be seen in the open world thanks to TomTom.
Leveling Crafting Professions: The next step is to level your Crafting professions. To do so, head to the Professions Tab and choose the Crafting profession you want to level.
By picking any of them, you will be presented with a screen that displays the current expansion leveling guide first, followed by an array of tabs labeled with the expansion you intend to level in for that profession. Following that, you'll be given a Step-by-Step Crafting List to follow in order to level up that profession, as well as Trainer Waypoints and a Material List specifying what resources you'll need to max out that career.
You will also be given an estimate of the cost of leveling each specific expansion for your preferred profession. This will also help you figure out how much gold you'll need to level up that career.
Optional Addons for this Addon's Part are:
TomTom for Trainer Waypoints and TradeSkillMaster for pricing the material list and offering an estimate of the cost of leveling that profession.
Extra Information: In addition to the Gold Making and Profession Leveling Guides, there is a Support Tab on the Main Display that details Optional Addons for each part, addressing most questions you would have regarding most of the features. There's also a feature section that explains what features are included in the addon so you know what portions are accessible to you.
Finally, if you have any difficulties or want assistance, a Discord link is given so that you may express any concerns you may be experiencing as well as any suggestions for future updates. I saw that the Addon Details does this, so why not? , That would be really beneficial.
To summarize, WorthIt Tips is now completely launched and available for download on Curseforge, providing in-game guidelines for WoW gold makers and profession leveling guides. It's fantastic that it's finally finished, and I'm overjoyed that the addition has received such positive feedback.
I want to expand on this in the future, and I thank you for taking the time to view the video series that details the effort that went into making this addon a reality. Let me know what you think of WorthIt Guides and the mini series as a whole in the comments section below, as I'd want to make more "Project Based Videos" and have a lot more ideas that I'd like to bring to life.
I hope you like the addon. Contact information and an overview video are provided below:)
https://discord.com/invite/rcaMdCR/rcaMdCR/rcaMdCR/rcaMdCR/rcaMdCR/rcaMdCR
Video Overview:
https://www.curseforge.com/wow/addons/worthit-guides/worthit-guides/
Good luck with your gold prospecting,
DalaGG is a character in the game DalaGG ( Jon )
I can see this being a really useful mod, particularly for novice players, in terms of quickly filling up gold-making regions. Jon, you did an outstanding job!
Island Expeditions is a company that specializes in making gold.
CanadiaTV offers a unique perspective on Island Expeditions, recommending that you utilize several accounts if you have them in order to quickly level characters while earning money in a relaxing way…
Hello! For folks who have numerous accounts, I have prepared a little video instruction on an alternative approach to get gold. It's as follows:
This isn't the same as a "crazy gold manufacturing machine." And because it's so evident, I'd even argue it's a thing. It's only that I leveled using this way today and it worked well. Account progression, quick leveling, rng, and a chance at 100k+ transmog goods are all available.
For leveling, I've put in around 10 hours of VERY casual boosting (I'm 197 ilvl, by the way). During that period, I progressed from level 10 to level 35. Keep in mind that if you have three accounts, you may boost two characters at once, and it will be much quicker if you are fast and/or geared. Per expedition, you earn around 75% of a level (for that level ranges). If you pull too much at a low level and are incredibly inept (I'm a potato), you may die.
For the gold-making aspect, you have a number of pets, all of which are worth less than $5,000. The majority of them are really inexpensive, thus they hardly contribute towards the gold total. The "high" selling rate transmog is where the money is. I say "high," but it's still transmog, which sells at a snail's pace. When I say "high," I mean that it sells more often than standard transmog since it is "newer" than vanilla mog and has a more polished appearance because some of the textures are unique. Some artifacts, such as the top hat, are worth well over $100,000 and are suitable for bankers. Seller is excellent. You will also get dubloons for each run on all three teammates. With these, you may earn weekly boxes including pets, bop mounts, and boe transmog. You may also save money to purchase pets from the shopkeeper. As far as I can tell, the greatest use of dubloons is to obtain boxes, but if you're seeking for a particular toy, mount, or pet, you may spend them for that as well.
If you want to gather everything, you'll have to undertake countless of these runs. You may promote leveling boosts on islands, invite friends, or, as I've said, boost yourself and receive the collector prizes quicker if you have a second/third account.
Disclaimer: I don't believe this is under TOS since it makes no use of software. It's as simple as pressing alt tab to accept the queue. If you have any information of this being tos, please let me know and I will remove it immediately!
Finally, if you have two or more accounts, you should do this. It's a welcome change from conventional techniques of leveling. As a bonus, you'll get some gold as well as other great goodies. Good luck with your islands, and if you're searching for a 50-hour-per-week streamer that specializes in islands and goldmaking, check out twitch.tv/canadia tv! Good luck with your gold prospecting!
I can count on one hand how many Island Expeditions I've completed, but I can see this being a fun method to level numerous characters at once while looking for elusive transmog and pets.
How to Construct a Gold-Mining Machine
This week, Manthieus released a fantastic video detailing his method for putting up a "Gold Making Machine" on a new server…
The video walks you through the steps of creating professions for your characters and how to connect them with the objective of crafting and selling legendaries. It's a terrific market to go into if you want to earn a lot of gold, but be aware that getting there and staying on top of the market will require a lot of time and work. This is not a fast and simple answer, but if you are willing to put in the effort, the benefits might be enormous!
Retrospective on a Year of Shadowlands
u/PwnZer offers an intriguing look back on their gold-making experience over the past year. This is a true story of PVP at an auction house and how fiercely competitive certain markets can be! …
This week marks the one-year anniversary of Shadowlands, and I'd like to share my gold-making experience. In the first year of Shadowlands, I generated 390 million in sales, 205 million in expenses, 184 million in profit, and roughly 57.5 million in liquid assets. Here's a look at the overall TSM chart, but be aware that it's a bit wacky with GBank transactions.
Background: I began playing during WotLK on a low-population, dead server, and returned at the end of WoD after receiving the WoD CE for free (promo with movie theater points). After acclimating to modern WoW, I became very interested in mount collecting after receiving the Blue Proto on my first run back in Utgarde Pinnacle after hundreds of runs in WotLK. I dabbled in gold-making during Legion, aiming to solely pay my sub in gold and knowing that the BMAH may acquire me unobtainable horses. I earned a lot of money in Legion using Oblit and boons, enough to purchase "The Chosen" and Red Infernal enhancements, among other things. My largest selling was a handmade Leggo that I sold on the first day they were available. In BFA, I never really reached my groove, and instead basically sold anything I could to keep the sub running (lots of raid BoE flipping), which generally worked, but I had a 6 month sabbatical in 8.3 and lost a boatload of Tmog just in time for Shadowlands.
Here's a snapshot of all my pre-SL TSM activity, except Legion since I believe my settings were reset at the time.
Shadowlands: Jobless owing to COVID, but looking forward to SL I was able to purchase Shadowlands using BFA gold and had roughly 500k gold when I returned for launch. 130k off the top to purchase a game token. After around 12 hours of leveling, I reached level 60 on my main (Eng/Rotating profs) and began plunging into gold production. The first investment I made was to put 95% of my money into herbs, mill them, and create Darkmoon Decks. My gamble paid off, and I was able to tenfold my investment, but I reinvested the rest of the gold into other locations.
During the first week, I also leveled my Tailoring/Enchanting warlock. Now I was in the following markets: max level enchanting (since crystals were so costly), enchanting legendary mats, flipping BoE's, selling raw gold shadoweave cloaks RIP, and I had entirely abandoned decks (I personally hate herbs, alch, inscription) I had a significant amount of cash at this point, so I decided to put it into Legendary crafting, the GOAT WoW gold producer. The first week of the SL TSM Chart.
My character had reached level 4 at this moment.
Over the span of a month, I progressively leveled up legendaries, with leather taking around two months to completely level them all to level 4. Despite ranking up 10 months ago, I still have three 225 Boneshatter armguards that haven't moved. On my main, I'd cycle among professions with rep/mark requirements to build up stockpiles of Quick Oxxein Rings at the same time.
SL TSM Chart for 1 Month
When it comes to competition, my server has been rather quiet; I can only think of around four real challengers, and only one of them managed to learn all of the rankings, and he was about a month behind me. Two of the four competitors were server transfers from higher-pop servers, where they could buy cheaper mats, and then move the finished things to my home server, where they'd attempt to sell them. One of them is well-known, as this vendor A**** can be found on any server with a low population. Thankfully, they only log in twice a day, so I was able to figure out when they log in and relist my auctions 60 seconds later. This merchant is a force to be reckoned with, with dozens of characters and guilds, yet evidently it isn't a bannable violation, since I and many others have reported them for large cross server arbitrage. I have a few fascinating competition cases:
a third cross-server seller arrives on my server with around 3 million grim-veiled things in stock (a lot of 210/225) and a gold cap to bid on a BMAH item. They messaged me after I bid gold cap on an item I desired on the BMAH and asked if I wanted to purchase their stock of GV products. I offered the amount of their worth in Orboreal plus a 250k incentive "to fund the transfer back" after warning them that moving 3 million GV would take at least a month. They refused, and I still see them once a month, relisting their stuff and leaving. I'm guessing they didn't sell more than 20,000 of the stock they brought here.
I was having major problem keeping up with a fourth cross-server seller with full inventory signing in and beginning to list their stuff, and I saw they weren't just selling from one AH character, but were multi-boxing with two! There was no way I could keep up with the AH slowdown, which saw about 60 products cancelled every 10 minutes. So I gave trying and instead invented a new TSM operation called SPITE, which would publish the legendary item at 69 percent of the Region Market Value average, thereby causing legendaries to be sold at a loss virtually everywhere. For a day, the whole market sank, and I kept putting out new products to sell at a loss to keep the downturn going. After a day of vengeance and essentially abandoning my gold-making quest, I found they had vanished! They moved to a separate server to earn money with their multiboxing AH machine when I priced them out of the market.
I noticed a player on my server was slowly leveling up different items of each rune carving profession, and I was in a pretty good groove, despite having two other serious competitors at the time, so I decided to try and slow them down as much as possible, and apply my spite operation to every item I noticed they were listing, and it worked, and I was able to slow them down enough that they were unable to rank enough items to be successful when 9.1 came out, and I ranked enough items to be successful when
Here are a few interesting facts:
Bestsellers include:
35m Shadowghast Ring
20.8m Umbrahide Legging
19.5m Shadowghast Necklace
I've spent the following amount on typical mats:
Heavy Callous/Heavy Callous/Callous – 65m Enchanted Heavy Callous/Heavy Callous/Callous
9.5m Lightless Silk
7m Laestrite
14m Elethium
24m Korthite
21.7m Orboreal Shards
I've had to cancel auctions on many occasions.
144,209 people (Thank God for TSM scroll macros)
Permabans with flaws
a (Lasted for 4 days before support overturned it)
As I previously said, I am a mount collector, so here's the exciting part for me: I was able to buy every single mount available for purchase on the BMAH using the money I earned! Back in June, I had the Brutosaur on my home server. In terms of convenience, the gold cap bid was well worth it. I was also able to acquire a Big Blizzard Bear and a Ghastly Charger, as well as a TCG collection of mounts that I haven't learnt but want to save in case the costs rise. I've also set aside $30 million to purchase a Magic Rooster if one becomes available. And I purchased a number of Bnet games for pals instead of forcing them to spend their money on ActiBlizz.
Overall, it's been a lot of fun to play this past year, and despite playing much too much, I've settled into a new routine where I only need to log for 5 minutes twice a day to keep a profit of at least $250,000. Has anybody else experienced a dramatic jump to significant goblin status as a result of this expansion? How has a year of producing Shadowlands gold been for you?
TL;DR: Legendaries, legendaries, legendaries, legendaries, legendaries, legendaries, legendaries, legendaries, legendaries, legend
Thank you for sharing your story, PwnZer. Many individuals have earned a lot of money with legendaries, and 9.2 should provide fresh options if you're interested in that market.
Returning Player with a Large Number of Alternates
With all of the hype about legendaries for producing money, it's important to remember that legendaries aren't the only method to create gold. What can a returning player with a lot of alts do, asks u/Kaya121?
Hello, I'm not up to speed on the low-risk, low-reward methods to generate money in the shadowlands.
Is there anything that pays as well as anchor weed transmute if you have a large army of level 60s?
Any ideas on performing the emmisary/calling every day and earning about 1500ish each char?
This is where the issue with this expansion arises. Doing the callings and farming out the mission table on as many alts as you can manage is the finest LOW TIME investment to get money. The trouble is that getting to that position takes an inordinate amount of time. You'll need to get them all through Shadowlands, finish the covenant tale on all your alts, unlock the Korthia story, and then keep them farmed on resources until the task table allows them to become resources neutral. To reach to this stage, you must upgrade all of your alts to Level 3 Sanctum. To farm the mission table, you may simply log in and out of each toon daily or every 4 hours. You may still conduct the callings if you have time, but they will be unnecessary at that point.
N0x1mus previously provided you a nice explanation concerning the mission table, but since I worked on it, I can expound on the configuration (around 15 lvl 60s so far and same amount slowly working up from 50-60)
For the most part, I would ignore the callings; they don't yield anima, so it's generally a lot of labor for very little return.
Second, using alts to unlock your quest table. You should get one character to Renown 80 so you can utilize this tutorial to get your table started: https://www.reddit.com/r/woweconomy/comments/qms2it/start printing gold in shadowland 915shadowland/
Regardless of whether you do so, you should go to Torghast and farm all of the followers there (takes 1-2 hours per alt)
You're pretty much set after that, but you'll need anima to keep the table going. I generally utilize world bosses and a few of the 250 Anima world missions for this. Make every alt an engineer in order to get a wormhole generator for teleports, and you're good to go.
You want to ultimately scale the mission table campaign to 16, which appears to be best for gold earning, but that requires roughly level 40 followers. Keep in mind that the difficulty (and rewards) scale up every four levels, so keep that in mind.
The missions you should accept are mostly determined by server costs (if cloth is very cheap, there's no point to spend follower and anima on it), but even a level 12 table should yield roughly 1500 raw gold each day, which takes around a week of missions to achieve.
Get Venture Plan and set up https://github.com/hythloday/VenturePlanSoDMissions to account for patch 9.1 missions before using the table.
We've spoken about Mission Tables previously, and now is the ideal moment to level up your alts and reap the advantages of having many alts in your gold-making arsenal!
Additional Reading
The majority of this material was initially debated and shared on the /r/woweconomy subreddit or the associated Discord server. You can also find me streaming live on Twitch for the WoW Economy Weekly Wrap-up live on Wowhead.com on Sunday from roughly 7PM GMT UK Time (2pm Eastern Time), or you can tweet your feedback/thoughts to @SamadanPlaysWoW.
I hope you found this helpful, and do let me know if you have any recommendations or criticism in the comments section below.
Until next time, best of luck with your gold-mining endeavors!
Samadan
Watch This Video-
The "9.1 hotfixes" are the latest patch notes for World of Warcraft's 9.1 update. This article will summarize the changes that have been made to the game since then.
Related Tags
samadan tsm groups
shadowlands leatherworking vendor shuffle
wow raging affix
patch 9.1 finale
tailoring vendor shuffle shadowlands