Sylvanas is a powerful lich from Warcraft who has the ability to collect souls. The Lich King was one of her most ardent followers, and she betrayed him when he fell in battle with C'thun. If you want to know more about Sylvanas's background and how cooler than cool it would be to fight alongside such an iconic villain, this article will give you all the information that your little heart desires!
The "wow 9.1 datamine" is a recent patch that has been released by Blizzard. The patch contains many new features and changes to the game, but also has caused some issues. This article will go over the changes and how they may affect you.,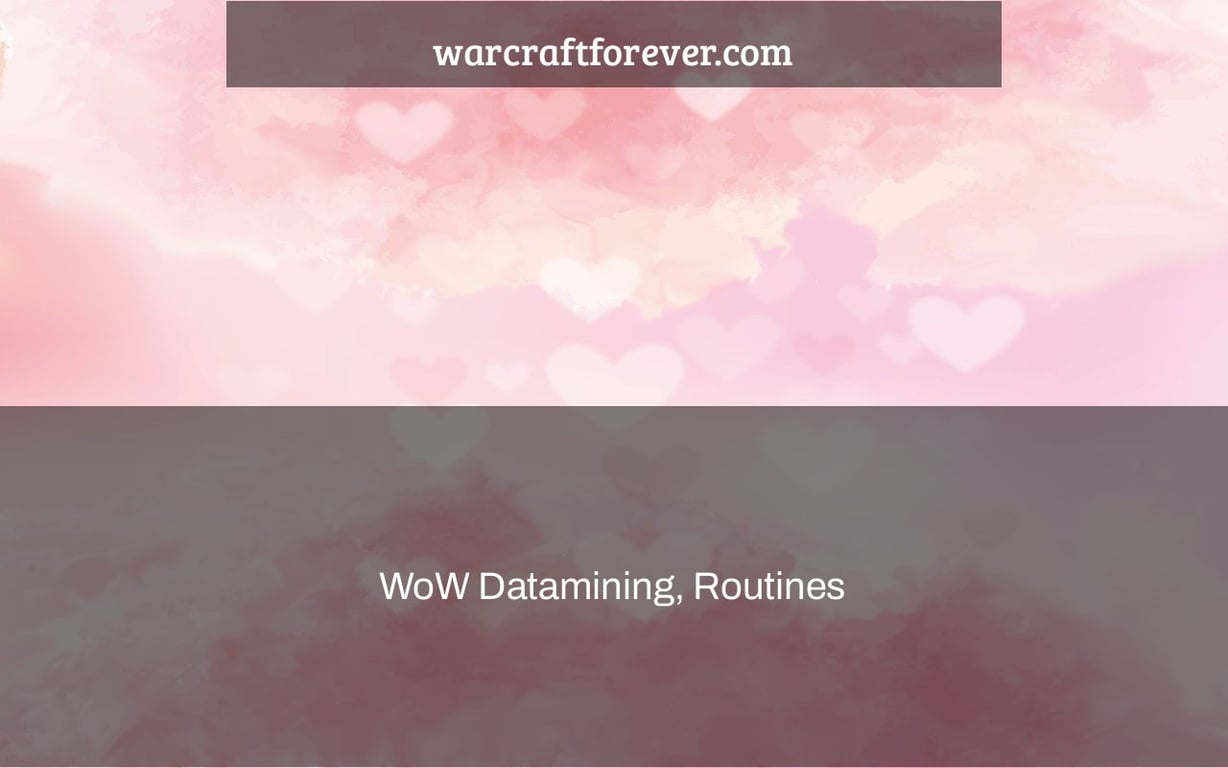 With Wowhead posting masses of new patch content every day, datamining for WoW 9.2 is in full swing.
As usual, I'm ignoring almost everything news – not because I don't care about the game, but because I do. People are already working on power progression charts and lore chapters. I'm keeping out of it all because if I know everything ahead of time, what will be left after it's released? I want to see the new raid mogs in game, and I want to learn about new lore and mechanics, so datamining isn't an option for me.
But there are two things I'd want to know first. The first is the 9.2 catch-up anima mechanism. Korthia, of course, must maintain a genuine anima income in order for me to proceed to my ultimate objective of Fae sets, but nowadays it's a grind for the purpose of grinding, with no collateral power growth, exploration, or other things, which makes me hesitant to check in. If the final patch, as usual, provides genuine anima revenue throughout the new content – as they typically do to assist latecomers – then maybe I don't need to do it now and hurry to finish the anima farm?
I've gathered around 40k of my remaining 250k, which was rather rapid, but I'd love other advancements to happen at the same time. If tale chapters give large amounts of anima as they did in 9.1, for example. In addition, the new global missions in the new zone will increase the income from 9.1 to 9.2. even more, I'd best keep my cool and put the entire thing on wait.
What I'm trying to convey is that I have all of the tools I need for today's ultimate objective, but I'm not really enthusiastic to utilize them since it's not your typical multi-tasking, but a grind, period, no matter how varied that grind may be. The only thing keeping me from logging in today is my new Fae Conservatory level 5, where I may sow seeds for a chance to mount once every three days. Even yet, if I'm crazy enough to check out of FFXIV – which, with all its lines and login troubles, would signal the end of the day for Square Enix's kid — WoW remains a feasible choice for the nights. If I just miss my cartoons, I always have something to occupy my time. But, yeah, it's a lull in all its glory, with nothing extraordinary going on. Mark my words: I'll be rushing into 9.2 as soon as it's out.
The second point worth mentioning is a new Sylvanas cinematic that isn't encrypted. Aside from some questionable aesthetic solutions (why does the ranger general's hair look like a clay model? ), the cinematic did not surprise me. This "redemption" narrative was obviously designed by Blizzard, and in that sense, it progresses quite "logically," which is no surprise. Of course, the cliche of "I was possessed and cheated" is overdone – there's no doubt about that – since, like the Shadowlands big plot arc, Jailer and the like, it sprang out of nowhere. It's not character growth; it's just boring character rewriting and retconning, and it's done in a very bad way. Regardless of how you feel about Sylvanas, fans and detractors alike agree that the authors ruined one of the game's most iconic characters.
Personally, I'm watching the conclusion of the Shadowlands mythology with the zeal of an entomologist, magnifying lens in hand. I've already accepted the fact that this expansion will not provide me with any lore. The most they can do now is limp to the finish line on crutches, and then go on to – hopefully – better storylines and writing in 10.0. In 9.2, the worst they could do is attempt additional twists and retcons, since earthquakes and tornadoes are the last things it needs. So, go ahead and travel through this redemption arc, and then let it go.
Although, to be honest, I'm truly interested in Sylvana's tale in terms of how the authors will paint themselves out of the corner now, if I'm being truthful and neutral to whatever Sylvana's growth at this point. I'd want to remind you that she's still alive and that you should go to Shadowlands to find peace or whatever it is she needs to die for. Of course, a cold-blooded execution for her war crimes is the most logical idea by any human measure, but it can't be done within any game (execution is a baddie prerogative), and it can't be done now that she's helping us and has a piece of her soul back, expressing remorse – it's like killing a good part of her soul as well.
At the same time, it's hard to let her live since both the Horde and the Alliance despise her, making it impossible for her to live in peace on Azeroth. So I'm guessing a heroic sacrifice in raid… whatever that means, in her jail clothes with no weapon authorized, since no one in their right mind, blue eyes or not, would trust her with gear.
The situation of Sylvanas and the expansion finale is odd for me today: I'm extremely interested in 9.2. lore, but not so much in the lore itself as in how the Danuser-led band of failures would deal with the present disaster for which they have no one but themselves to blame.
Watch This Video-
The "wow ptr build" is a new and interesting article about how to mine the data from World of Warcraft. The article includes information about what WoW ptr stands for, how to start up your own instance of it, and some tips on how to get the most out of this tool.
Related Tags
world of warcraft datamine
wowhead
wow shadowlands progression
what do i need to know about shadowlands
getting started in shadowlands