Wrath of the Lich King had a very successful launch, and its Classic servers are still going strong. We sat down with lead game designer Brian Birmingham to talk about what it's like developing classic content for an old MMO in 2017.
Wowhead is a website that specializes in World of Warcraft news and information. The site has an interview with Brian Birmingham, the lead developer on Wrath of the Lich King Classic. Read more in detail here: classic wotlk release.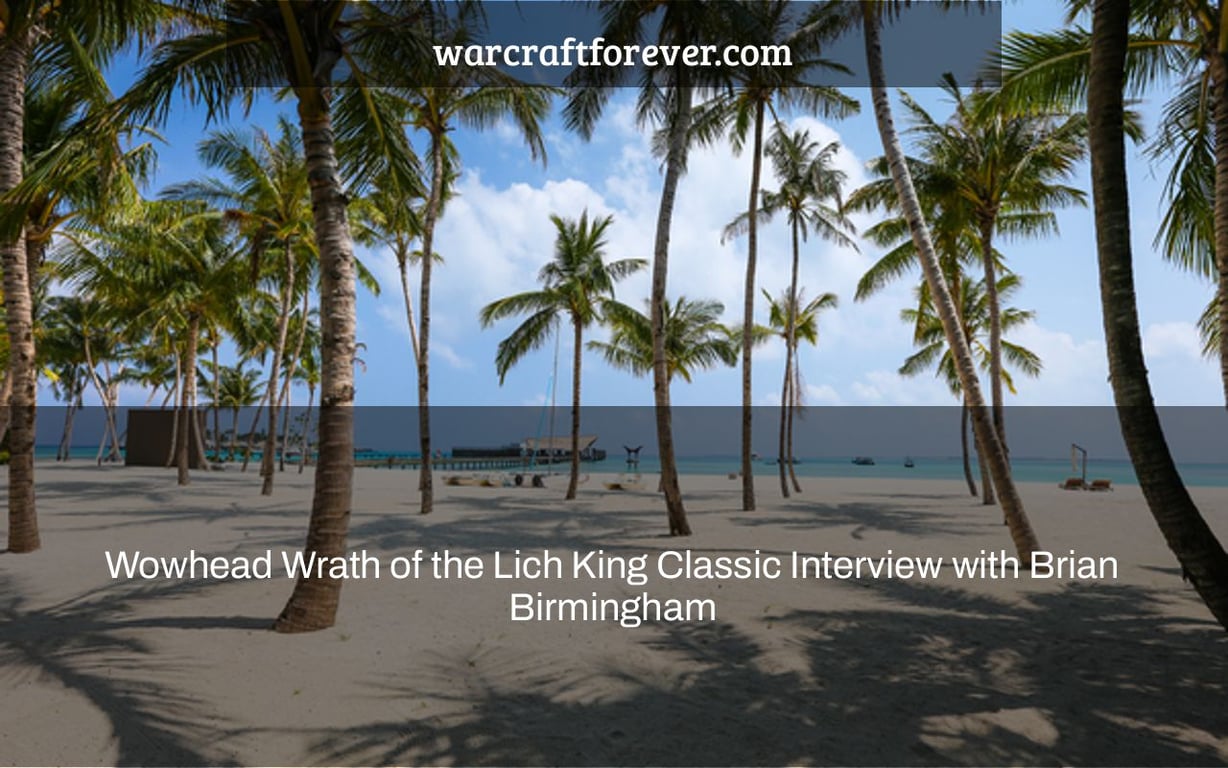 Brian Birmingham, Lead Software Engineer on World of Warcraft Classic, was interviewed by Wowhead. We discuss subjects like as Dungeon Finder, Raid Lockouts, Race Change, Faction Balance, Dual Talent Specialization, and Arena PvP in Wrath of the Lich King Classic.
Important Takeaways
Here's a brief summary of some of the Important Takeaways from this interview with Brian Birmingham —
Due to the removal of Dungeon Finder in Wrath of the Lich King Classic, the development team is looking at methods to enhance the user experience while seeking for a group.
The team has discussed changing how Raid Lockouts function in order to limit the amount of "mandatory" runs players may feel forced to undertake once Heroic Raids are accessible.
In Wrath of the Lich King Classic, Race and Faction Change services are unlikely to be offered, and the team is considering several options for balancing the races for PvP.
Faction Imbalance is a big source of worry for the Classic community, and the team is working to find a solution, particularly in regards to realm populations and Wintergrasp.
In Wrath of the Lich King Classic, there will be no pre-Nerf or post-Nerf boss encounter mechanics.
In Wrath of the Lich King Classic, dual talent specialization will not be prohibited.
Ring of Valor is being considered for inclusion in Wrath of the Lich King Classic by the Classic development team.
Birmingham, Brian: Thank you for speaking with me! I am grateful for the chance to discuss some of these topics in further depth!
Dungeon Finder in Wrath of the Lich King Classic is being removed.
The elimination of dungeon finder is one of the community's most contentious topics. What happens to Emblems if Dungeon Finder is removed, what sort of solution is the team thinking to aid with LFG Chat, and would Dungeon Finder be alright if it wasn't cross realm are all topics discussed. Can you provide any details on the subject?
Birmingham, Brian: First and foremost, I'd want to underline that our objective is to provide a platform that makes it simple to identify groups while maintaining human-to-human connection. Over the years, World of Warcraft has had many different kinds of group finding tools, and we can learn from all of them, including Random Dungeon Finder. For inspiration and ideas, we're looking at the Premade Group Finder in World of Warcraft and the Looking For Group feature in Burning Crusade Classic.
We enjoy the pleasant and simple UI flow that helps you locate the activity you're seeking for when it comes to contemporary tools. We also believe it's a good idea to state your position in the group so that it's apparent which responsibilities you currently have and which roles you're still seeking for—we'll likely steal those concepts. However, as you said, one of our problems with newer technologies is trans realm grouping. When you know you won't see your groupmates again, your interactions become more transactional, which might promote other undesirable social habits.
One feature we enjoy about the Burning Crusade Classic tool is that you can promote your availability without having to join up to organize the group. It's convenient to be able to say, "I'm accessible, but I don't want to lead." We've heard from some players that they like using the grouping tool in this manner, therefore we'd want to encourage them to do so. The main issue with Burning Crusade's tool is that it isn't commonly utilized, thus we'd want to make it more appealing by reducing its UI or giving a reason to use it.
Emblems were also mentioned. It's vital to recall that during Wrath of the Lich King, bosses in both dungeons and raids dropped Emblems. Prior to the introduction of Dungeon Finder in patch 3.3, there was a daily mission that rewarded extra emblems for completing a particular dungeon, which was superseded by the Random Dungeon Finder bonus. We're working on bringing back the daily mission bonus.
We know some of the bigger worlds receive a lot of spam in the LFG channel, and we have some suggestions on how to clear it up. We're thinking about moving some of the modifications from Season of Mastery over to this game, and we'll have more to say about it shortly. It's worth mentioning that the Looking for Group channel's prohibition barring advertising boosts applies to both classic and current WoW.
Finally, and probably most significantly, a means to get the Perky Pug will be available. We're sure you didn't forget about him, and neither did we. He'll be accessible through an in-game action, most likely tied to grouping up as he was before. We're still discussing about the details, and we'd want to hear what the community has to say about it.
Wrath of the Lich King's Naxxramas
Changing Raid Lockouts in the Classic Wrath of the Lich King
The team discussed how the raid lockout may be changed to limit the number of times players feel forced to run the same raid instance in a given week. The problem is that the available loot varies greatly depending on the raid difficulty/size; how will the squad deal with this?
Birmingham, Brian: We came up with the concept of modifying the raid lockout after some bad recollections of running Trial of the Crusader four times a week, and we believe that's where the issue is most visible. It meant that gamers stopped playing Ulduar early and replaced it with alternative Trial of the Crusader combinations. This was due to having access to all four difficulties every week, as well as the fact that even the 10-person Normal gear from Trial of the Crusader was superior to practically everything in Ulduar.
The rapid acceleration of gear in Trial of the Crusader also contributed to some of the issues mentioned by devs at the time, such as Icecrown's "Chill of the Throne." So, we're thinking of making some adjustments, but we want to walk lightly.
Normal and heroic modes are expected to share a lockout at the very least, although heroic modes don't exist until Trial of the Crusader. We could attempt to make them activatable hard-modes as Ulduar did, which would force them to share a lock-out like Ulduar did.
We'd like to hear your thoughts on the subject. Because having several difficulties of the same raid was novel in Wrath of the Lich King, we experimented a variety of different raid lockouts throughout the expansion and subsequent ones. Whatever we choose, we'd want it to remain the same system throughout, rather than changing from patch to patch like it was in the initial release.
Race Change & Faction Change in Wrath of the Lich King Classic
The team is "uncertain" whether race and faction changes will be included to Wrath of the Lich King Classic, according to several interviews. Furthermore, due of the faction change service, it was believed that the PvP realm limitations were abolished during the original Wrath (the restriction being you can only have 1 faction of characters on a PvP realm). Is there anything more you can offer about why the team didn't want to implement this feature?
Birmingham, Brian: It all boils down to how we individually interpret our relationship with the game, and whether you consider your account as a collection of achievements or a collection of personalities with distinct stories to tell. For other gamers, slipping into a fictional world that, although not real, seems like it might be real is part of the appeal. With Classic's first debut, we noticed a lot of interest from the role-playing community, and part of the appeal for that audience is that your experiences seem consistent with the environment you're in. While it seems logical that a big Tauren can shock you with a stamp of their hoof on the ground, while a small Gnome can wiggle away from entangling roots, there's no reason why a Tauren might suddenly transform into a Gnome, or vice versa.
PvP players, on the other hand, are more interested with their own achievements and a fair playing field than with their character's tale. Between the Burning Crusade and the Lich King, each race's skills evolved, and they desire access to what they think are the finest abilities while keeping their previous achievements and titles.
We provided Alliance Seal of the Martyr in the Burning Crusade Classic, so it's not impossible to accomplish something similar here, but it's a more involved problem than just replicating the Paladin seal. Let's return to the Tauren and Gnome example from earlier to see why this is a problem. Imagine if we granted everyone the Gnome's power: Tauren players would no longer be able to utilize War Stomp unless they had a clever manner of doing so. To provide another example, giving everyone in Arena the opportunity to select any race would make it difficult to anticipate and counter your opponent. After all, a War Stomp isn't something you'd expect from a Gnome, but it's what Taurens are known for.
To solve this issue, we'd want to do something a little more fantasy-oriented, although we're not sure what yet. We joked about completely banning racial powers and having goblin referees jump onto the field to throw a red card if you use one, and although we probably won't go that far, it gives you a sense of how we'd want to solve this issue.
We're still discussing about limiting transfers between PvE and PvP servers and limiting PvP servers to a single faction per account, and we'll probably have more to say shortly.
Wrath of the Lich King's Wintergrasp
Faction Imbalance & Wrath of the Lich King's Wintergrasp Classic
Concerning factions… The problem of faction imbalance is constantly a matter of debate in Classic. Wintergrasp and the Vault of Archavon have a significant influence on faction balance in Wrath of the Lich King. How will the development team deal with this issue? Also, how many times does the Tenacity boost stack? I'd want to play a Rogue in Wintergrasp with 100 stacks of Tenacity!
Birmingham, Brian: Wintergrasp was one of the factors that unwittingly contributed to faction imbalance on many worlds when it first introduced. With faction switching possible and the Vault of Archavon set on conquering Wintergrasp, it was arguably wiser to surrender up and swap factions if your side couldn't win. While we do not want to enable faction switching, you may move to a realm where your faction is dominant, and we do not want to promote additional faction imbalances. Our current thinking is that if you don't presently control Wintergrasp, there will be a back entrance into the Vault of Archavon, but that access will be costly, so you'll still be motivated to compete.
On the other hand, as you pointed out, getting a good match going at all on a world where one side is extremely dominating is a challenge. With the 100 stacks of Tenacity notion, I believe you're onto something. If playing as a powerful underdog appeals to you, it's possible that it will appeal to others as well! Perhaps it's the thing that encourages people to join the weaker faction? Faction balance has always been difficult to achieve in World of Warcraft, but the imbalance is due to people playing where they want to, and they want to play where they have an edge, so maybe stacking Tenacity to the skies is the solution.
We're still researching alternatives for dealing with Wintergrasp, but high-stacks of Tenacity and a rear door into Vault of Archavon are now our top choices. We'd want to know what others think about these concepts.
Pre-Nerf & Post-Nerf Boss Encounters in Wrath of the Lich King Classic
The pre-nerf boss encounters on Sunwell Plateau are one of the most thrilling features of TBC Phase 5. Will this tendency continue in Wrath of the Lich King Classic, and may players anticipate pre-nerf encounters in each raid?
Birmingham, Brian: Many of the encounters in Burning Crusade were designed to be very tough at first, particularly in the early stages of the game, and subsequently nerfed to enable players to catch up. We included the pre-nerf difficulties since skipping the harsher versions of the bosses would have seemed like a major oversight for that expansion. With Wrath of the Lich King, this wasn't the case as much. Outside of a few anomalies like health nerfs in Naxxramas and straight skips to Sapphiron and Kel'Thuzad, there weren't as many "catch-up" nerfs. We'll look at those outliers and see whether it makes sense to ship them in their original condition, but because there aren't as many notable changes as there were in Burning Crusade, we won't be building a pre/post system around this time.
On the other side, we're excited about the return of Icecrown Citadel's original progressive nerf-aura, which became stronger each week. You could go to an NPC to completely remove the progressive nerf aura, and we're thinking about making the amount of stacks customizable, so if your group wants to test it with a little less of a nerf each week, you may dial it down a little at a time until it reaches its most potent version.
Between that and the Ulduar hard difficulties, we believe there are enough of obstacles for dedicated raiders to dig their teeth into, but we acknowledge that players are much more competent and experienced today than they were in 2009. We're talking about what we can do to keep things interesting, but we also want to make sure the raids aren't too tough for speed runners or gamers who simply want to spend an evening with their pals slaying online monsters.
Wrath of the Lich King: Dwarf Death Knight
Stopping Bots in the Classic Wrath of the Lich King
Because Death Knights may be formed without needing a level 55 character, bot accounts will be able to start at level 55, perhaps exacerbating the botting problem. Is the developers aware of this potential, and are there any plans to combat it in Wrath Classic?
Birmingham, Brian: We are, which is why you can only construct one Death Knight without the constraints. We don't want to put you in a scenario where you have an army of farming alts on realms around the area.
One of the ways we monitor botters is via player reports, and we now have an updated right-click reporting mechanism in current World of Warcraft that will be available in Wrath of the Lich King Classic as well. The new approach is designed to unify the categories you report individuals for, making it simpler to distinguish between reports of botting and other types of misconduct. It will also automatically collect some other data that will aid us in working on the issue at the size that it happens.
Players who held a key to Algalon the Observer in 10-man or 25-man who weren't previously saved to the instance may zone in, receive a summon from a Warlock, and open the gate before being saved to the raid ID during the original Wrath. Is this something the development team will address, or is it just a brilliant use of game mechanics?
Birmingham, Brian: That's the kind of issue we'd want to address.
We like our players' creativity in using game mechanisms, but we prefer it when such elements match the game's basic logic. Even if the reasoning is magical or supernatural in origin, it must still make sense and be consistent. Raid locks are designed to keep the raiding party together and restrict a single player from engaging in more than one raid each week. Allowing someone who isn't a member of that group to rush in and give a unique capacity for several raids goes against that fantasy.
In summary, this is an issue that we want to solve. Thank you for reminding me!
Classic Wrath of the Lich King Dual Talent Specialization
Dual Talent Specialization will be available in Wrath Classic, although with limits, according to a tweet. Can you explain these constraints and why the team believes they are necessary?
Birmingham, Brian: To begin, I'd want to state that we are no longer evaluating any further limits beyond those included in the feature. You won't be able to change specifications in combat or during a battlefield or arena match, and it will take a long time to cast and deplete your resources, so it won't be something you do on the spur of the moment. All of these things were true at the time, and we'll ship it the same way this time.
The decision to change it sprang from a desire to encourage individuals to continue to experiment with unusual or hybrid specifications. Some of us, including myself, were concerned that dual spec would lead to one spec for optimal dps and another for optimal tanking or healing, and we wanted people to believe that having a spec that balanced those roles and could do either of them reasonably well was still a viable option, so that you could flex into tanking on multi-tank fights without feeling like a liability on fights with fewer tanks or healers. As a result, we started thinking about things like a rest-area requirement, utilizing the tome of clear mind, not allowing it in dungeons, and so on. However, we've had a lot of feedback from folks who say that dual spec offered them more opportunity to explore, which is great, and we want the feature to be something that players like using.
Arena Map for Ring of Valor in Wrath of the Lich King
Classic PvP and Arena in Wrath of the Lich King
Tornados were added to Season 1 Nagrand Arena, which was an unexpected (and exciting) addition by the development team in Burning Crusade Classic. Ring of Valor was featured as an arena map in Wrath of the Lich King and saw several alterations. The flame barriers were removed from the map in Patch 3.2.0, I think. Is it possible that this may appear in Wrath Classic?
Birmingham, Brian: I'm happy you liked them! They undoubtedly produced some remarkable moments. We consider giving people with some of the memorable experiences of the past as part of our purpose, and sometimes things were memorable in part because they had some rough edges. However, we do not want to release anything that is unstable or inconsistent. We've been discussing the Ring of Valor, and the crew has differing viewpoints. Some individuals want it to be released without flame barriers, while others want it to preserve the pillar and flame dynamics but limit it to skirmishes rather than ranking matches. We'll probably end up someplace in the middle. My personal favorite concept is to lock the pillars upon launch but keep the flame barriers in place for a season.
But, having stated that, I'm not going to be the one to make the ultimate decision. We have a lot more PvP experience than I have, so I'm certain they'll make the proper choice once we get into the intricacies and see how the pillars and flame barriers operate inside.
Engineers were able to enchant their boots with Nitro Boosts, allowing them to rocket ahead in the arena. This was available for a short time during the original Wrath before being removed from the game. Could these, like the Nagrand tornadoes, make a reappearance from some part of Wrath Classic?
Birmingham, Brian: We don't know the details yet, but it's possible. We want your race and profession to feel like an extension of your character's personality, not something you have to change all the time to be competitive in raids or arena. However, we enjoy the notion of the first season being a little zanier while the subsequent seasons get more serious, so it's still up for debate. We appreciate having something that changes up the arena strategy every season, and both Cyclones and our banned-item list did that in the Burning Crusade Classic, so we'll probably do it again. We hope that this offers consumers something to look forward to each season instead of feeling compelled to chase the flavor of the month.
Thank you very much for allowing me to express my opinions on these issues! It was a delight!
The "death knight wotlk classic" is a video interview with Brian Birmingham, the lead developer of World of Warcraft: Wrath of the Lich King.
Related Tags
classic wrath of the lich king reddit
wow classic reddit
wrath of the lich king private server reddit
fresh wotlk private server
wow wrath of the lich king private server download